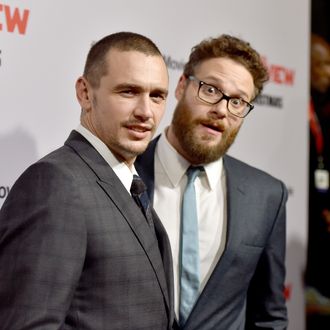 This week's New York premiere of The Interview has been axed by Landmark Theatres, Deadline reported Tuesday night. Set for Thursday night at the Sunshine Cinema on the Lower East Side, the event was canceled in stages. Organizers first nixed plans for a pre-premiere carpet, then any interviews throughout the evening, before uninviting the press and canceling outright. Sony gave theater owners its blessing earlier on Tuesday to bail on showing the controversial film, after new terror threats surfaced from the company's recent hacking woes. Carmike Cinemas, a Georgia-based company with 278 theaters and 2,917 screens in 41 states, was the first chain to announce it was jumping ship Tuesday night; soon after, California's ArcLight Cinemas announced it was following suit, too.
The Wrap pointed out that a majority of theaters are in shopping malls, and, with holiday shopping season in high gear, landlords may be pressuring theaters to drop the film to maintain heavy foot traffic. The fallout comes on the heels of the hackers' latest message, which referenced the 9/11 attacks and demanded the Seth Rogen– and James Franco–starring dark comedy not be shown:
Warning
We will clearly show it to you at the very time and places "The Interview" be shown, including the premiere, how bitter fate those who seek fun in terror should be doomed to.
Soon all the world will see what an awful movie Sony Pictures Entertainment has made.
The world will be full of fear.
Remember the 11th of September 2001.
We recommend you to keep yourself distant from the places at that time.
(If your house is nearby, you'd better leave.)
Whatever comes in the coming days is called by the greed of Sony Pictures Entertainment.
All the world will denounce the SONY.
After reviewing the missive, the Department of Homeland Security issued a statement: "We are still analyzing the credibility of these statements, but at this time there is no credible intelligence to indicate an active plot against movie theaters within the United States." USA Today added that federal officials say they are close to determining the source of the hack, but are not yet able to release anything publicly. An early, but low-key, premiere of the film took place in L.A. last week, with no interviews granted to the press.