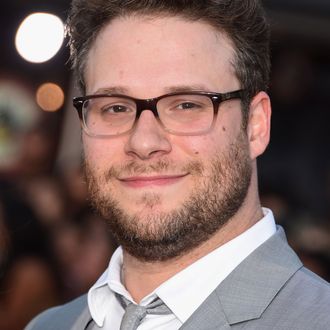 Photo: Jason Merritt/Getty Images
Among the latest kibble scrounged in the Sony-hacked doc dump, emails reveal how the studio deliberated and ultimately finalized touchy scenes in Seth Rogen and Evan Goldberg's The Interview. Bloomberg dug up the correspondences, which were between Sony Corp.'s CEO Kazuo Hirai, co-chairman Amy Pascal, and Rogen, and which detail the specific directions given to the filmmaker. Hirai expressed repeated concerns over the treatment of the film's stand-in for North Korean leader Kim Jong-un. Warning: A big, albeit predictable, spoiler for The Interview follows.
In the movie, Rogen and co-star James Franco play a producer-TV host team; they end up with a Kim Jong-un interview and an order to assassinate the communist leader via the CIA. Hirai's biggest concern had to do with Kim's over-the-top death scene, which sounds like it initially depicted an overly gratuitous, fiery face explosion. Pascal relayed the qualms to Rogen in late September:
As embarrassing as this has been from my point of view, you have to appreciate the fact that we haven't just dictated to you what it had to be. … Given that I have never gotten one note on anything from our parent company in the entire 25 years that I have worked for them.
Pascal added around the same time that she wasn't sure "how to deal with Japanese politics as it relates to Korea so all I can do is make sure that Sony won't be put in a bad situation." The emails highlight Pascal's role as intermediary between filmmaker and top boss — this, a response to Hirai's concerns:
In shot #337 there is no face melting, less fire in the hair, fewer embers on the face, and the head explosion has been considerably obscured by the fire, as well as darkened to look less like flesh. … We arrived at this shot (#337) after much cajoling and resistance from the filmmakers.
Actual North Korean threats aren't referenced in the emails, but execs at home and abroad felt the need to push Rogen to tone down the gore in the movie, especially for international audiences. North Korea has been a major, albeit unconfirmed, suspected player in the Sony hacks because of the satirical movie's content. The country has declined involvement in the hack attack, even though North Korean officials promised to "mercilessly destroy" anyone who helped make the dark comedy. Sony reportedly put the kibosh on media at the film's premiere this week; it is still set for a Christmas Day wide release.