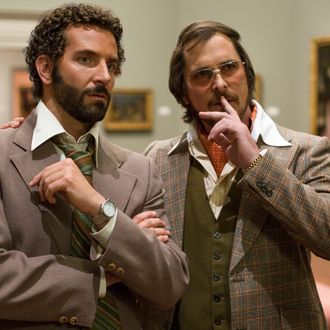 Photo: Francois Duhamel/? 2013 Annapurna Productions LLC All Rights Reserved.
News outlets continue to sift through the trove of documents that they received as a result of the Sony hack that brought the studio giant to its knees. One document in particular reveals the studio's "ultimates," which is an industry term for the amount of money a studio ultimately makes once its theatrical run and other secondary streams of profit have been totaled. To that end, The Hollywood Reporter writes that This Is the End earned $50 million in profits, Grown Ups 2 $48 million, Captain Phillips $39 million, American Hustle $27 million, One Direction: This Is Us $18 million, Elysium $18 million, and Monuments Men $10 million.
The document was apparently an effort to trumpet cost-cutting measures the studio tried to take. "Currently, approximately $1B in production spending can be expected to deliver $500M-$600M in profits," the letter says. "Through his continued focus on financial discipline, Doug [Belgrad, the Columbia Pictures President] hopes to improve that ratio to a point where $800-$900M in production spending delivers $500-$600M in profits." Belgrad has also been influential in terms of getting production budgets down: He got Kevin James to accept less money and reduce the production budget for a Mall Cop sequel from between $45 million and $50 million to $38 million. Similarly, Adam Sandler's upcoming movie Pixels was made for $110 million when the originally approved budget was $135 million.
An industry trying to cut costs! Shocking, we know.