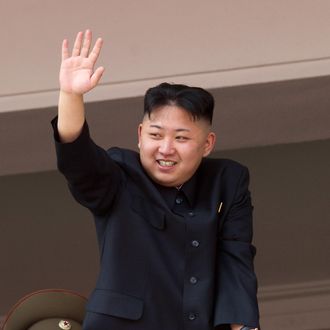 Photo: Ed Jones/AFP/Getty Images
Mounting evidence has investigators wondering if North Korean hackers are the computer criminals behind Sony Pictures Entertainment's cyber-security mishap, which occurred last week. The Wall Street Journal reports that people briefed on the investigation — which include the FBI, Sony, and an IT security company — said the hackers used tools and code eerily similar to those used in March 2013 against South Korean broadcasters and banks. South Korea's government blamed the attack, known as "Dark Seoul," on North Korea's Reconnaissance General Bureau, a beefed-up intelligence agency.
WSJ added that this month the studio is releasing The Interview, James Franco and Seth Rogen's comedy about talk-show hosts charged with assassinating the communist country's leader, Kim Jong-un. (North Korean government officials have threatened the U.S. if it encourages the film's release and distribution.) A source at Sony, however, told the paper that North Korea is only one of many potential attackers, and, as of now, there's no information that wholly proves the country's culpability.
The Verge noted that it received an unverified message, allegedly associated with the hacking group, about Sony's political-fueled satire:
Our aim is not at the film The Interview as Sony Pictures suggests. But it is widely reported as if our activity is related to The Interview. This shows how dangerous film The Interview is. The Interview is very dangerous enough to cause a massive hack attack. Sony Pictures produced the film harming the regional peace and security and violating human rights for money. The news with The Interview fully acquaints us with the crimes of Sony Pictures. Like this, their activity is contrary to our philosophy. We struggle to fight against such greed of Sony Pictures.
After the studio's systems were knocked offline and upcoming films leaked last week, Fusion reported that it received a link to a public file containing the salaries of thousands of Sony's employees, including top executives. The numbers, when arranged by annual rate, reveal a vast gender and race gap: Of the nearly two dozen Sony employees who make around the $1 million mark or more, 94 percent are male and 88 percent are white.
Deadline, which first reported the hacks and revealed the antagonists to be the self-proclaimed "Guardians of Peace," added that Sony has seen a jump in its social-media traffic thanks to the attacks. Many of the studio's trailers saw bigger numbers on YouTube, and its own Facebook page surged with 1.6 million additional likes on Thanksgiving, according to the social-media consultancy company RelishMix. As of Monday, Sony's computer systems and operations were reportedly copacetic.