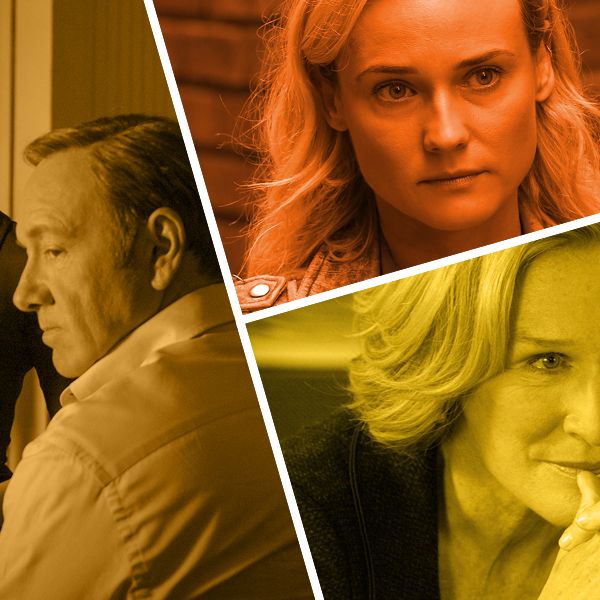 Welcome back to Stay Tuned, Vulture's TV advice column. Each Wednesday, Margaret Lyons answers your questions about your various TV triumphs and woes. Need help? Have a theory? Want a recommendation? Submit a question! You can email staytuned@nymag.com, leave a comment, or tweet @margeincharge with the hashtag #staytuned.
For the last three years, my husband and I have binge-watched a TV show over the winter: First Homeland, then The Wire, and last year was Breaking Bad. I'm looking for a good show to be this winter's entertainment. On my list of considerations so far are The Good Wife and House of Cards. What are your recommendations? —Jill
How much time do you have? That's really the limiting factor here, and looking over what you've watched so far, it seems like it varies: Three years ago, there were only 12 episodes of Homeland; there are 60 episodes of The Wire and 62 of Breaking Bad. If you want to hella commit, yeah, The Good Wife is an excellent choice — but it's 122 episodes (so far). House of Cards is only 26 episodes, with more coming in February, and while that's an okay show, I think it's overrated. It's a so-so drama in prestige-drama clothing (literally — the costumes are great), and because people marathon-watch it, the flabbiness of the plotting is never held to the scrutiny standards to which we hold traditionally distributed shows. It's worth watching just because it's buzzy, and it's a good conversation show, but don't go into HOC expecting Breaking Bad or season one of Homeland.
That said, it seems like you like dark, broody, brainy dramas. You're in luck! There are a lot of those. These are broken down by TV hours:
If you have about six hours: Netflix's BoJack Horseman seems like goofy adult comedy, but it's secretly bleaker than Louie, and in terms of profound ennui, it's more a cousin to The Sopranos than it is to Bob's Burgers. It's still super-funny, but people assume it's akin to Adult Swim shows, and that's not accurate.
If you have another six hours: Black Mirror, also now on Netflix, is a riveting British anthology series, about as bleak and broody as you can get without burrowing through the earth and becoming a new form of despondent magma. Given that you're looking to spread a show out over a whole winter, this is a good bet; you really shouldn't watch them back-to-back, but one a week or so will allow you to maintain healthy attitudes about being alive.
If you have nine hours: Catch up on the CW's Jane the Virgin. It's … uh … not at all a dark drama — it's a whimsical telenovela — but it's insanely good, and not enough people are watching it, so I'm wedging it in here for no reason other than to sing its praises.
If you've got more like 26 hours: FX's border-town cops-and-serial-killer drama The Bridge (Hulu Plus) had two really solid seasons, with the second surprisingly outshining the first. The Scandinavian original, Broen/Braun, is wonderful, too, but pick one or the other, since the adaptation is pretty similar (and minus some of the shock value, the show loses something).
If you have 29 hours: Showtime's Brotherhood (Google Play) came out in 2006, before Showtime was a major player for original dramas, and I think that's why this show, about a family who has one branch in politics and one in organized crime, is still not on people's radar. It's very violent, but it's one of the few shows where the characters are actually bothered by it — unlike, say, Breaking Bad, where many of the characters vaguely get off on it. If you like the family-bond complexities of Sons of Anarchy but want a more tightly focused, less over-the-top show, this is for you. Warning: contains several bad Rhode Island accents.
If you have 30 hours: Twin Peaks! I'm hoping you've watched Twin Peaks (Netflix), but just in case.
If you have 43 hours: Southland (Amazon, Google Play) is the best cop show since the glory days of early NYPD Blue and Homicide. What's most striking about the series, other than the fantastic performance (please, someone, cast Regina King in more things), is that the show is going for ordinariness. The crimes are pretty ordinary, the situations largely routine: The show's depth and intrigue come from how fiercely it draws its characters. The entire series is wonderful, but the last few episodes of its final season will haunt me forever.
If you have 53 hours: In Treatment (HBO Go) ended in 2010, but it's a show I still think about an awful lot. Gabriel Byrne stars as Paul, a therapist; each episode is approximately one session with a patient. Each season features five or six patients, and we cycle through each week to week. It's completely engrossing and almost embarrassingly intimate, especially after you've watched a mountain of cop/robber/lawyer shows. Because the episodes are almost entirely just Paul and one other person, and they're mostly just sitting there, you really see a lot of humanity in the performances. Pointing a gun at someone is inherently high-stakes, but try bringing that same ferocity to pouring a glass of water.
If you have 59 hours: If you've been watching How to Get Away With Murder, do yourself a favor and watch the vastly superior, similarly structured Damages (Netflix). The legal drama has a split timeline — we see new associate Ellen (Rose Byrne) on her first day working for the powerful Patty Hewes (Glenn Close), and we also flash forward to a blood-soaked Ellen staggering through the streets after apparently killing her fiancé. Later seasons don't have quite as much fun with the time-bending, but the performances are fantastic, and the content of the season-to-season legal cases are terrific.
If you have 88 hours: I recommend The Shield (Amazon Prime, Hulu Plus) here a lot, but that's just because it's so damn good. The Shield is proof that shows can stay on their game for a long time, and particularly if you're craving the season-specific arcs of The Wire, The Shield is your jam. Plan a special outing or meal or something for you and your husband the night you're going to watch the finale, because it is very upsetting and intense and you'll need to decompress.
If you have more than The Good Wife's 122 TV hours, then you might want to turn to more lighthearted fare. Cramming six years' worth of dramz into a few weeks, particularly weeks of short days and long nights and cold temperatures, is going to lead to a certain level of heart rot that's tough to shake. Make sure to throw in a Broad City here or there, too, to keep things livable.