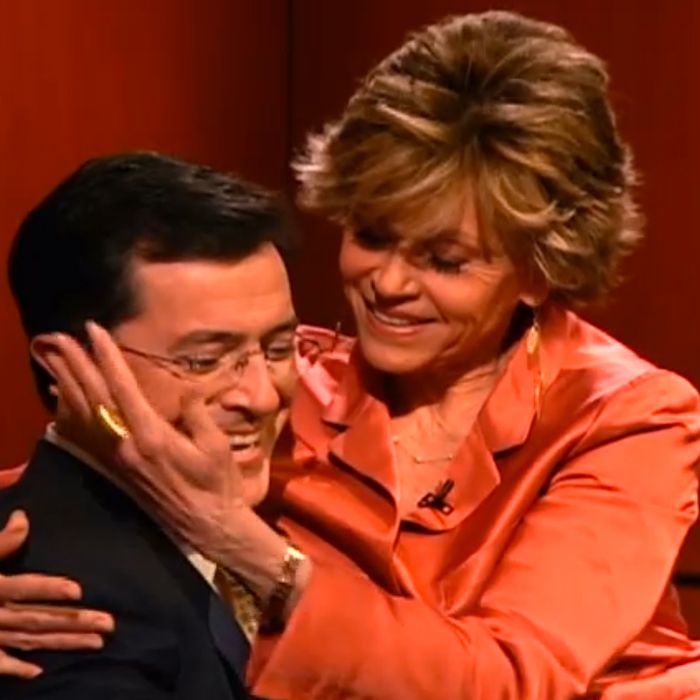 Sad times are upon us: The Colbert Report ends tonight. To combat the ensuing sorrow, we at Vulture have paid homage to Stephen Colbert, the witty, hysterical host behind the show's nine-year success, with an Irish wake, a look back at the show's early days, and an examination of his influence on the book world. Here we're giving a nod to the persona, the other "Stephen Colbert," who tried to remain impervious to his own jokes and did a mostly magnificent job of keeping his bumbling, faux-right-wing hat on for 20-plus minutes of television every night. Sometimes, though, that hat fell off (more often than you might think, actually). Here, in no particular order, are 16 of the best times Colbert's character cracked. (Read our review of the finale here.)
On Infidelity and Monogamy
Colbert and his heterosexual accountabilibuddy (Go, Packers!) attempt to grill sex-advice columnist Dan Savage about the writer's keys to a successful relationship. Instead, Savage slays them with a provocative scenario.
On Kissing Feminists
In an effort to learn about the state of American feminism, Colbert asks Jane Fonda and Gloria Steinem to make an apple pie. The host's apron invites some unexpected developments.
Fonda rekindles the fun in this clip from her follow-up visit, which happened about one year after the pie incident.
On Bruce Bailey?
Colbert loves Michelle Obama, just not her sign awareness skills.
On Flying Rabbis, Super PACs, Masturbating Faces, Pap Smears, and Walks to Norway
In this wonderful quintet of laughs, we witness Colbert create the cultural touchstone that is Munchma Quchi. Also of particular importance: Colbert's face in the third clip.
On Turkey Menorahs
Introducing Colbert, the Artist.
On Mountain Dewitos
What would it taste like if Doritos were wet and caffeinated? Colbert has the answer — or an alternate way to find the answer.
On Diane Keaton's Book
Colbert tries his best to get Diane Keaton to say something — anything! — about her book. Things get weird.
On the Dangers of Marsupial Sex
When Colbert learns koalas are screwing themselves to death because of a chlamydia outbreak, he's at once incensed — and taken with the image in the graphic.

On Hermancains
Colbert dissects what it takes to make a political ad look cool. Hint: You need America music, plus smoking, littering, and smiling in slow motion.
On Breaking Bad's Finale
Colbert genuinely looks and sounds like he's fan-boying in these clips with Vince Gilligan, making this one of his least "Colbert" — but most enjoyable — interviews. (Part 2.)
On Jon Stewart
The host of The Daily Show dropped by for what was basically a massive love fest. Stewart and Colbert begin the interview normally, and then things take a cute turn. (Part 2.)