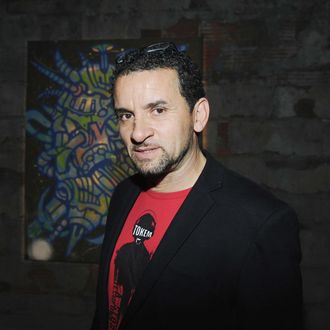 Lee Quiñones is an elder statesman of street art. His graffiti subway creations — called "top-to-bottoms" for the way they covered the car's entire exterior — established his legendary status as they rode untouched for years. Still active today, Quiñones spoke with Vulture about his history in New York and the state of street art in the city. He discusses Banksy's New York residency, the demolition of the legendary Long Island City graffiti mural space 5 Pointz, and more.
You've been creating art in the streets for decades. Are there any pieces by other artists that you consider influential or iconic in the street-art canon?
There is one historical work that didn't necessarily hit you in the face but was always there in your mind: "Pray." It's not street art but street poetry. No one ever figured out who "Pray" was. Some people thought it was a displaced nun, or an older senior nun, walking around the city writing in the old telephone booths. I never saw a booth that didn't have "Pray," or "Worship God," written on it. Was it someone being sarcastic about religion, or someone being really religious? "Pray" is still being written in the city. There aren't booths anymore, but you can still find it on the subway — on the beams, the platforms, or various other places on the subway. I don't know if it is a following or if the same person continues to etch. 
Of your work that you've created, which did you feel was the most important?
The "Howard the Duck" handball wall mural, which I created in 1978 and was the first of its kind. Basically that mural broke open the conversation of what this art movement was capable of and the trajectory it was pointed in. I felt that I had arrived as an artist at that point. "The Lion's Den" mural was behind it. I loved the "Lion" mural more than Howard, because it was when I felt I brought the technique of spray-painting to the next level. Instead of outlining things in a cartoonish way, I was working with stories of light and depth and feel. Both were a neighborhood prescription.
When you say "neighborhood prescription," what does that mean?
The Lower East Side is an unsung hero itself. A lot of talents came out of there, but it is always at the back of the bus compared to the rest of the city. I felt the neighborhood was hurting and wanted something refreshing to look forward to. 
Oh, okay, so the murals were supposed to boost the neighborhood's confidence? Profile?
Yes, and those two walls were iconic for a number of reasons. Both Keith Haring and Jean-Michel Basquiat were highly influenced by them. They visited the walls to see how such a thing could be done. It enabled me to practice my craft on a bigger scale on something that didn't move away from you, like the subway. 
Did Keith or Jean-Michel ever talk to you about your work?
Well, those two murals led Keith to the Bowery and Houston wall he did. He actually asked me for permission. I was shocked. I told him it wasn't my wall, but I appreciate that you asked me. His next question to me was "How do you do it?" Everyone was awed by my two walls, but they never realized how I did it. I just said, "Go and get a ladder!" Everyone made it more scientifically complex that it was. I painted in the middle of the night with moonlight. All you need is a ladder and some cajones! 
I read that you had permission to do the "Lion's Den" mural. How did you get that permission after "Howard the Duck"?
"Howard the Duck" became a neighborhood tablet, even though it was done without permission. I was going to the school [Corlears Junior High School] at that point, and after I did "Howard the Duck," I was asked to come to the dean's office. I thought I was in a heap of trouble, but then the principal gently grabbed my hand and said, "Lee, we love what you did. We are not excited you did it without permission, but we'd love to give you permission to paint the other wall." 
As you were developing your talent, what other NYC pieces were you looking to for inspiration?
Jenny Holzer. Her writings on the wall were instrumental. In the 1980s, in NYC, there was an abundance of abandoned buildings and walls. The presence of all those empty buildings became almost normal to some people, but when you saw something painted on a wall as crude as the phrase "Broken Promises" or "Sense of Power Is Domination," it gave a whole new purpose to the climate and the actual buildings. That was riveting to me. Jenny Holzer makes me feel so illiterate and stupid when I read her stuff. I am a visual person, and when I am down and out in my work, I always look forward to her work. Her work is like she is throwing a huge party on the street that no one is ever late to. 
We haven't spoken yet about all the great subway graffiti that was being created, by yourself and many others, that also doesn't exist anymore.
On the subway, things came in and out really quickly. They were like lost dreams. During the 1970s, my cars, my work, would run for years untouched. I would bump into my own work a few years after I created it and retouch it. The city was in a fiscal crisis, so no one gave a shit.
But now those works only exist in photographs.
Yeah, totally destroyed. The trains were buffed away, painted over, and then destroyed. They are probably living as reefs off the Atlantic Coast. I hoard things and I hoarded most of my iconic subway cars' preliminary drawings. They were made in full splendid color, painted in alcohol and paint markers. I never showed anyone, other than the trains I painted with them. I kept those drawings in a closet for 30 years until recently, when I began having them professionally framed. I look back and think, I was really 18 at that time, and laugh now. 
Here are three of these rarely seen drawings: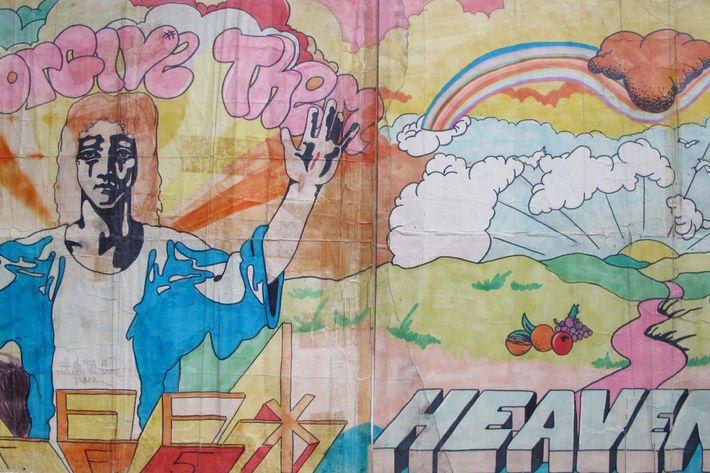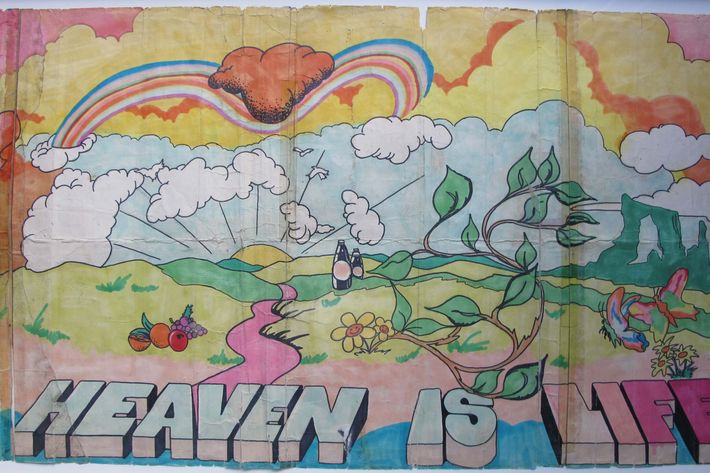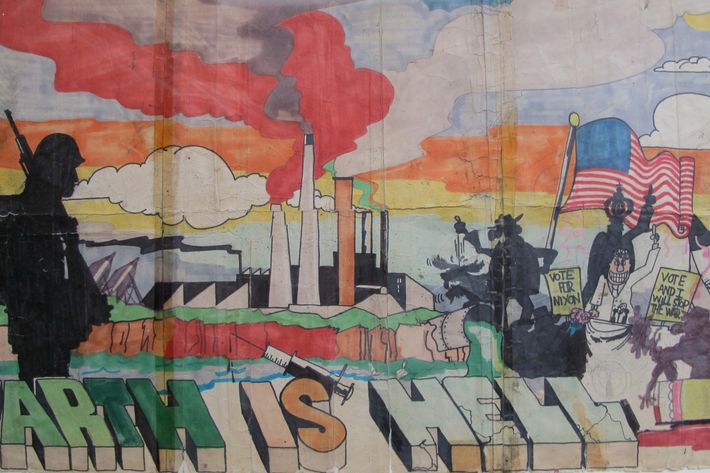 For the past decade, there has been so much attention focused on street art. What did you think of Banksy's NYC residency?
I love a lot of Banksy's work. I was really busy when it was going on and I wasn't trying to get on that herd drive, but I saw some pieces later on and thought they were genius. They were hilarious and brought up some real issues. Giving away drawings for $6, he is having a laugh at the hypocrisy of how people are in a crazy rush to buy and own something. Me, me, me. Art is a powerful tool, and right now street art is more than ever economic and a tool for planting a flag when talking about displacement and replacement. When you see street art coming up in a neighborhood, you know that will be the next neighborhood. 
It's interesting about the owning of street art. In that HBO Banksy documentary, people were taking the pieces almost immediately as they were being "discovered." It's the start of a nasty fire. It's all about personal greed. The ironic thing is that a lot of work was destroyed in the '70s and '80s and people didn't take note that something special was going on. They were still immersed in the stew that graffiti is vandalism. Now street artists are being embraced and celebrated by the corporate world and museum world. Cities are making places into sacred shrines now. They are taking it too far. I can't do those walls like I did 35 years ago.
Did you have any involvement this summer with the destruction of 5 Pointz?
I was on the site's shadow board, which had some really high-profile architects and businessmen. It was an unusual cast of characters organized by this powerful man who knows all the powerful people in all sectors of the city. We were trying to help, but it was too little, too late. 5 Pointz was such a gateway for new talent. I didn't have that 30 to 40 years ago. What I had was the headline from Gerald Ford telling NYC to drop dead. 5 Pointz was a sanctuary that young artists could come to and have a conversation. 
What proposal did this shadow board come up with for the site?
We wanted to preserve it, short term, while they did renovations and then give it back as a charitable nonprofit space. It was a beacon for many people all over the world. It was a great theater of opportunity and it was right across the street from PS1. Now the city is just going to replace 5 Pointz with another glass building that won't survive another Sandy. 5 Pointz was a great place for the borough of Queens. No one ever thinks of Queens. Archie Bunker is the biggest icon of Queens. I think Queens has a lot to give, but it is still the bastard child of the city. But with 5 Pointz and PS1, Queens had something that drew people in. 
Are you working on anything currently?
I've been commissioned to create all the artwork for a new hotel opening in the Lower East Side. It's called the Indigo Hotel LES and it'll be finished in April. Without giving away the fine details, I've been working on a lobby installation and then creating works for every single room. There are 300 units in the building and the hotel will be the tallest structure on the Lower East Side with a 360-degree view. The installations can also be seen from the street, so it is an ambitious project. But one thing working on the trains taught me is timing. Lack of sleep doesn't bother me. I can sleep three hours and then just get back to work.