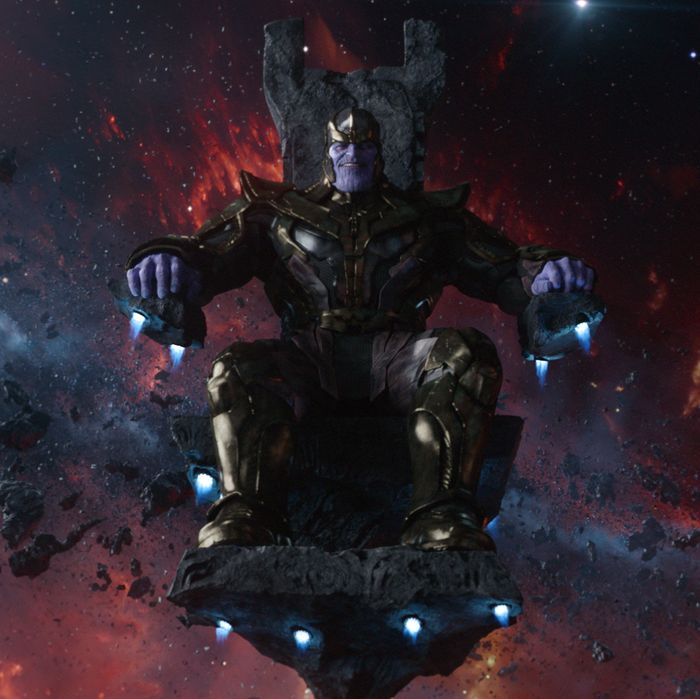 Marvel's Guardians Of The Galaxy Thanos (voiced by Josh Brolin) Ph: Film Frame ©Marvel 2014
Over the next few weeks, Vulture will speak to the screenwriters behind 2014's most acclaimed movies about the scenes they found most difficult to crack. Which pivotal sequences underwent the biggest transformations on their way from script to screen? Today we put that question to a very reluctant James Gunn, who admits that there's still one scene in his summer megahit Guardians of the Galaxy that he doesn't think he quite nailed. The scene is then excerpted below.
Oh, I hate this! This is terrible, terrible. What I don't like is that if you ask me which scenes were the hardest, they're also the ones that, frankly, I like the least. I really would love to talk about, say, the "12 percent" scene and say that was the most difficult, but no, I kinda sat down and wrote that dialogue and then it was done.
The hardest scenes to crack were all the character introductions. Those were really difficult, whether it was the introduction to Ronan, the introduction to Thanos, the introduction to Rocket and Groot … those scenes changed a lot throughout the writing process, the shooting process, and even the post-production process. I wrote those scenes again and again and again in different ways. The Groot/Rocket introduction, I'm okay with that one now, but the first thing that comes to mind as the hardest thing to write is the Thanos scene. That was really difficult.
There's pressure with Thanos because you're setting up this gigantic character that, in one way, isn't really a part of your movie. His presence doesn't really serve being in Guardians, and having Thanos be in that scene was more helpful to the Marvel universe than it was to Guardians of the Galaxy. I always wanted to have Thanos in there, but from a structural standpoint, you don't need him. So that's part of it, and then part of it is the fact that you're setting up this incredibly powerful character, but you don't want to belittle the actual antagonist of the film, which is Ronan. You don't want him to seem like a big wussy. So how do you make that work?
And that's why Ronan kills T=the Other. I thought that was interesting, because we've had the Other, who's obviously very powerful even in comparison to Loki, and then we see Ronan wipe his ass with him. So that I liked, but even that was sort of difficult, because it played as funnier when I first wrote it, and the humor didn't work so much. But the scene does have what's probably my favorite Nebula moment in the movie, when she's strutting out of there saying, "Thanks, Dad." And she's also saving Ronan's ass, because she knows that Ronan's a hothead.
This scene does set up the later scene between Thanos and Ronan — which I like! That scene, to me, makes Ronan kick ass. He tells Thanos, "Fuck you! I'm coming for you!" That makes Ronan not admirable, but … well, sort of admirable! It's the one really great Ronan moment in there, along with some of the ritualistic stuff he's doing at the beginning. So I liked that moment, but the middle scene was one of the tougher things I wrote.