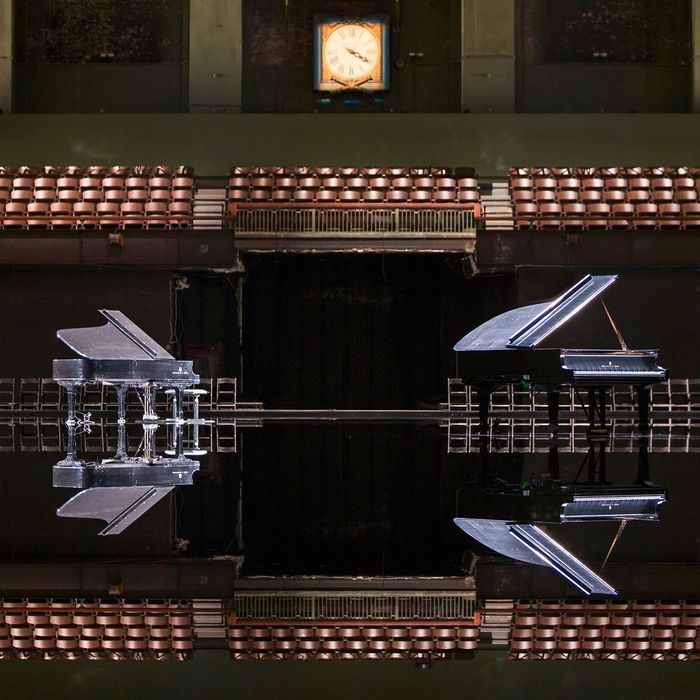 Photo: James Ewing/Courtesy of Park Avenue Amory
Tears become … streams become … opened at the Park Avenue Armory on a day when New York was totally waterlogged, a bit of timing that seemed ironic at first and then surreally deliberate. If, as we squelched into the great Drill Hall with steaming clothes and windblown hair, we had forgotten how vulnerable the city is to rising waters, Douglas Gordon's immense liquid installation stood ready to remind us.
For a while nothing happened, as we sat around the edge of the Drill Hall, studying the lights that hung from the ceiling, suspended a few feet above a vast expanse of rubber mats. Eventually, water began bubbling up and spread so slowly that tracking it was almost like watching paint moisten. Audience members hushed at first, then lost patience and chattered, produced snacks, and remembered to send urgent texts. Half an hour after the nominal start time, some large puddles had joined with others, lapping at the casters of the two grand pianos that sat in the middle of the sunken floor. Another 15 minutes after that, the stage light rigs rose toward the ceiling like the Metropolitan Opera's chandeliers. By then, a mirror of water filmed the entire floor, reflecting the barrel-vaulted ceiling beneath our feet, so that we seemed to be perched around the side of a giant tunnel. The lights dimmed, the reflections vanished, and we waited in the damp, dark warmth. I have never felt so claustrophobic in such an immense space.
Soon, footsteps sloshed through the murk: the pianist Hélène Grimaud wading toward her instrument, presumably in rubber boots. At last, she began to play a stylistically eclectic program unified by an aquatic theme: Berio's "Wasserklavier" ("Water Piano"), Ravel's "Jeux d'eaux" ("Dancing Fountains"), Debussy's "La cathédrale engloutie" ("The Sunken Cathedral"). As she sat on her liquid stage, Grimaud evoked a panorama of moving waters. Streams gurgled, rain fell, river boats rocked, and tides surged. She is a vivid pianist, and as the lights picked out the pianos' glossy finish and the vault's metal truss, she and the music seemed to be drifting on a black satin sea. These were moments of pure wizardry, conjured out of sound, light, and water, but they couldn't last. The evening ended as it began, in awkwardness and letdown. Grimaud, having finished her elegant set, clomped across the artificial swamp with desultory applause following her most of the way to the Drill Hall's door. Afterward, some people lingered, wondering whether it was okay to leave before the water had all drained away again. It was.