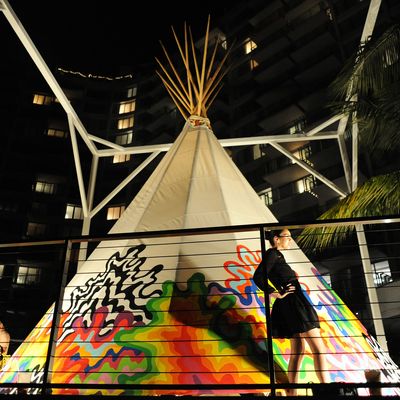 Jen Stark and Misaki Kawai's tepee at the Vice party.
Photo: JON THALER/COPYRIGHT 2012
And we thought that this was a Vice dinner, in the city that gave the word its vim and vigor. But this was, lest we forget, the Munchies party, and at the farm table, plated for 60 on the patio of the Mondrian South Beach, the Vice uniform was in full force: beards, black, and a touch of blasé. There was Arthur Baker, Daniel Arsham, and Manish Vora. Even Munchies producer John Martin joked that looking at food all day can be a rather painful job. The dinner was a labor of love from Carlo Mirarchi, chef of beloved Bushwick outpost Roberta's. Except every time we went for a helping, there was either none left or we saw the food untouched on another guest's plate. Hey, you don't get a Miami beach body from gorging.
So we decided to wander. And it didn't take too long to stumble into the Jen Stark–designed tepee. Yep, Jen Stark and Misaki Kawai interpreted the traditional Plains American Indian tepee painting as part of Mondrian South Beach's contribution to the artistic landscape. Look, you don't get the munchies from nothing.
But it was too early in the night to be so mellow, so instead, we went in search for more. Word was that Blood Orange's Dev Hynes would be singing his soulful heart out at the W Art Party, which marked the launch of both its December Art Issue as well as the Edition Hotel. There in the backyard, which overlooks the Atlantic — worth the price of admission alone — B-listers mingled with other B-listers. It was the most glamorous holding pen we've ever seen. That's partly because the A team was inside still finishing their dinner. Marina Abamovic was present; so was Francesco Vezzoli, Mickalene Thomas, and Marilyn Minter. Also a Brant brother, the Schrager, the Tonchi. With hopes of the party picking up a bit later, we left with every intention of returning, though we never did but should have. As the rain drizzled, the texts poured from revelers who had discovered the basement. There was bowling! Ice-skating! Blood Orange!
But this is Miami, and FOMO reigns supreme, so let's try on our next party for size: the comeback for Glenn O'Brien's TV Party — you know, the public-access show from the 1980s that established O'Brien as a cultural tastemaker. Granted, you probably had to be in your 20s, living in New York, and part of the Downtown 500 to remember the late-night program, and like they say about Studio 54, if you remember it, you probably weren't there. Shout-out to YouTube for that education, though now there's an official website as well as 80-plus episodes rereleased by Brick Films. Hosted by NeueHouse at Alan Faena' Casa Claridge, O'Brien held court, clad in a white suit like a hip Gandalf, waving his wand and making weirdos perform weird things. Kimbra Pfahler screeched, Theophilus London sang, Coco Dolle Legacy Fatale slithered about in leopard leotards — all for the cameras. For as London reminded the crowd: "Yo, this is for TV, so make sure you get your headshot look on." As if anyone could forget such a thing with the lights shining bright and the cameras close. Of course, many notables declined to chat on record. This is the new Miami, folks: Be seen, not heard. And don't forget to eat your greens.