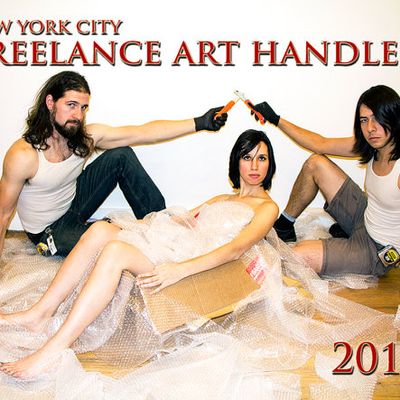 They can handle more than just your art.
Art handlers. Lately, everyone is talking about them. Last week in Miami, a friend remarked: "When everyone asks for fair highlights, I'm going to be like, 'Gagosian's art handlers were a little hotter than Zwirner's.'" Another publicist friend texted, "I had the best time at the Artwalk gala. Just got drunk with the hot art handlers."
Well, ladies and gents, happy holidays to YOU, because we now present the New York City Freelance Art Handlers Calendar of 2015. It has all the beefcake of the loading dock to keep you sated on those Thursdays you can't quite make it to Chelsea to see the action in the flesh. According to its creator, Zaq Landsberg, who spoke about it with Artinfo, "this is the first art handler calendar ever — definitely the first made by art handlers." Seems a shame that it doesn't come with a handler to help install it on your wall.