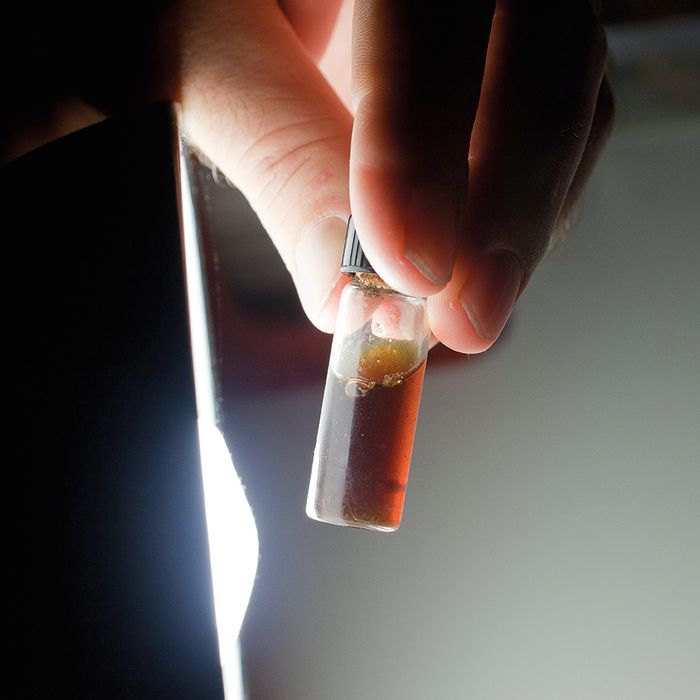 Nicolas Lobo's soy sauce made from his own hair.
Photo: ? Sarah Trigg
At the time I met with Nicolas Lobo, his studio was located across the street from an ancient Tequesta Indian burial ground on a bend of Miami's Little River. The area was once a citrus grove, and the house Lobo was living in had belonged to the grove's owners. Lobo's partner, Muriel Olivares, grows crops for her CSA (Community-Supported Agriculture) co-op in the yard. The visit began with a lunch they had prepared using fresh produce from the garden.
We entered a clean, drywall-covered garage, which Lobo had turned from a shell into a studio.
Lobo's work, mostly three-dimensional, is abstracted from his research into the culturally obscure and abhorrent. For Soylent Green Bust (2009), Lobo covered a steel form with a patina replicating the chemical composition of the substance the characters in the 1973 science-fiction film Soylent Green eat in the overpopulated world of 2022. At the film's climax, a detective played by Charlton Heston uncovers that "Soylent Green is people!" Lobo explained:
The question was: could we make Soylent Green without actually dissolving bodies? Because when you dissolve a body in acid, it ends up as amino acids. The things we eat now often artificially simulate something we don't have access to, which I thought was more interesting than trying to get a body and dissolving it. Basically, it's artificial Soylent Green made of amino acids and algae powders and binders.
In another work, a video, Lobo appears clad in protective gear filling a fire extinguisher (a technique popular with graffiti artists) with two gallons of grape-flavored cough syrup, a semicontrolled substance because of its recreational abuse by teens and rappers. In the video, Lobo methodically sprays a blank, white wall ceiling to floor with the purple-toned spray, accompanied by the pop song "U Smile" by Justin Bieber. The song is slowed by 800 percent, transforming it into an ethereal, transcendent drone. By the end of the fifteen-minute video, the purple stain on the wall has evaporated. The piece is a riff on the rap subgenre "chopped and screwed" (also associated with grape "sizzurp"), in which hip-hop music is slowed and remixed.
Of procuring the sought-after cough syrup, Lobo explained, "I had to buy by the ounce. You have to go to a lot of stores because you can't buy it all at one store."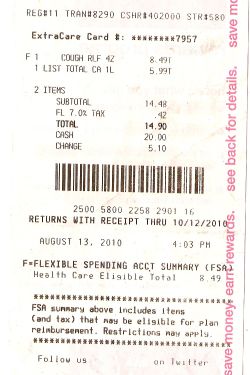 Toward the end of the visit, Lobo casually mentioned he had some residue left over from a precursor to the Soylent Green investigation. Lobo had heard an urban myth that dissolved human hair was being sold as counterfeit soy sauce in China, the validity of which he had decided to test by making his own. "It worked," Lobo said, "I shaved my head and put the hair in an acid bath to break it down to its basic aminos. Then I neutralized the acid, and it tastes like soy sauce. It's a little greasier."
Lobo still had a few samples left in his studio refrigerator. No, I didn't have the guts to taste it.
Excerpted with permission from STUDIO LIFE: Rituals, Collections, Tools, and Observations on the Artistic Process by Sarah Trigg (Princeton Architectural Press, 2013). © Sarah Trigg. All rights reserved. In 2009, Trigg, a visual artist, embarked on an investigation within the United States, interviewing more than 200 artists in their studios. She met with a wide range practitioners—from painters to performance artists—of various locations, backgrounds, and career stages to create a behind-the-scenes survey of artmaking today. Instead of focusing on artwork for the book, Trigg asked her subjects to share examples from their practice that they considered to fall in the categories: mascots, collected objects, rituals, makeshift tools, residue, and habitats.