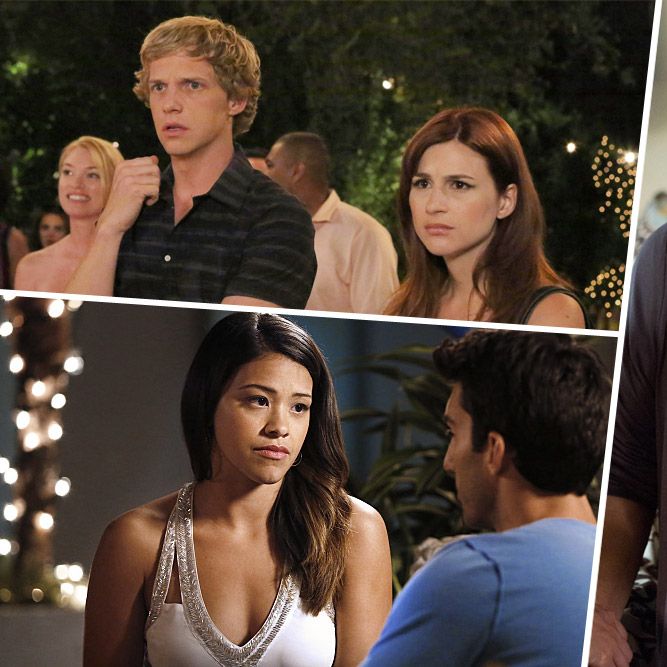 Many people have some downtime in the next few days — perhaps downtime spent with family, perhaps downtime spent on a solo mission. Either way, it's time best spent watching TV. Here are some of the best ways to cure your TV cravings over the holidays.
I like doctor shows. 
You need NY Med (eight episodes, Hulu). The documentary series is a clear-eyed look at doctors, nurses, and patients at various points in the treatment process: Sometimes we see trauma patients in the ER, sometimes residents getting chewed out between shifts, sometimes patients coming in for a nerve-wracking follow-up. Previous incarnations (Hopkins 24/7, Boston Med) had a wider variety of outcomes, but NY Med is still riveting. Unfortunately, Dr. Oz is on this show, but he's performing surgeries, not shilling for fraudulent weight-loss supplements.
I want more Hunger Games. Oh, and Battlestar Galactica.
So does the rest of America. Try The 100 (season one on Netflix, five episodes of season two on the CW's website). The show is set in the post-nuclear apocalypse, when our planet has been uninhabitable for almost a century; the surviving human population is living on a decaying space station; and now they've decided to send 100 teen delinquents down to Earth to check things out. The show is very violent, so it's not for younger viewers, but it has a badass teen heroine, plotlines that are not just about love and romance, and it asks some surprisingly serious questions about torture, personhood, and what a fair governance might entail. Plus, there are tons of BSG alumni.
I want charm.
If you want genuine romantic charm, you cannot do better than Jane the Virgin (only the five most recent eps legally available; figure something out). It's bright and cheerful, savvy about how it uses its telenovela roots, smart without being bitter, clever without being ironic. Jane regards each of its characters with a real tenderness and it's impossible not to feel the same way.
No, I mean like … more adult charm.
Okay, then try You're The Worst (available to purchase on Amazon). It's a rom-com where both romantic leads are kinda dirtbags — sexy dirtbags, of course. The characters all have mean streaks, but the show itself doesn't; the series isn't about watching them suffer, it's about watching them try. Hilarious and odd ball, though probably not great for very young or very old viewing companions.
I want a sexy soap.
BET's Being Mary Jane occasionally strains credulity, but that's why it's a prime-time soap and not a documentary. Mary Jane (Gabrielle Union, who's terrific) is a successful news anchor with a fabulous life. Well … not quite. Her boyfriend is married, she wants to have a baby, her family's kind of a mess, and everyone wants a piece of her. And unlike other soap heroines, Mary Jane's not a victim — she's the instigator of a lot of the problems in her life.
I want a show about Catholic people.
Lifetime's who-wants-to-be-a-nun reality show The Sisterhood (check your on-demand options) is secretly great. The young women entering the "discernment" period have a range of reasons for considering holy orders, from "I consider Jesus my boyfriend" to "nuns have been the one stable presence in my life." There's a lot of forced reality-show drama (did they really think nuns wore a lot of makeup?), but there's also a lot of older nuns being undercover badasses.
I want a show about Jewish people.
I write about Amazon's Transparent a lot, but that's only because of how much I love it. It's ten episodes, which means you can watch it more than once in a vacation. But if you want a show about more hardcore Judaism, the Israeli series Srugim (on Hulu) is about a clique of young modern Orthodox Jews and is totally engrossing.
I want a show that gives me a sense of accomplishment.
National Geographic Channel's under-the-radar Going Deep With David Reese might actually change your life. It changed the way I tie my shoes, thanks to an episode that details every possible shoelace-tying method, and it will forever change the way you fold a paper airplane. Funny and useful and totally appropriate for all ages.