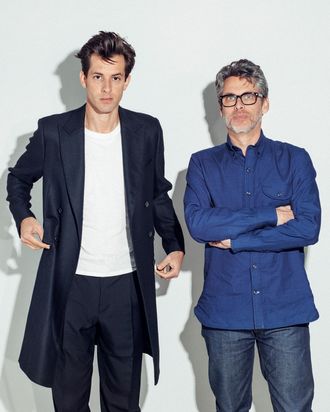 For Uptown Special, out January 13, ­Grammy-winning producer, instrumentalist, and well-connected dude Mark Ronson wanted a narrative-driven set of lyrics to accompany his retro-leaning pop. So after divining a kindred spirit from the classic-funk references embedded in Michael Chabon's 2012 novel Telegraph Avenue, Ronson approached the Pulitzer Prize–winning writer to see if he wanted to collaborate. Chabon says the invitation had him going from "I can't believe I have this opportunity to What if I can't do this?" Ronson had his own concerns: "I had to get over wondering if it was okay to tell the great Michael Chabon that a lyric wasn't working." Once he did, real collaboration could occur, as it did on the album's slinky "In Case of Fire." Below is the song's scrawled-upon lyric sheet, with Ronson's markups, along with four annotations from Ronson and Chabon about the song's creation.
Mouse over or tap the image to read their annotations.
*This article appears in the December 29, 2014 issue of New York Magazine.