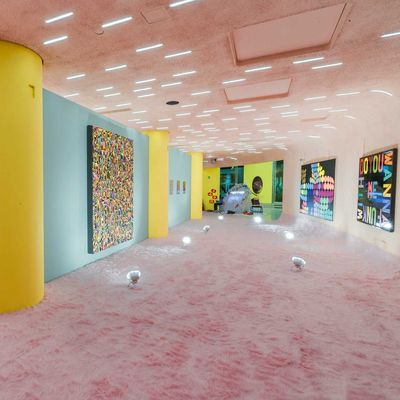 Installation view of "Spaced Out: Migration to the Interior," curated by Phong Bui.
Photo: Greg Mionske / Red Bull Content Pool
While tabs of acid are not there to greet you at Red Bull Studios New York, there is no question that the remaining days of "Spaced Out: Migration to the Interior," a thoroughly contemporary exhibition by Brooklyn Rail founder Phong Bui, will flood the senses. The space, which Bui has described as a "perpetual set for an Austin Powers movie," offers fertile ground for the psychedelic show that Bui had in mind.
Bui isn't making a cheap curatorial point that electronic music and drugs have a soul mate with art or anything. Quite the opposite. Inside, you'll find a grouping of contemporary heavyweights whose practices overwhelm sensory experience: Jim Lambie, who installed his recognizable colorful vinyl tape floors; Fred Tomaselli, who has a rare installation shown only once at PS1 in the late '80s, involving speakers and kitty litter; and Jon Kessler, who was inspired by ear gauges, and who devised a machine to blow bubbles through a wax ear piercing. Watch the video below, with an overview of the vivid exhibition along with testimonials from the artists and Bui. We don't promise euphoria, but it's certainly a trip through the power that these works of art possess.
"Spaced Out: Migration to the Interior" closes this Sunday, December 14.