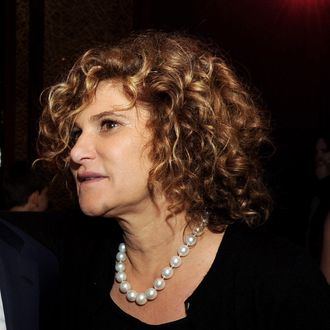 Amy Pascal
Photo: Kevin Winter/Getty Images
Weeks after their initial strike, the unidentified cybercriminals who hacked into Sony's most sensitive infrastructures continue to wreak havoc upon the entertainment company. The latest headlines to come out of the leaks revolve around a series of personal emails exchanged between Sony Pictures co-chairman Amy Pascal and producer Scott Rudin that offer insight into the dissolution of the partnership to make the Aaron Sorkin–penned Steve Jobs biopic, which eventually landed at Universal.
While the fiery exchange between Pascal and Rudin might be Christmas come early for those who live for industry gossip, the breach in privacy and personal security is frightening to others, especially fellow studio executives who spoke with Vulture about the situation at The Hollywood Reporter's Women in Entertainment Breakfast in Los Angeles on Wednesday.
"It's horrifying to me, what's happened to them," Disney Media Networks president Anne Sweeney told Vulture. "It's absolutely terrible that we live in a world full of terrorists, and we all need to be on our guard."
Fox Television Group chairman/CEO Dana Walden agreed that the hack has had a profound impact on her company.
"It kind of terrified all of us," said Walden. "I know that 21st Century Fox, the parent company of the organizations I oversee, is taking dramatic steps to try and beef up security and make sure we're not exposed to that type of situation, but it's really terrifying. The level of betrayal of all the processes that are supposed to be in place to protect private communication and sensitive information from being exposed, it's very terrifying. I feel bad for all of my colleagues at Sony."
With regard to the heated email exchange between Rudin and Pascal (who attended the THR event but did not stop to speak with reporters on the red carpet) that involved some choice Angelina Jolie–name-calling and swear words, it's been a reality check of sorts to move things offline more often.
"I always thought emails were not private," said Sherry Lansing, former CEO of Paramount Pictures and president of production at 20th Century Fox. "I never wrote in an email anything that couldn't be read to the world. ​​I was very careful how I used emails. I actually would often email someone, 'Call me,' because I didn't want to address any emotion or anything that could be misinterpreted. So I'm very careful, and I think some other people will be [more] careful."
Pascal's peers recommended that the best way for Pascal to push past the embarrassment of the email leak is to forget about it and move forward.
"Unfortunately I don't think there's a lot you can do to go back and control the damage; you just have to ignore it," said Walden. "Frankly, one thing I admire about Amy [Pascal], despite what's going on with her personal correspondence: She conducts herself like a professional, and you can see it in her communication. I don't think there's anything that I've seen so far that, if I was her, I would be embarrassed about or feel bad about."
Lansing added that while the hacking as a whole is something you have to take "very seriously," Pascal should try to get past it. Her advice: "Make a joke out of it and move on."