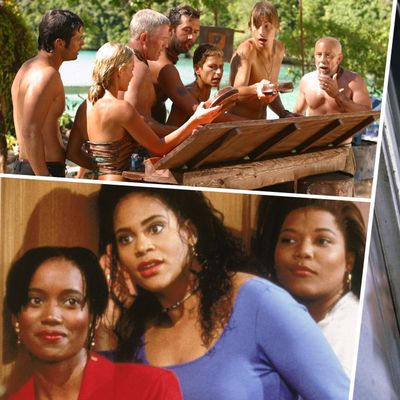 Photo: CBS/Getty Images, Warner Brothers
Friends was a solid ratings performer right out of the gate and went on to be an essential part of NBC's powerhouse Thursday lineups. But other stuff aired on Thursdays, too. Here, a list of all the network shows that were up against Friends on a regular basis:
1994–1995 TV season
Thursdays, 8:30–9 p.m. (fall); 9:30–10 p.m. (spring)
When Friends debuted, it was opposite another beloved classic, My So-Called Life. CBS was airing Due South, a quirky hourlong dramedy about a Canadian mountie who winds up in Chicago, and Fox was airing Living Single. In the second half of the season, Friends was up against ABC's The Commish, CBS's newsmagazine Eye to Eye With Connie Chung, and Fox's solid New York Under Cover. Though they didn't air in the same time slot, this is the year that both Matlock and Friends were on on Thursday nights. Those shows do not feel like contemporaries.
1995–1996
Thursdays, 8–8:30 p.m.
Speaking of not feeling like contemporaries, this is the season Friends aired opposite Murder, She Wrote on CBS. ABC started the season with the very short-lived Mark Harmon crime drama Charlie Grace, and later, World's Funniest Videos, while Fox had Living Single.
1996–1997
Thursdays, 8–8:30 p.m.
Man, ABC just could not find shows to air on Thursday nights. This season was the short-lived cop series High Incident. (Sorry, Blair Underwood.) CBS had Diagnosis: Murder, and Fox had Martin.
1997–1998
Thursdays, 8–8:30 p.m.
Oy, ABC: Nothing Sacred, a surprisingly gritty drama about a Catholic priest, won a Peabody but barely made it till March, when it was replaced by Prey, a largely DOA sci-fi drama. (Debra Messing landed on her feet, though.) CBS had its Touched by an Angel spinoff Promised Land, and Fox moved Living Single back to 8 for its final season.
1998–1999
Thursdays, 8–8:30 p.m.
Guess what? ABC had another failed crime drama! Vengeance Unlimited starred Michael Madsen and Kathleen York and lasted only 16 episodes before being replaced by America's Funniest Home Videos. CBS alternated between Diagnosis: Murder and Promised Land, while Fox had World's Wildest Police Videos. This also marked the first season that the WB aired original programming on Thursdays, putting The Wayans Bros. up at 8:00.
1999–2000
Thursdays, 8–8:30 p.m.
Eventually ABC didn't have to worry about the 8 p.m. slot because it had Who Wants to Be a Millionaire at 9. This season, ABC ran Whose Line Is It Anyway? for an hour at 8. CBS stuck with Diagnosis: Murder and Fox with World's Wildest Police Videos, while the WB had Ryan Murphy's brilliant, underappreciated Popular.
2000–2001
Thursdays, 8–8:30 p.m.
ABC still had Whose Line, and CBS started the season with Diagnosis: Murder. But then came January 28, 2001, and suddenly there was a new game in town on Thursdays: Survivor. CSI also premiered that season, starting out on Fridays and then moving to Thursdays at 9. (This is called "tides turning.") Fox kinda gave up and aired movies, while the WB had Gilmore Girls, which eventually moved to Tuesdays.
2001–2002
Thursdays, 8–8:30 p.m.
This is the first year Friends was the most popular show on TV, though it faced some stiff competition from Survivor: Africa and Survivor: Marquesas. ABC stuck with Whose Line, Fox had Family Guy, and the WB tried the reality contest show Popstars, which fizzled but was a sign of things to come.
2002–2003
Thursdays, 8–8:30 p.m.
ABC's Dinotopia flopped, and Fox's talent show 30 Seconds to Fame failed, too, but Fox had American Idol and Joe Millionaire on other nights, so easy come, easy go. CBS aired Survivor: Thailand and Survivor: Amazon, and the WB tried a revival of the '60s series Family Affair, then opted for the trashy but kind of glorious High School Reunion.
2003–2004
Thursdays, 8–8:30 p.m.
Friends was still massively popular in its final season, behind only American Idol and CSI. ABC continued to have no idea what to put on at 8 p.m., with Threat Matrix lasting barely a half season, eventually being replaced by reruns of Extreme Makeover: Home Edition. CBS continued with Survivor: Pearl Islands and then Survivor: All-Stars, while Fox had Tru Calling and the WB had the variety contest show Steve Harvey's Big Time Challenge.
The following season, Joey struggled, and NBC went from having three top-ten shows airing on Thursdays to having none; by 2005–2006, NBC didn't even have any top-20 shows airing on Thursdays. Ah, ratings, you fickle foe.