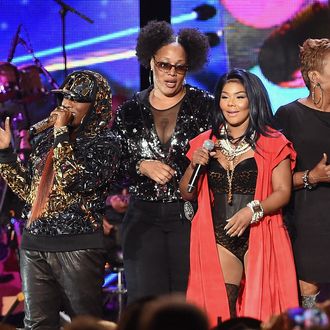 Oh yes, it's Ladies Night.
Photo: Ethan Miller/BET/Getty Images
The big winner of last night's Soul Train Awards? Chris Brown. He took home three awards — all for various aspects of the song "Loyal" — and somehow managed not to horribly offend. (Though he is still terrible.) But who really cares about the awards? This year's ceremony was all about the reunions and surprise guest-filled tributes. It was all worth it just to see Lil' Kim. Here's a run-through of what happened last night.
Let's start on a high note. The Kool and the Gang tribute felt like a wacky variety show, featuring the talents of Tamar Braxton, Joe, MC Lyte, Doug E. Fresh, Elle Varner, and Ma$e. Am I the only one who finds it exciting every time Ma$e randomly appears somewhere? (Video can be seen here, because BET loves autoplay.)
The other cool/kool thing that happened: Lil' Kim, Da Brat, and Missy Elliott performed 1996's "Not Tonight (Remix)" — and were eventually joined onstage by fellow female emcees Total, MC Lyte, the Lady of Rage, and Yo-Yo.
Tinashe ("Tee-NAH-shay") smartly relied on a backing track so that she could bust out an impressive array of dance moves.
Remember Jodeci? The Soul Train Awards do, apparently.
Mike Tyson was there to promote his new cartoon series and couldn't help but be very weird.
Speaking of other people who are violent and terrible, remember Chris Brown? He was there.
Not there? Beyoncé. Luckily her former bandmate, the other Michelle Williams, was on hand to accept her Soul Trains. (What do you call a Soul Train award?)
Bey, Michelle has your awards. Call her sometime!