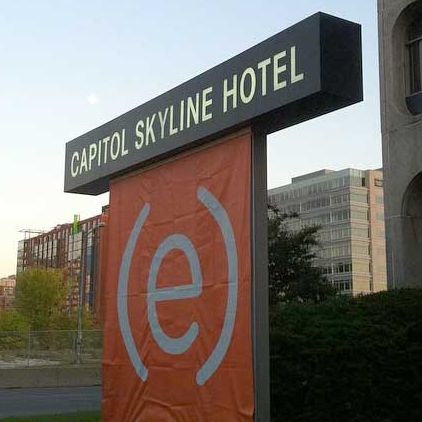 Entrance to the (e)merge art fair at the Capitol Skyline Hotel in Washington, D.C.
Photo: Courtesy of Justin Wood on Instagram
Oh, D.C. art scene! Forever on the verge, constantly gaining steam, yet always and ever … almost.
You'll hear it today, just as you heard it ten, 15, or even 20 years ago: The scene is changing, things are happening. So many of Washington's artists, gallery owners, and collectors speak of change, yet it never quite arrives. Even the city's fledging art fair, which just celebrated its third iteration, is called (e)merge. What it's emerging into or out of, or merging onto, has never been quite clear.
The fact is that most ambitious D.C. artists still leave for Chicago or New York, and the recent dismemberment of Washington's Corcoran Gallery of Art may find more packing their bags. The District's artists relied on that institution for employment that will dry up as the National Gallery of Art and George Washington University assume its payroll. The Corcoran was D.C.'s hometown gallery. Sure, it was vilified in 1989, when it cancelled the Robert Mapplethorpe exhibition (solidifying D.C.'s reputation for being culturally and politically cautious), and again in 2005, when it shelved plans for a hyped Frank Gehry addition (solidifying D.C.'s reputation for not taking risks institutionally), yet it remained an anchor for a local art scene even as it was mismanaged into the ground.
The District knows from disappointment, and perhaps the saddest fact is that it hasn't seen a vital scene since the heady 1950s, when Gene Davis, Morris Louis, and Kenneth Noland stained their unprimed canvases here. Members of what became know as the Washington Color School, they were a subset of Abstract Expressionism and creative cousins to Helen Frankenthaler and Mark Rothko. By the mid-1960s, Sam Gilliam, now 81, joined their ranks with his draped works. He remains the most prominent survivor of a group that landed Washington in the art-history books.
Hopes were running high when Mera and Don Rubell bought a seedy Best Western on a scruffy southwest block in 2002, their intention to transform it, with the aid of Frank Gehry chairs and Saarinen tables, into shabby-chic accommodation. Though their Capitol Skyline Hotel pool thrums in the summer, the Miami-based power collectors known for transforming young talent into auction-house gold, from Keith Haring to Oscar Murillo, have so far disappointed the District's artists, though not without trying. (The Rubells are currently in Miami celebrating their 50th anniversary collecting new art with a show called To Have and to Hold at their family museum.) In 2009, when I was a Washington Post art critic, I followed Mera around a 36-hour whirlwind tour of 36 District artists' studios, which was like watching Santa visit the land of misfit toys. Last year, Rubell performed the same drive-by tour a 40-minute drive up Interstate 95 in Baltimore, the city home to her latest acquisition and renovation, the Lord Baltimore Hotel, which reopened under the Rubell banner in March.
When I spoke with Mera Rubell last week, she said she'd love to find a Murillo equivalent in Washington. There'll certainly be plenty of room to display an anointed one alongside the family's collection in their much-delayed megadevelopment just down the street from the Capitol Skyline. A historic former school building will be augmented and transformed into 500 apartments, retail space, and a museum — the whole complex totaling about 500,000 square feet. A joint venture with a local D.C. developer, the project is still short construction drawings and permits, but Rubell says they will move ahead soon. No groundbreaking has been announced.
When complete, the campus will include approximately 40,000 square feet of exhibition space, some of which will be reserved for a project-space-cum-incubator for local art. That is, of course, the rub: Setting aside space for D.C. art is affirmative action for the also-rans. There's D.C. art, and then there's the global art world.
For now, the Smithsonian's Hirshhorn Museum and Sculpture Garden remains the city's flagship venue for contemporary and modern art. Its new director, the 42-year-old Melissa Chiu, is the great hope. Chiu left New York's Asia Society on the understanding that she could put her fund-raising talents to work for a heartbroken institution that lost its way. She started work September 29, a year and a half since former director Richard Koshalek resigned over the deflation of his so-called Bubble project in May 2013. Designed as a dome-shaped membrane by Diller Scofidio and Renfro, the Seasonal Inflatable Structure (as Smithsonian apparatchiks termed it; the rest of us called it "the Bubble") would erupt from the center of Gordon Bunshaft's concrete doughnut-shaped museum for several months each year and would have housed conferences and performances. The scheme won accolades in the architecture community and elsewhere. In point of full disclosure: In 2011 I left journalism and spent two years working on the Hirshhorn payroll as a senior staffer.
But in a metaphor for the general feeling of deflation in D.C. with the arts, it ultimately exceeded the reach of an institution of the Hirshhorn's modest size, especially an institution subject to additional layers of bureaucracy from "the Castle," as Smithsonian upper management is known.
Now the Hirshhorn's future is in Chiu's hands. Though her chilly demeanor stands in marked contrast to her predecessor's almost messianic charm, she's so far roped in three new board members — among them New York–based Janine Hill, wife of former Hirshhorn board chair J. Tomilson Hill, who quit after one too many disagreements with Koshalek. But it says something all too familiar to Washingtonians that Chiu's first hire, Gianni Jetzer, former head of the Swiss Institute in New York, was recently named curator a large — and "at large" means he will remain living in New York.
Now up steps Dani Levinas, longtime Hirshhorn board member and one of D.C.'s few major contemporary art collectors, who, in conjunction with District developer Eastbanc Inc., is trying his hand at institution-building. Levinas plans to make a contemporary art kunsthalle out of a 45,000-square-foot Reconstruction-era schoolhouse that the District of Columbia government has leased to him free for 50 years. Levinas's so-called Institute for Contemporary Expression will include exhibition and performance space, a bookstore, and a restaurant. As of now it's a gorgeous, Adolf Cluss–designed structure with peeling paint, exposed wires, and holes in its ceilings that requires $15 million in renovations. It's unlikely we'll see anything ICE-y until well past the best-case 2017 opening projection.
And what of Levinas's links to other D.C. institutions once ICE launches? He said it's unlikely he would remain on the Hirshhorn board much longer, and such is the tale of D.C. arts patronage, which often feels like a zero-sum game. There are only a handful of major collectors, and only so many dollars and so much energy to go around.
So who will drain their bank accounts to launch ICE? Levinas insists that a crop of young collectors is waiting in the wings, but I've yet to see anyone under 40 make a big play in Washington arts. Here's hoping Levinas's wished-for patron demographic isn't just another daydream of the ever-emergent Washington arts scene.