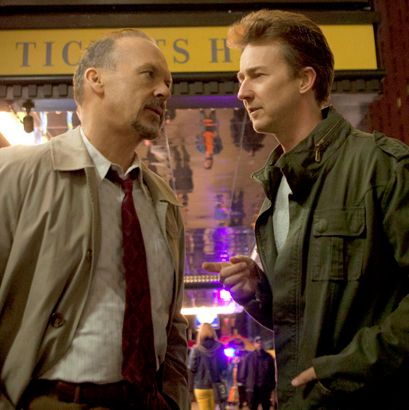 _MG_0817.CR2
Photo: Alison Rosa
Over the next few weeks, Vulture will speak to the screenwriters behind 2014's most acclaimed movies about the scenes they found most difficult to crack. Which pivotal sequences underwent the biggest transformations on their way from script to screen? Today, we talked to Nicolas Giacobone and Alexander Dinelaris — who co-wrote Birdman with Armando Bo and the film's director, Alejandro González Iñárritu — about their film's meta centerpiece, which takes place within the play mounted by Riggan Thomson (Michael Keaton) as his artistic comeback.
We would have to say that one of the most — if not the most — difficult [scenes] to tackle was the "motel-room scene." It was a scene that was supposed to belong to a short story that inspired a play that is being performed in a film. (Don't bother to read that again, just go with us here.)
The motel-room scene is complicated for many reasons. Firstly, it was challenging to write a scene that was meant to come from the Raymond Carver short story, What We Talk About When We Talk About Love. We had to respect the tone, the period, and the psychological state of the characters as originally invented by Carver. But that's not all. Because this scene in the play is supposed to have been written by Riggan himself, we had to embrace Riggan's mediocrity as a writer. We had to put ourselves in Riggan's shoes, in his mind, in his terrible wig, and write it. The motel-room scene had to be good enough to belong to a Raymond Carver story and a Broadway play, and mediocre enough to appear as written by our hero, Riggan Thomson. No easy feat, that.
Second, there was the function of the scene. The motel-room scene is used three times in the course of the film, each time with a different significance and weight. We knew that it would be the last scene in the "play" as well as the final scene within the "one-shot" narration. It would have to be powerful enough to support Riggan Thomson's emotional climax without giving its meaning away too early.
The first motel-room scene starts with Mike and Leslie under the covers backstage. Mike, in a moment of Method acting "inspiration," tells Leslie that they should actually have sex in order to bring realism to the scene. Leslie refuses, and a potentially comedic scene turns dark for a moment. When she finally pushes him off of the bed, we find ourselves onstage, and the motel-room scene has begun.
Riggan notices Mike Shiner's erection, and the tone shifts again, almost to vaudeville, as the lines in the scene become a double entendre to the erection. It is with this broad, comedic camouflage that we disguise the value of Riggan's speech. "I just want to be what you wanted. You don't love me. And you never will. I don't exist." At this point they barely register with the audience amid the chaos of the scene. But the seed has been planted.
The second motel-room scene starts when Riggan comes back from Times Square in his underwear. Here, the lines of the scene become ominous signals underscoring Riggan's growing desperation. Odder and darker but still, in the expert hands of Mr. Keaton, explosively comedic.
When we finally arrive at the third motel-room scene, with Riggan having all but lost his grip and carrying a loaded gun, we see the lines for what they have been all along. Riggan is speaking directly to his audience, his fans, his fame …
RIGGAN: What is wrong with me? Why do I have to end up begging people to love me? I just wanted to be what you wanted. Now I spend every fucking minute praying to be someone else. Someone I'm not.
MIKE: Put the gun down, Ed. She just doesn't love you anymore.
RIGGAN (To Lesley): You don't, do you?
LESLEY: No …
RIGGAN: I don't exist. I'm not even here. (A beat.) I don't exist. None of this matters …
We all know what happens next.
The whole process of writing Birdman was tough and frightening and exhilarating. But the motel scene may have been the most challenging — a scene that was supposed to belong to a short story that inspired a play that is being performed in a film. (Don't read it again, just go with us.)