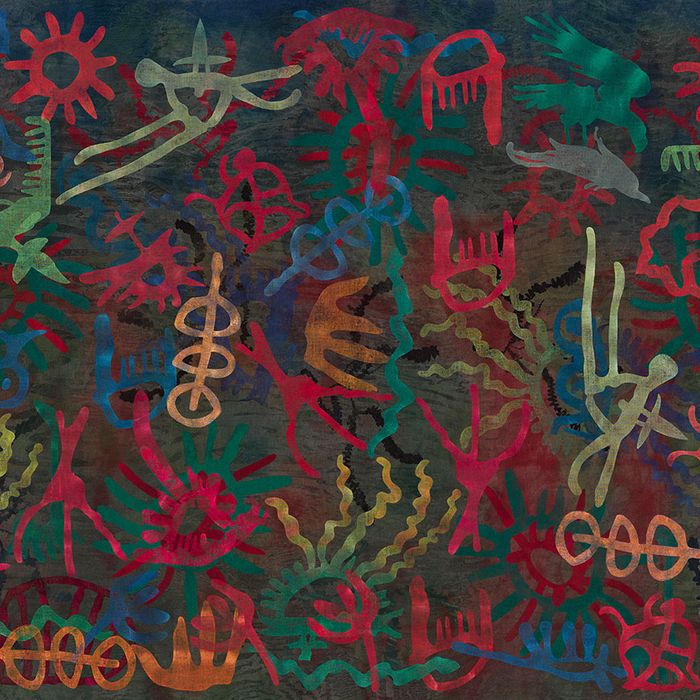 Philip Taaffe, Glyphic Field, 2014
Photo: ? Philip Taaffe; Courtesy of the artist and Luhring Augustine, New York.
Philip Taaffe
Luhring Augustine, 25 Knickerbocker Avenue, through April 26
Like many art-worlders of a certain age, I was smitten in the mid-1980s by Philip Taaffe's flickering bioluminescent patterns and remakes of famous Modernist masterpieces, all accomplished with stains, washes, hallucinogenic color — a unique form of collage whereby he created some of the most sensual surfaces I've ever seen in contemporary art. But after going to and showing paintings with Gagosian for a decade or so, somehow this amazing artist faded from people's minds. Taaffe's second show with this gallery finds him reasserting his powers of scale, complex Miró and Paleolithic pictographic structure meets Islamic design and alien worlds of floating shape, but as much as I adore some of these new works (especially Choir and Glyphic Field), I myself am missing the one last layer of the paperlike auras and palpable facture of his work from so long ago.
"Looking Back: The Ninth White Columns Annual," Selected by Cleopatra's
320 West 13th Street, through February 21
Quick message to all those forever worrying that art is going to hell, that the art world is corrupt, that money is dominating the airways, or who endlessly accuse others of having bad values: This packed wunderkammer of a show tells us that art is taking good care of itself, isn't in bad shape, and that if one takes the time to get around, keep one's eyes open, and isn't guided by agendas, there are choice diamonds spread throughout the rough of the supposedly complicit art galleries. At least that's the message of the ninth installment of this annual survey, where outside curators select works of art that have been seen in New York over the previous year. This year, curators from the excellent collective Cleopatra's give us Josh Kine's embedded wall fridge of bottles of Red Bull and DayQuil; Lily van der Stokker's pink painted Yelling Woman; Guy Goodwin's huge colorful cardboard wall-thing; and much else that belies the doomsaying of moralizers and Chicken Littles.
Dan Walsh
Paula Cooper Gallery, 534 West 21st Street, through February 14
Dan Walsh's wobbly grids of squat lozenge and pill shapes of dry-looking, semi-transparent color can strike one as initially boring — another handsome geometric abstraction. But these works quickly transform into mesmerizing mandalas of process that allow one to get lost in piecing everything together, down to every stroke. For moments you don't even know you're looking at these forms as you reassemble the exact order and layering of these succulent shapes that all form chains or amass in the mind as magic carpets, computer grids, by way of illuminated tantric manuscripts.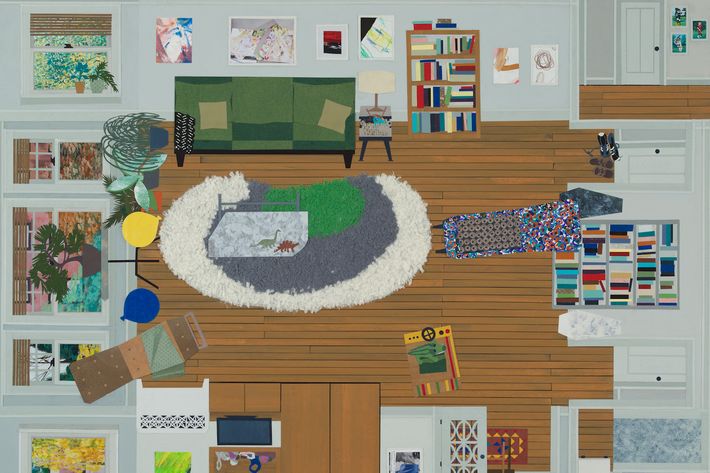 "Remarried," Ann Toebbe
Monya Rowe Gallery, 34 Orchard Street, through February 22
In 2011, something happened to me in a 45-minute studio visit that doesn't happen that often: With their fantastical twists of perspective, seeing rooms from above, left, and right all at the same time, all adding up to geometric visions, a group of canvases by just-graduating Yale painter Ann Toebbe blew my socks off.* Even though she was picked for prestigious residencies and the like, she pretty much faded from view as she's been living, painting, teaching, and raising a family in Chicago. Her second show at this gallery finds Toebbe in her usual fussy-sublime form (some might find her surface management claustrophobic and off-putting), with surfaces entirely made of painted collaged bits and all adding up to a fabulous domestic world seen from all sides, almost Proustian in its attention to detail.
*This article has been corrected to show that Ann Toebbe graduated from Yale in 2011, not 2004.