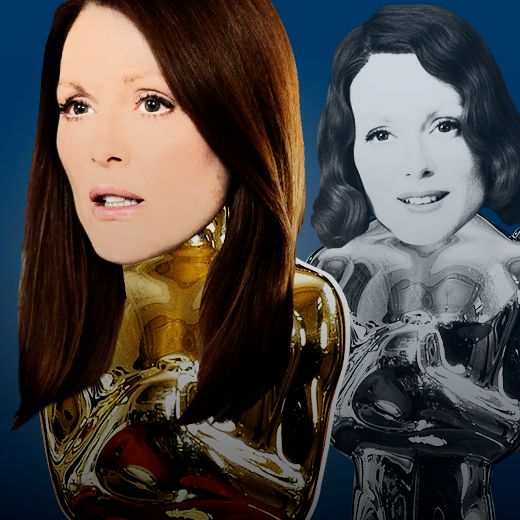 If the prognostications hold up (and really, when have they ever steered us wrong?), Julianne Moore is probably going to win an Oscar this year for Still Alice. There are two very good reasons for that: (1) Her performance has been acclaimed across the board, even by some who don't like the movie itself; and (2) She has been snubbed a ludicrous number of times by the Academy in the past. Seriously, Julianne Moore is the Meryl Streep of not winning Oscars. So, in honor of her maybe/probably/finally breaking the curse this year, a look back at all the previous times that Julianne Moore should probably have won an Oscar, but didn't.
Short Cuts (1993)
A lot of people didn't know who Julianne Moore was when she appeared in Robert Altman's interconnected ensemble drama based on a group of Raymond Carver short stories. But her presence was unforgettable. Playing a wife who quarrels with her doctor husband Matthew Modine about their various infidelities on the eve of a dinner party, Moore at one point spills some wine on her skirt, then has to do part of the scene without anything on underneath — a moment of remarkable vulnerability and even humor amid the unbearable domestic tension.
Who won that year: Moore wasn't even nominated, and the film only got a Best Director nomination for Altman. Anna Paquin in The Piano won Best Supporting Actress, which was adorable and strange and surprising. Still, Julianne Moore: robbed, kind of.

Vanya on 42nd Street (1994)
The year after many critics first noticed Moore in Short Cuts, they proceeded to notice her in this, Louis Malle's much-acclaimed rehearsal-that-turns-into-a-play-that-blurs-the-boundaries-of-reality-and-artifice Chekhov adaptation (an early precursor to Birdman, if you think about it). As Yelena, a young, beautiful wife caught between two men, Moore was tender and alluring in an incredibly difficult, ever-changing part. She also won numerous accolades from critics' groups.
Who won that year: And the Oscar went to … Jessica Lange for Blue Sky. A very good performance in an okay movie.

Safe (1995)
In Todd Haynes's somber, unnerving psychodrama-cum-horror movie, Moore played a woman whose environment was slowly killing her. It's a beautifully strange performance in a beautifully strange movie — one that requires the actress to subtly register and react to practically everything around her. Watching her is like watching an exposed nerve: We can't tear our eyes away from this person whose fragility is slowly consuming her.
Who won that year: Susan Sarandon, for Dead Man Walking. A terrific turn from the great Sarandon, yes. But interestingly, Dead Man Walking's stock appears to have declined in the intervening decades, whereas the Oscar-snubbed Safe feels like more and more of an American masterpiece with each passing year.

Boogie Nights (1997)
As Amber Waves, a veteran porn star and den mother to a group of adult performers in the '70s and '80s, Moore's performance is the bedrock of Paul Thomas Anderson's masterful epic. Amber is a fuck-up in her own right — she's in the midst of a doomed custody battle, she's a little too fond of cocaine, and she may not have much of a future — but the gentleness and care with which she tries to hold things together around her surrogate family is heartbreaking.
Who won that year: Kim Basinger, in L.A. Confidential. Good, but not Julianne Moore in Boogie Nights.

The End of the Affair (1999)
This is one of the greatest films of the 1990s, as well as one of the most underrated. In Neil Jordan's stylized, ethereal, romantic adaptation of Graham Greene's wartime tale of adultery, Moore plays a devout married woman who falls for author Ralph Fiennes. The story is more Fiennes's than hers, but her lovely, restrained performance gets at the heart of his longing.
Who won that year: Hilary Swank, for Boys Don't Cry. Okay, we can't really argue with this, because Swank is pretty fantastic. But Moore is so great in the underseen Affair that, if we could rewrite history, we'd make this one a tie.

Magnolia (1999)
In Paul Thomas Anderson's elaborate, surreal journey through the cosmically connected neuroses of different strata of Angelenos, Moore plays the much-younger wife of a dying patriarch — a woman whose coke habit, deep self-loathing, and defensiveness about her husband's family comes very close to, and then passes, the breaking point. It's an intense, broad, wild performance, much like the movie around it.
Who won that year: Angelina Jolie in Girl, Interrupted for Best Supporting Actress. This movie and this performance has its defenders. And this was the year Moore was herself nominated for Best Actress for The End of the Affair. So it really should have been Moore's annus mirabilis at the Oscars; instead, she was mostly an afterthought.

Far From Heaven (2002)
Again working with frequent collaborator Todd Haynes, Moore briefly looked like she might actually win for her wonderfully emotional turn as a woman who discovers her husband is gay. The film is a florid homage to Douglas Sirk and "women's pictures" of the 1940s and '50s. As such, at times it may feel to some viewers like it's in "quotes." But Moore keeps things grounded — her performance is a delicate balancing act between self-aware and lived-in.
Who won that year: Nicole Kidman, for The Hours (which also co-starred Moore). Kidman is very good as Virginia Woolf, but we couldn't help but think that this Oscar was the Academy making it up to her for not giving her an Oscar for Moulin Rouge! the previous year. Among this batch, Moore absolutely deserved to win.

The Kids Are All Right (2010)
In Lisa Cholodenko's sensitively drawn film, Moore and Annette Bening play two women with a seemingly perfect, comfortable, committed, long-term relationship. But their lives are (somewhat) upended when the biological father (Mark Ruffalo) of their children enters their world. As an aspiring landscaper who winds up in an affair with Ruffalo's character, Moore plays the somewhat more emotionally out-there half of the couple. It's an intriguing power dynamic that she and co-star Bening work perfectly.
Who won that year: Moore wasn't even nominated, perhaps because a lot of the awards attention went to co-star Bening, also in a lead role. The eventual winner, however? Natalie Portman in Black Swan.