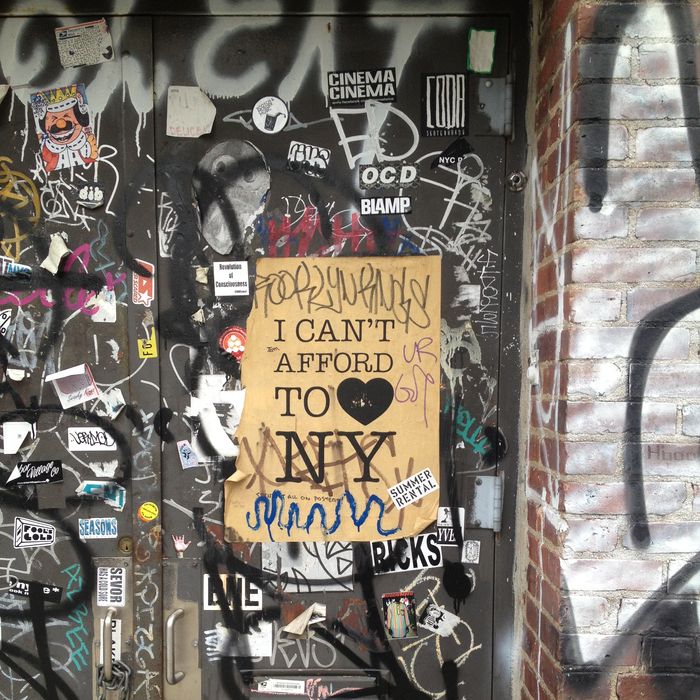 Photo: Courtesy of Galapagos Art Space
After 19 years in Brooklyn, Galapagos Art Space is moving to Detroit, where you can still buy a romantically cast-off industrial building for cheap, just like you used to be able to do in the gritty old New York, before it turned into a polished bauble of global capitalism and everyone in the world decided they wanted to live here. Whether or not you'll miss Galapagos, cared much for its programming, or ever saw anything there in the first place, its executive director declared to the New York Times that its leaving town was symptomatic of how "a white-hot real estate market is burning through the affordable cultural habitat." In Detroit — which is just a two-hour flight away — Galapagos could afford to buy up an entire ruin-porn campus of nine buildings in Corktown, and is thinking of expanding it mission to start a Detroit Biennial in 2016.
And why not? The Detroit area might be home to two good art schools, the century-old Cranbrook Academy of Art and the College for Creative Studies, but the artists they produced often left town for opportunities and like-minded people in places like New York. And there weren't many reasons for people to move to Detroit. Sure, the Detroit Institute of Arts is a world-class museum, but like so much of what is so impressive there, it's a relic of an imperial industrial capital that no longer exists, and for a while there was a plan considered to sell its collection to pay off the city's debt.
But hey, things looked pretty bad here in New York in the '70s, too, when it was an "affordable cultural habitat." It had the mystique of a place where you could make something new happen, which Detroit is also starting to be known for. I recently spent a couple of days there, witnessing the intense little pockets of recognizable Brooklyn-ish-ness that have sprung up, where the just-so work of creating another twee urban utopia is being done. These are also places where the racial demographics of the city are noticeably reversed. (In the 2010 census, Detroit was made up of 83 percent black people.) The new shops and restaurants often feel alienating to many who didn't flee for the suburbs when things got rough, and who think of Detroit as theirs. That struggle continues, but these new urban migrants are good for the city's tax base.
I also got to meet some of the artists who live and work here: Elysia Borowy-Reeder, the director of the Museum of Contemporary Art in Detroit, wrote up my itinerary, and introduced me to people. I started the day at the ReView Gallery, which is in an old building not far from the Detroit Institute of Arts, and run by Simone DeSousa, a Brazilian woman who lives in one of the perfect loft condos upstairs (many of which haven't yet been built out, since the market's not quite there yet) and who started the gallery because she felt that Detroit didn't have enough galleries to support the artists who live there.
Borowy-Reeder is married to Scott Reeder, a successful artist who shows all over the world.  The pair live in a Mies van der Rohe–designed housing complex (Detroit is littered with what was once the cutting edge in urban planning) on the edge of downtown, and I visited Reeder in his studio in the mammoth Russell Industrial Center. Actually he has two — one with a closet-size space he's turned into a tiny comedy-club-and-disco called "Club Nutz," and another with a door that opens out into the open air many floors up. I drove around and met up with Greg Fadell, whose studio is on the top floor of an old schoolhouse, and James Collins, who lives in a sunny old arts-and-crafts house, and Adam Lee Miller and Nicola Kuperus, who also operate as the band Adult, and who live in a perfect old near-mansion in a neighborhood called New Center, which for years was the headquarters of General Motors. GM paid to have the area gussied up and preserved during the white-flight days of the 1960s, but the house was still cheap enough for a couple of bohemians to buy it.
At the end of the day, a bunch of us convened at Antietam, a just-opened restaurant in an Art Deco storefront run by Gregory Holm, a Detroiter who lived in New York for nine years. The interior is a stridently tasteful concoction of retro-glamour elements, some of which Holm salvaged himself, Indiana Jones–style, from Detroit's many grand old buildings gone to seed. There aren't too many places like this here, at least not yet. Here's why these nine artists live in Detroit.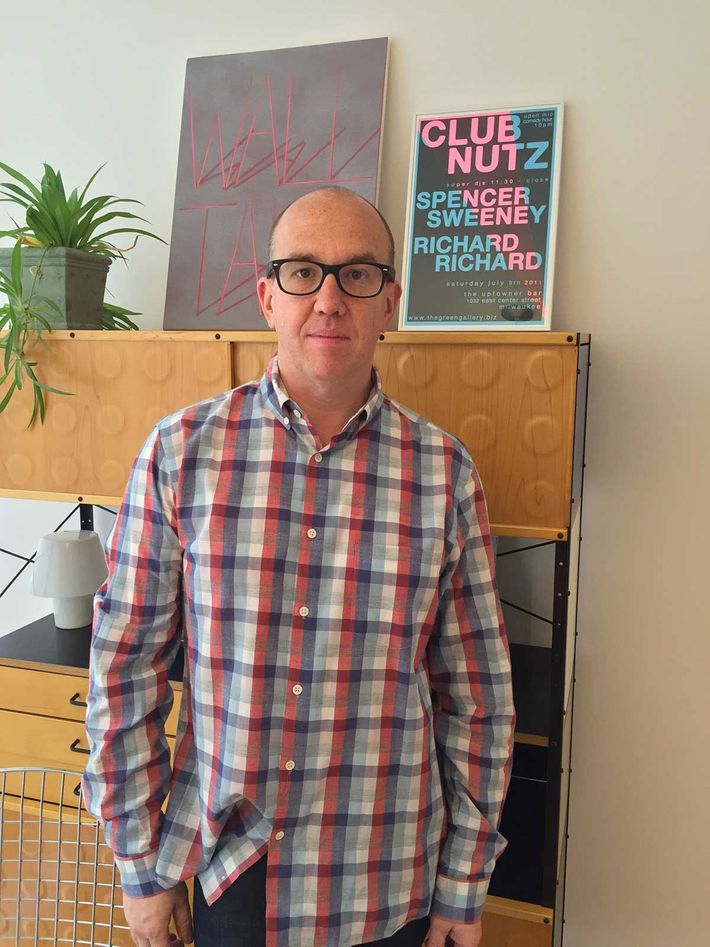 Scott Reeder
Been in Detroit: Two years
Why he came: "My wife is the new director of MOCAD. We are both originally from Michigan so it was an easy transition."
Why he stays: "I like being in a place that still has a lot of possibilities. Detroit has an amazing cultural history, but it's also always changing,, especially recently, and it's exciting to be part of that energy."
What he does there: "I'm mostly known as a painter, but I also do performance, help run the worlds smallest comedy club, and just completed my first feature film Moon Dust." (Website, Instagram)
Christopher Schanck
Been in Detroit: Three years
Why he came: Graduate school at Cranbrook Academy of Art
Why he stays: "What Detroit lacks in quantity of artists and makers it makes up for in the quality and commitment of its creative class. The strength of the maker here is measured by their physicality and creation of a proof of concept, less in the theoretical inquiry of the comfortable cosmopolitan conceptualist.  "
What he does there: Designs (Website, Instagram)
Alivia Zivich
Been in Detroit: Since 2006
Why she came: "Cheap and chill lifestyle."
Why she stays: "Same reasons as above. I grew up in Saginaw, but I've lived in L.A., Chicago, Manhattan, Frankfurt. Actually, living in Frankfurt inspired me to move back to Michigan. It has a similar climate and provincial, small-city vibe. And living here allows me to see my family more often, which is nice."
What she does there: "I'm an artist and I make paintings and videos. I run What Pipeline, an artist-run gallery in southwest Detroit, with Daniel Sperry. I also run AA Records, an experiment art and music label specializing in editions of lathe records and sound objects, with musician Nate Young (Wolf Eyes). I'd say my practice is somewhat holistic, often collaborative, and generally about observing, referencing, and creating context."(Website, Instagram)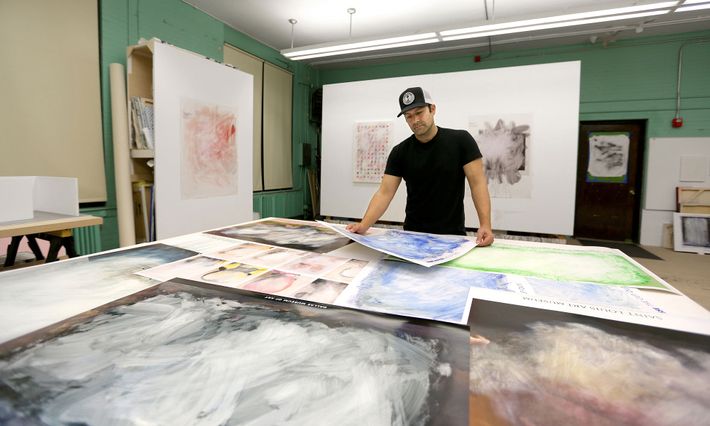 Greg Fadell
Been in Detroit: Lifer
Why he came: Birth
Why he stayed: "Detroit is like skateboarding in the early 1980s. The mainstream had already chewed it up and spat it out. Very few recognized skateboarding's unrealized potential and those of us who did picked up the remains and ended up creating our own universe. Similarly, I've always seen Detroit as a throwaway city of unimagined possibilities."
What he does there: "I've been painting mostly as of late, but I am a multidisciplinary artist. Painting, sculpture, video, installation — whatever my ideas call for." (Website, Instagram)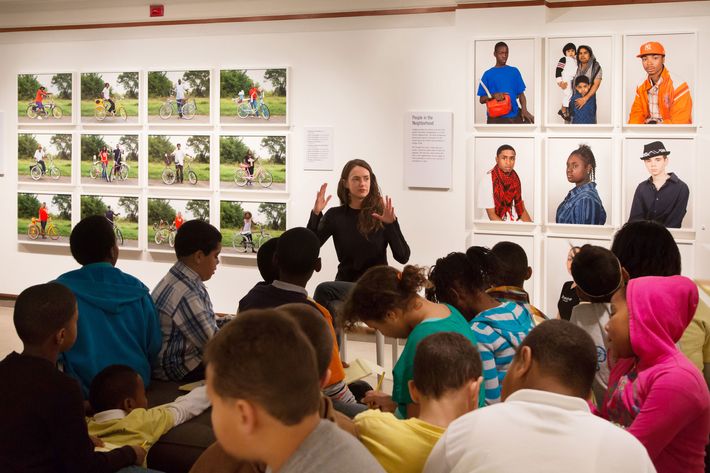 Corine Vermeulen
Been in Detroit: Nine years
Why she came: "I'm originally from the Netherlands and received a scholarship to obtain a masters degree in photography at the Cranbrook Academy of Art, just outside of Detroit. After graduation in 2004 I moved back to Amsterdam, but I couldn't get Detroit out of my head and strongly felt I should continue my practice there and not in Amsterdam. So in early 2006 I decided to move back to Detroit for an indefinite period of time and that is now almost nine years ago."
Why she stays: "I thought about this a lot, but it really comes down to some pretty basic things: great people and the luxury of time and space."
What she does there: "I am an artist who primarily uses the medium of photography." (Website)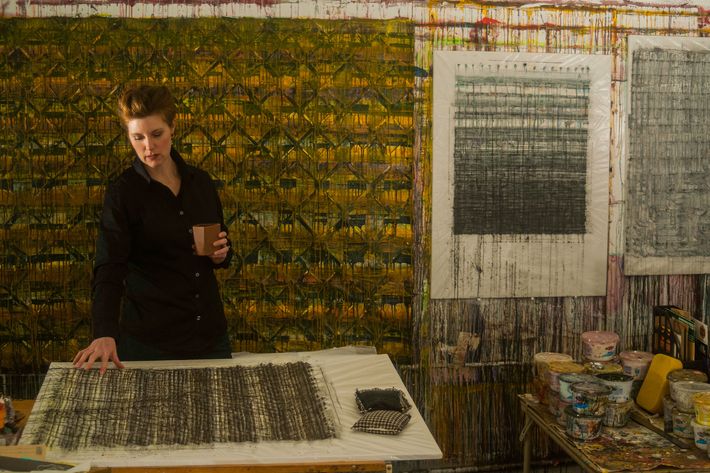 Addie Langford
Been in Detroit: Ten years
Why she came: "I came to attend the Cranbrook Academy of Art in 2004."
Why she stays: "After ten years in a place, you wake up and realize you've created a life, that you've become invested in the history, politics, and predicament of a place, that you've made friends and new family. The act of staying has been so nourishing that it has complicated the argument for leaving, no matter how appealing that seems at times. My husband and I talk about the city constantly, the city talks about the city incessantly, it has shaped our direction and our interests. We've come to understand staying as a quiet act of preventing further erosion and contributing to re-stabilization, and that has lent purpose. And I fell in love here — big love. For all of these reasons, I (we) stay."
What she does there: "Drawing was my mother tongue, then fabrics, architecture, and ceramics. Painting allows me to hold them all in my head at once. In a recent brief conversation with Sarah Thornton after her compelling Detroit Institute of Arts lecture, she asked why I identified as 'painter,' not 'artist.' It's existential." (Website)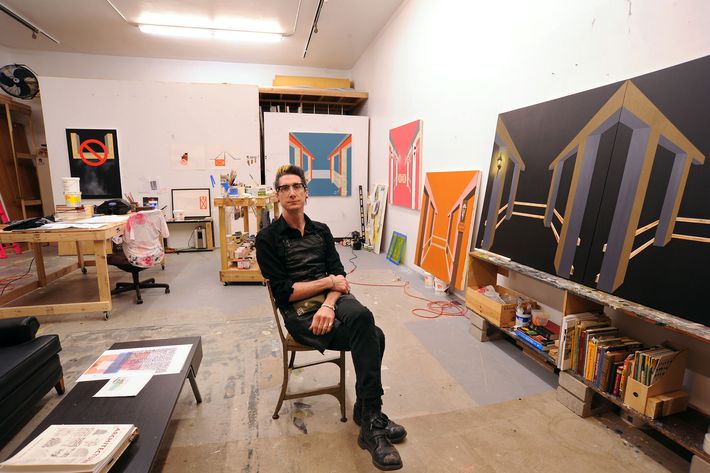 Adam Lee Miller
Been in Detroit: Since 1989
Why he came: "The art school, College for Creative Studies."
Why he stays: "In 1993, I left Detroit for San Francisco. In less than a month I moved back. There is an honesty and an edge here that I feel particularly at home with. The early Detroit techno scene mirrors that and it was a big inspiration for me to stay and try to be a part of it. I started a record label, Ersatz Audio, in 1995 and one of the last remaining pressing plants, Archer Record Pressing Co., is ten minutes from my home. I used to love the Road Warrior quality of living here (it weeded out most insincere people), but I fear that is changing. Nicola and I also travel a lot, between the visual arts and touring. I'm not sure if Detroit would drive us crazy if we were here 365 days a year? Our cost of living also keeps us here; our home is 4,000 square feet and our mortgage is $445 a month."
What he does there: Paints, and with his wife Nicola Kuperus, below, sculpture, installation, video, and the band Adult (since 1997). (Website, Facebook, Instagram)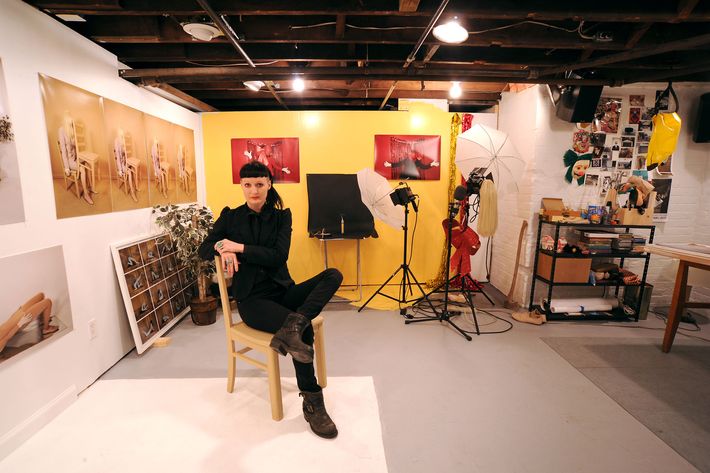 Nicola Kuperus
Been in Detroit: Since 1994
Why she came: To attend art school at the College for Creative Studies
Why she stays: "Space. Cost of living. Isolation when you want it. Unpredictability. And most important, there's a tremendous amount of heart and soul in this place. Once while taking a drive on Belle Isle [an island between Detroit and Canada], I passed by a guy playing a synth on the shore. It looked as if he were giving a performance to the city. Magical moments. That's Detroit."
What she does there: Photography and video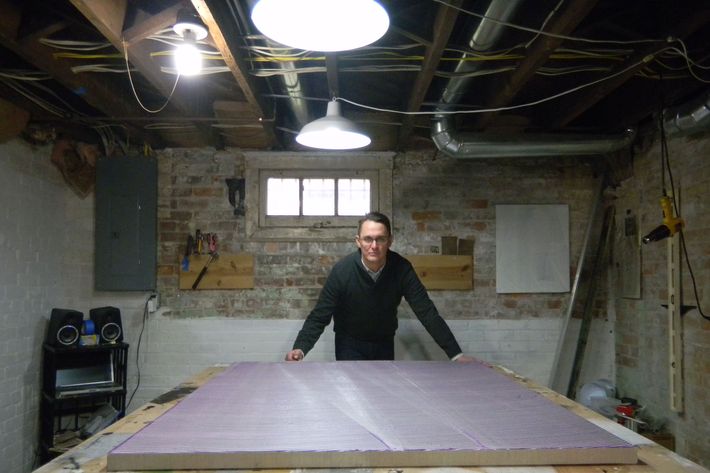 James Collins
Been in Detroit: Three years
What brought him there: "We initially moved from Minneapolis to Battle Creek, Michigan, when my partner, Nicole, took a job with the Kellogg foundation. I kept a studio in Kalamazoo during that time. I managed to win a grand prize for the West Michigan Area Show at the Kalamazoo Institute of Arts. Marlborough artist Vincent Desiderio was the juror. I started showing in Detroit while still living there. Nicole eventually accepted a job with a nonprofit called Excellent Schools Detroit and that's what brought us to Detroit."
What keeps him there: "We like Detroit and all the people we've gotten to know here and we're sticking around to see where things go. The city seems to be picking up momentum in regards to turning things around. The art scene is seems to be picking up as well. I meet new artists all the time. A few have come from New York recently. I keep my studio in my home. I guess you would say I am a process-based artist. I look for ways in which to make a painting where the process in part dictates the outcome. I'll cut and paste something …
"Painting for me is as much about technique and process as it is about the final artwork. Each painting embodies an element of chance and little in regard to predetermined outcome. My goal is not solely to create new imagery, but to coax the painting to life through the gestures of its making. Chemistry plays a big role. With most of my oil and acrylic paintings I rely on the fact that oil and water do not mix. Therefore the oil and acrylic repel one another while still in their fluid state. It is a catalytic event as the different mediums repel each other momentarily. There is no room for error. If the chemistry is off, the painting does not work and has to be destroyed and I start over. Once it's finished it's finished. There is no going back to edit. This is not the only way I work, however; there is almost always a recipe of sorts involved for the making of a painting. There is also a sculptural aspect with just about every type of painting I make. By this, in the removal and shaping of the paint on the surface of the canvas, the painting takes on a more three-dimensional quality with textural elements."
What he does there: Paints (Website, Instagram)
Note: As many commenters have pointed out, this story, which focuses on artists who have chosen to make Detroit their home, missed an opportunity to highlight artists of color. The list does not fully reflect the diversity of voices and experiences in the city, for which we apologize.