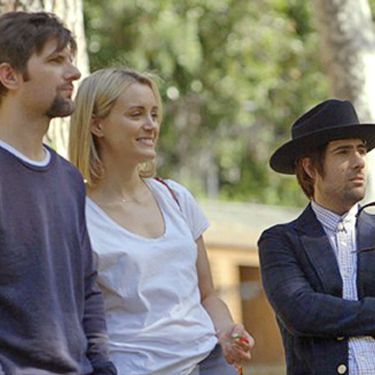 This year's Sundance Film Festival is barely 24 hours old, but hot on the heels of yesterday's eye-poppingly gymnastic sex scene in The Bronze, it seems we've got another R-rated romp to contend with. Earlier today, Adam Scott and Jason Schwartzman brought their new movie The Overnight to Sundance, and while I'm about to describe the plot to you using entire paragraphs, rest assured that it has already been reduced to a single, oft-repeated sentence: "Oh, is that the movie where Scott and Schwartzman go full frontal?"
It is … and it isn't! But first, that plot, if you still require it: Scott and Orange Is the New Black's Taylor Schilling play young parents who've just made the big move to Los Angeles, though Scott laments the fact that they haven't yet made friends in their new city. Enter Jason Schwartzman and his wife Judith Godreche, who meet our protagonists at a Silver Lake park when their sons promptly hit it off. That evening, Scott and Schilling bring their son to Schwartzman's palatial manse for a pizza play date, but the real playtime begins when the kids go to bed, the parents get stoned, and the clothes start coming off.

There's already been a hint of bisexual, swinging frisson in the air as Schwartzman and Godreche attempt to suss out their more innocent dinner guests, but soon enough, the subtext becomes text as a poolside Schwartzman peels off his boxers, revealing what Scott describes as a "giant goddamn horse cock." Scott can barely take his eyes off it (and neither can the camera), though he's nowhere near as eager to go skinny-dipping: As Scott later confesses to Schwartzman, he's been burdened with a micropenis all his life. Sure enough, though, our uninhibited host soon convinces Scott to make peace with his minor member, and the movie marks its midpoint with Scott and Schwartzman dancing full frontal, their very different appendages bouncing eagerly in the night air.

"Let me make this clear right now," Scott said later at the premiere's Q&A, the audience already giggling in an anticipatory fit. "They were both prosthetics, okay?"

And while Scott is actuality an unlikely veteran of pretend penises — long before he wooed Leslie Knope on Parks and Recreation, he was masturbated to climax on HBO's risque Tell Me You Love Me — this was brand-new territory for director Patrick Brice and producer Mark Duplass, who had to scour Google Image Search for "comparable images" to pass on to their co-producer, Naomi Scott (who's married to Adam), for vetting.

That's when the prosthetics company came in. "When we got the first pics back of the large one and the small one," recalled Scott, "both Mark and I said on the email chain, 'I don't think the small one is small enough. I mean, that looks like a pretty good size.'" Duplass began to interject about what constitutes a small penis, but the actor (who went full frontal without the aid of prosthetics last week on his HBO show Togetherness) realized this was a no-win topic. "Let's just sidebar this," he laughed.

Fortunately, their director is no size queen. When Vulture asked Brice what it was like when he first went to the prosthetics house to check out all of those potential penises — both large and small — the man positively beamed.

"It was the best day of my life," Brice gushed, grinning ear to ear.