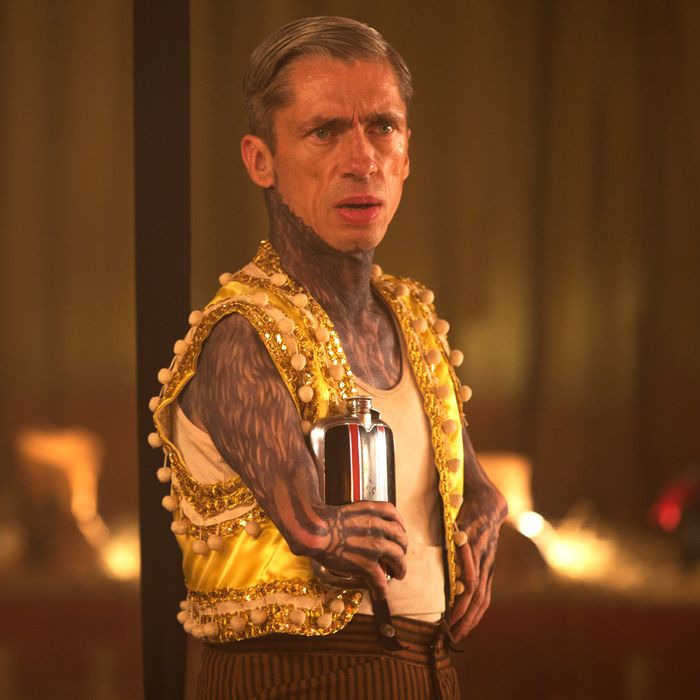 Mat Fraser's a remarkable person. Not due to or in spite of his disability — the 52-year-old actor/artist/musician was born with phocomelia, resulting in foreshortened arms — but because over the course of a 30-plus-year creative career, he has played drums in groundbreaking bands, been featured in the famed Coney Island Circus Sideshow, launched daring theatrical pieces with his burlesque-icon wife Julie Atlas Muz, appeared in a range of TV and film work, and been a consistently vocal advocate for the rights of persons and performers with disabilities.
But to millions of Americans, he's first come into view as Paul "the Illustrated Seal Boy" on American Horror Story: Freak Show, whose penultimate episode airs tonight. And Fraser's okay with that, even if it's a bit jarring to finally have "people coming up to me, goin', 'Are you Mat Fraser?' not, 'Are you the bloke with the short arms from American Horror Story?'"
As Fraser and Muz drive around Burlington, Vermont, in search of wardrobe accessories for a workshop they're conducting, Fraser discusses Freak Show's inclusive oddness, the pursuit of non-disability-specific work, and his orgiastic rock 'n' roll past.
As a viewer, this show gives me nightmares. How about you?
The only dreams I've ever had are ones where I get the lines wrong and the director goes, "No, cut!" and everybody thinks I'm an idiot. Like panic dreams. I don't have any monstrous nightmare-dreams of any of the ghoulish characters. Although I do know that the crew — all hardened makers of horror — when John Carroll Lynch was on the set as Twisty, they absolutely found that difficult to watch. His malevolence emanated from his body so brilliantly that it was just real on the set.
A new weirdo on the block is Neil Patrick Harris's Chester. Does Freak Show introduce too many characters, or is it merely trying to represent as many points of view as possible?
I have heard some of the criticisms, but against that is there's a lot of slam-bam shock, and new characters always bring that. They bring a new energy, a new story line. Some characters are gonna have to take a backseat in some episodes while others come to the fore. That's inevitable. I think they did a really good mix of plate-spinning, and just as the plate is about to drop off the stick, they do rush back and give it another spin. And from here on in, there's less and less characters to worry about, let's put it that way … It's going to be amazing when you see episode 12.
Now that the show's winding down, are you getting other American TV offers?
Not as yet. My manager's asked me to put a show reel together of the best bits, and he's gonna hawk it around. I have been approached by a low-budget sci-fi dude who wants me in his film, and that part is nonspecific to the disability, so that part is really pleasing. I'm happy to [do] the disability stuff, especially if it's well written, but I'm also thrilled when somebody just wants me to be a lawyer or a banker.
Neil Patrick Harris arguably represents that kind of open-minded casting, since he's openly gay yet frequently plays heterosexual Romeos.
Absolutely. And if we think back to the early Will & Grace episodes, where people were still kicking off that the main guy was straight playing gay, I think that the halcyon stage of a level playing field of opportunity to do with gayness and straightness may be upon us. Time and a place. And maybe we're at the beginning of the dawn of that kind of casting for disabled people. It's very nice to think so.
Does it ever grow wearying to be both advocate and performer?
It does. I won't lie, it does. The thing is, though, I do care [about disability rights]. And so when people ask me, I cannot help but voice my opinion, because there's a cultural apartheid out there. When you're denied, ostracized, and segregated from portraying your own people, that's certainly not an apology, is it? But then again, I'd love to just talk about acting and art. But I think [it's] been a reasonably happy medium coming off American Horror Story.
And given the provocative nature of your other work, do you find it bemusing that people are so shocked by the content of Freak Show?
Well, at the orgy scene in episode one, I'm laughing to myself, Hmm, I bet I'm the only person who's actually been in a real orgy and smoked real opium. I've been around the block. I was in a rock band for 15 years, and I live with a stripper. I've been onstage and stepped over two people having sex as I've tried to get the microphone to introduce the next act at sex parties. I don't do as much of the salacious stuff anymore because I'm older, and it doesn't look so good, and I want to move on. I was happy to do that then, and now I'm doing something else. And now I have the opportunity, hopefully, to do some nice work that will show people I can act, and show people disabled people can be in stories and we're part of society. The audiences are ready, I know that … For all the shock, [Freak Show] has kind of got it right on that front. In our family, we stick up for each other. It is tough out there, but it doesn't bother us. I worked in sideshows for 15 years, and it is like that, and they did get it right, and that's pretty awesome from a troop of nondisabled writers.
Is getting that overall feeling right more important than casting all disabled parts with disabled actors?
Who can say which is more important? With [American Horror Story], the main actors always play the main characters in every different setting. Ultimately, obviously, it's better if there's an authenticity to the physicality. To answer your question more succinctly, it's not for me to say, but trying to be a realist, probably yes. I never thought I'd ever say that, but yeah.
Were the able-bodied cast members who were playing disabled characters worried they'd offend the disabled actors?
No, not at all. It's a horror show. Everyone knows what they're coming in for.
So, going into the last two episodes, with so many story lines swirling, will fans walk away feeling satisfied?
No. I don't think that's good writing. You've gotta leave some stuff to the imagination. I would say some things are addressed but not all of them, and it's no different from any other series of American Horror Story in that respect.