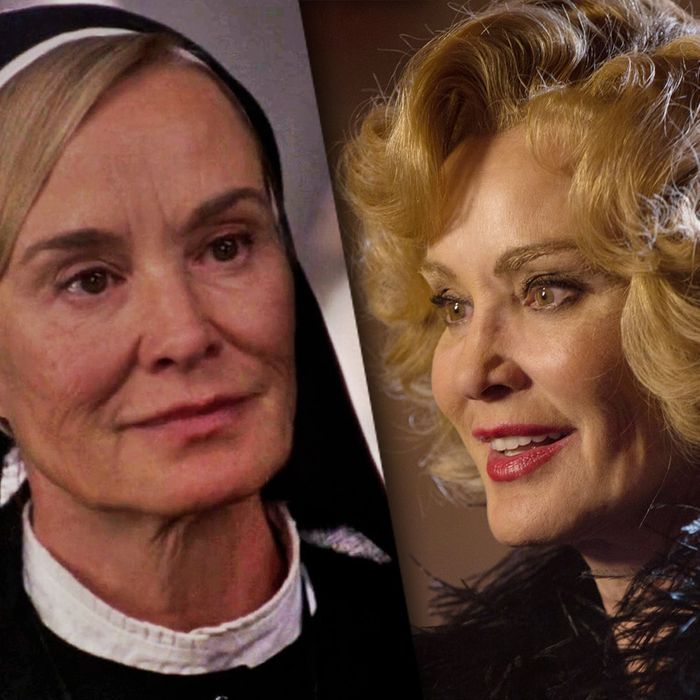 Not only did Ryan Murphy confirm our theory that all of the American Horror Story seasons were somehow connected, but this season's Freak Show started to put together the pieces. We saw the return of three characters from Asylum — our beloved Pepper, the doe-eyed Sister Mary Eunice, and everyone's favorite Nazi war criminal turned physician, Dr. Arden. Each Freak Show appearance shed a new ray of light on the characters we thought we knew. But what does this mean for the coming seasons? (And the past ones?) Here's an update to the theory and a look back at what we've learned. (But please do continue to share your AHS crackpot theories and missed Easter eggs in the comments.)
This season's much-hyped return of Pepper did not disappoint. We get to see her full backstory, from her beginnings in a Massachusetts orphanage to her Freak Show bliss, and then back into the hands of her cruel family. And although we already loved Pepper from her Briarcliff days, getting her origin story was crucial to both Freak Show and Asylum's greater lore. Through Pepper, we also got to spend more time with a pre-possessed Sister Mary Eunice, seeing just how kind she was to the inmates before the devil took her, giving her Aslyum-era character a bit more depth. Could upcoming seasons also follow the path of other Briarcliff inmates? Let's get a season that delves into Kit's childhood or Lana's college years. You never know with Ryan Murphy, but given that Pepper's episode was the emotional high point of this season, he could go down this path again. Considering Freak Show's overall blah-ness — perhaps AHS could benefit from looking to its strong seasons?
And then there's Elsa Mars. We learned last week that the man responsible for taking Elsa's legs in that shaky snuff film was none other than Asylum's vile Dr. Arden, back when he operated as a German criminal known as Hans Gruper. Elsa's leg carpenter/boyfriend, Massimo (Coven's Axeman!), told their story, also revealing that after Elsa's amputation, Gruper then tortured him for years. Now, we assumed last night's finale would follow Elsa as she sought her revenge — maybe she'd pose as a reformed showgirl turned nun, hike it up to Massachusetts, and plot the downfall of Arden, therefore turning her into our Sister Jude. (This would have been an improvement on last night's hot mess, no?) But alas, in Freak Show's finale, Elsa dies a peaceful Hollywood stage death in 1960, before the events of Asylum even start. Bummer.
So now what? We know very little about season five of American Horror Story, aside from that fact that it's happening. Ryan Murphy has said that a small clue was dropped early this season, when we got a close-up of a top hat on a coffee cup. Whaaaaaaaaat? Maybe we're headed to a magic show? (Maybe perverted, murdering Magician Neil Patrick Harris will return?) Our leading lady Jessica Lange has made it known that she will not be returning, but reports from last week's Television Critics Association tour hint that that may not be the case. And as you know, Ryan Murphy can be quite persuasive. Either way, see you next season, wherever and whenever it is.