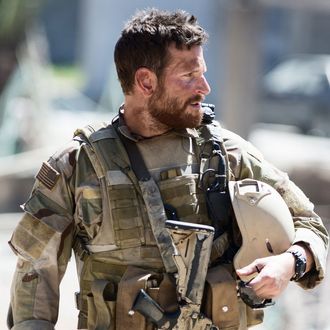 Oscar-nominated biopic American Sniper might have some off-screen consequences, according to THR, which reported that the movie's recent box-office and awards-season success could impact the decision of a real-life murder case. Eddie Ray Routh will stand trial on February 11 for the slaying of Chris Kyle, the protagonist and lethal sniper in Clint Eastwood's film (portrayed by Bradley Cooper). Prosecutors are reportedly seeking the death penalty for the crime, while Routh's team plans to argue he was experiencing post-traumatic stress disorder as part of an insanity defense.
Eastwood's film will "be an issue," defense attorney J. Warren St. John told THR, because the movie portrays its protagonist as a hero and suggests that Kyle was trying to help Routh before he was killed. The movie made roughly $100 million at the box office for its wide release this past weekend, more than doubling the previous January opening-weekend record. "Can there be a fair trial?" he said. St. John had little else to add because of a gag order — but said the victim's wife, Taya Kyle, could be exacerbating his issue with the case because of public interviews and comments she has made in promotion of Sniper.
Kyle's wife had no comment for THR, but in a Los Angeles Times story from more than two weeks ago, the widow said that despite the PTSD, for Routh's team "[t]o try and even find an excuse is disgusting." On Facebook over the weekend, she wrote of the film's success: "I am overwhelmed with gratitude and my heart is full. American Sniper has broken records, which follows such an honest path of Chris's life." The court presiding over Routh's case has reportedly scheduled a media information meeting for February 2, before the trial begins.