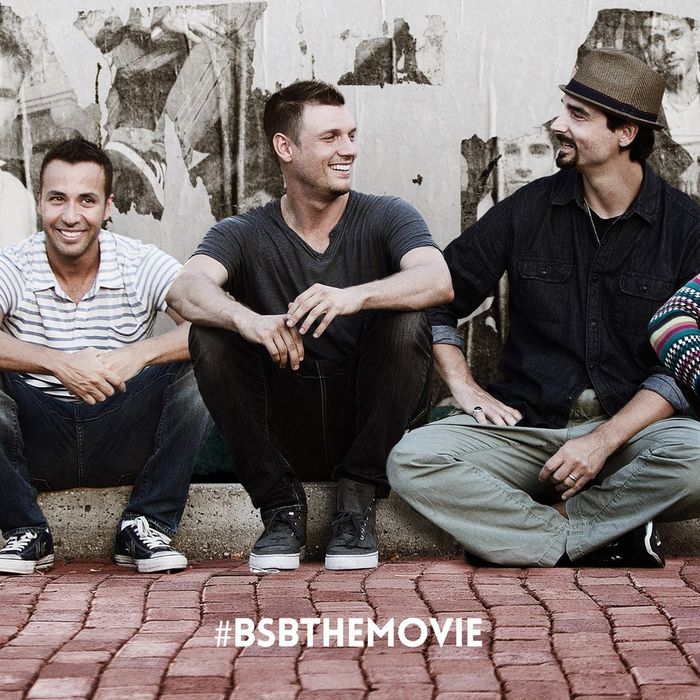 As it is in Richard Linklater's Boyhood, the main character (or perhaps villain) in the new documentary about the Backstreet Boys is time. It looms large in the first scene of Backstreet Boys: Show 'Em What You're Made Of, when we follow the five former teen heartthrobs on a chilly autumn hike. Well, we follow four of them, at least: "It's gonna take me a minute," sighs AJ McLean, having fallen behind the pack, "This is really shitty for my knees." We get a similar glimpse of Brian Littrell's mortality a few scenes later, when we see him working with a therapist who's trying to help him overcome vocal tension dysphonia in hopes that he'll be able to hit those high notes on the Boys' 20th-anniversary tour. But nothing is quite as jarring as the moment the Boys visit Nick Carter's old dance studio and ask a class of teenage girls if any of them know the "Backstreet's Back" dance — a question that, 15 years ago, was a tried-and-true entrance exam for middle-school popularity. These girls stare at them blankly. "They weren't born yet," says Howie D.
The Backstreet Boys have been together for 22 years, which is basically five centuries in boy-band time. Teen idols burn notoriously fast and bright, and the film figures the Boys' glory days as the fleeting window between 1999 (when their blockbuster album Millennium was released) and 2002 (right before McLean's rehab stint and Carter's lackluster solo attempt). But even throughout the subsequent post-peak rough patches, the group never actually broke up. The oldest Boy, Kevin Richardson, took a six-year break between 2006 and 2012, during which time they released two relatively unmemorable records as a four-piece and accepted their inevitable destiny of doing the "NKOTBSB" Tour with co-headliners New Kids on the Block. But when Richardson rejoined around the time of their 20th anniversary (and the end of their contract with longtime label Jive Records), the group experienced a surge of creative energy. They decamped to London to write and record 2013's In a World Like This (which they've called their first "independent" album, away from Jive) and hired a film crew to document what happens when the Backstreet Boys stop being polite and start getting real.
Although the Boys were involved in the production, Show 'Em What You're Made Of isn't one-dimensional BSB propaganda — it's more Metallica: Some Kind of Monster than Justin Bieber: Never Say Never. Like most teen idols (especially of the pre-social-media era), the image of the Backstreet Boys was calculatedly glossy and sanitized, but Show 'Em reveals some complicated and demystifying truths. We learn, for example, that in the days before their Max Martin–helmed debut, Howie D. sang most of the leads — and that he's spent much of the past two decades secretly and understandably bitter that he was eventually pushed to the background. ("I'm Howie!" he tells a casual fan in London who mistakes him for AJ. "I'm singing all the leads on everything for this record!" It doesn't quite turn out that way.) McLean speaks candidly about his drug and alcohol abuse, at one point telling a story about being so wasted that he accidentally did a shot of his own vomit. ("No, I threw up in the cup and you drank it!" his friend corrects him, a very crucial fact that McLean learns right there on camera.) The most explosive scene is a no-holds-barred, warts-and-all argument that culminates when Carter tells Littrell, "Don't be a fucking dick like everyone knows you are … I'm not afraid of you anymore." TRL this is not.
The Boys (men?) were in much better spirits when I got a chance to talk to them this week over Skype, since the (non-)blizzard had left them stranded in LA. We discussed the documentary's surprisingly frank tone, what they've been listening to lately, and why they now consider "boy band" a compliment.
Why did you decide to make a documentary? And how involved were you in the production?
Nick Carter: We had just finished up the New Kids on the Block tour, with the four of us. And we had been speaking to Kevin, and he wanted to rejoin us and come back to the group. His heart was back in it after taking some time off. And in one of those first meetings we had, we went to Kevin's house to have a conversation about music and where we wanted to go. I had just gone to see a movie by Tribe Called Quest weeks prior to that, so I was hot on this idea of filming something. I basically saw another side of Tribe Called Quest that I'd never seen before, and they're one of my favorite bands ever. I loved it.
Kevin Richardson: The initial idea was, "Let's document the recording of this album." It's all five of us together again, it's going to be our 20th anniversary, let's document the recording of the album and maybe it could be a bonus feature of the CD, or you could download it when you buy it on iTunes or whatever. But then we went to this production company Pulse Media in London, and they were like, "Why don't you guys tell your whole story? Where you came from, where you went, and where you're going." And they wanted to tell the story in a way that wasn't a promotional puff-piece, you know? They wanted to have a raw, honest look at our careers.
AJ McLean: The fact that we were willing to be so vulnerable is what sets the film apart from a lot of the other music documentaries as of late. Like some of the more pop, 3-D documentaries that are all about the live performance. There's a real, true story here. It didn't happen overnight. This wasn't an easy time. You know, over the last 22 years that we've been a band, I think fans even followed us in media, in magazines, on TV, so they kind of know as much as they could possibly know about our entire story. But we dig a whole lot deeper here. I think even our hard-core fans are going to leave knowing all new things about us.
At one point in the documentary, we see a very intense fight between Nick and Brian. Was it a hard decision, leaving stuff like that in?
KR: That happens in families.
Brian Littrell: And you know, it probably happens a little more than you see on the documentary. Again, that's what makes us a group. Like Kevin says, we're five alphas, and we like to voice our opinions, whether it's about music, about business, about a tour — if it's about anything that has to do with all five of us, it's a pretty big deal, so we try to make it work. Sometimes it does, sometimes it doesn't.
NC: You have to work through the hard stuff in order to get to a solution. A lot of times that's just how life is.
KR: We're passionate about what we do, so when I believe in something, I argue my point until the cows come home.
AJM: [Laughs.] Yes, he does.
It seems like part of why you wanted to document this album is that it's the one on which you finally had some kind of creative control. Do you wish that had come earlier, even if it had been at the expense of some of your fame?
AJM: You know, I don't think we were ready, per se. We obviously tried our damnedest back in the day to put our foot down creatively with the previous label [Jive], and try to pick singles and really figure out what the album cuts were going to be, video treatments and all that stuff. Unfortunately, it didn't always work that way. But I think we had to work up to this part of our career. Even if we didn't sell a single copy [of In a World Like This], the fact that we did this on our own is a huge achievement, and we'd be very proud of ourselves, which I think we are. And we've accomplished something that I think could have actually gone really bad. I mean, it's a lot of responsibility to take on a challenge like making your own album, being your own label, writing a lot of the songs, and kind of putting yourself out there, you know? And it actually turned out to be alright.
What are you guys listening to these days?
NC: We all have individual tastes and things we really love, which makes this group really eclectic. So for me, there's this group called TV on the Radio that I've been listening to. I love their new album, Seeds. I just absolutely love it.
Howie Dorough: I'm a big fan of Sam Smith. We were on a European tour almost a year ago at this time, and I remember seeing a video of his for a song called "Money on My Mind." And seeing it was No. 1 on MTV in London. It's funny, because we get a chance to travel around the world, we do get a chance to discover certain artists before Americans do. I remember going to Nick and being like, "Dude! You gotta play this song!" because he DJs these after-parties.
AJM: It's a great song.
BL: And then [Sam Smith] blew up in Europe, and eventually over here. I think all of us like him now quite a bit.
AJM: I'm a big fan of the Weeknd. And I'm so happy that D'Angelo is finally back.
NC: Wait, I didn't know that! Why didn't you tell me that? [Laughs.]
AJM: His new album is ridiculous. It's so good. He's gone back to what he used to do, and it just sounds great.
KR: I'm really into these two Canadian musicians, a duo called Chromeo. They had a song out this summer called "Old 45s" that I just fell in love with. It's like '80s hip-hop mixed with '80s synth music. And I'm a child of the '80s, so I love that. Also Little Dragon, I'm digging them.
You guys have pushed back on the term boy band at times, but it can be a hard label to shake. What bothered you most about being called a boy band?
HD: It's just something we were thrown off-guard by. When we came over to Europe [in the mid-'90s], we were told, "Hey! Welcome to boy-band world! You're amongst all these different boy groups out here." And we were like, "What the heck is a boy band?" We were told what it meant, and it was the type of the group where you only had one or two singers, five guys, and only one or two could really sing and everybody else was just a bunch of pretty faces dancing around. And we were like, "That's not us." We've always called ourselves a vocal harmony group, being modeled after the doo-wop groups like the Temptations, the O'Jays, even to groups that we respected so much growing up, like Boyz II Men and Jodeci.
So for us it was hard to accept that stigma, I guess that's what you'd call it. It was one thing when we were over in Europe, but as soon as we came over to America, the title just came over with us. And it was just one of those kinds of things … whenever you label something, you don't really give it a chance to be its own thing, and to grow. And as soon as we got titled as being a boy band, then that means we're going to be a group that's just for teenage girls. And we'll only have a short span of time, and get it right away and [they'll] go on to the next act. I think we've always wanted this group here to be about the music. We've always prided ourselves on making music that we feel is timeless. Hopefully you can hear "I Want It That Way" 20 years from now and feel like it's a good, credible song. But I think now, at this point in our career, we're the most comfortable in our skin. Now, at this point, we don't really care so much about the titles.
So you're not insulted by the term anymore?
HD: If anything, now boy band hopefully means that we're still young. In that case, hey, I'm down with it!