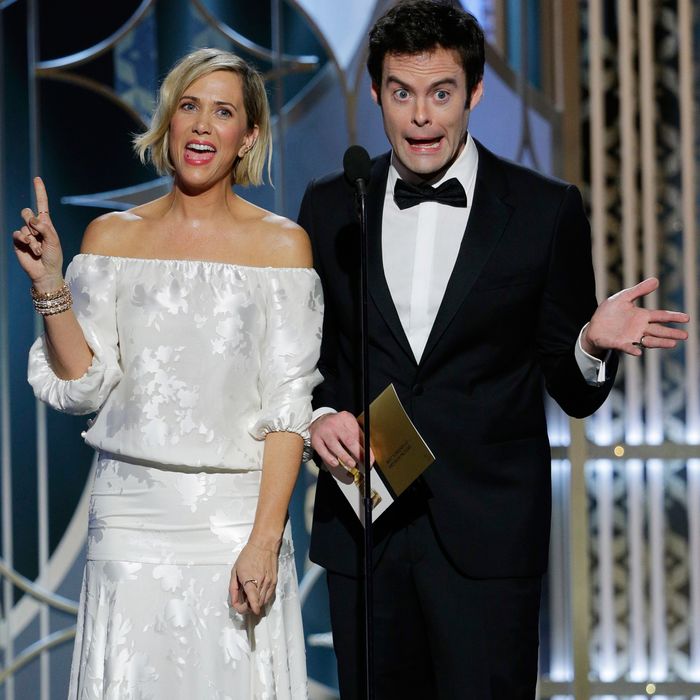 For a brief two and a half minutes, Kristen Wiig and Bill Hader owned the Golden Globes with their bit where they made up fake classic quotes from classic movies — like Robert De Niro's line from The Godfather: "Who's in my driveway? I need to get into the city over here." Vulture spoke with Hader briefly about coming up with and performing the classic bit.
I loved your presentation with Kristen at the Golden Globes. I'm just curious, what went into preparing that?
We were trying to figure out what we were going to do, and we had another idea that was too long. So, we had this idea of just saying very pedestrian lines from popular films, but none of the lines were actually in the movies. It's funny, I had three people at after-parties say, "I don't remember those lines in the movie."
So, did they get the joke? 
I was like, "Oh, you need to go watch them again. Go watch ET again. Go watch Titanic again; Leo is trying to calm everybody down." But yeah, we just talked about it a little bit. We were texting each other beforehand, the day of, going, "Well, do you want to say this? Do you want to say that?" You get so nervous, and then you get out there, and by that time in the show, everyone's really drunk. And everyone's at tables, so everyone's talking. It doesn't matter, so you can go up there and have fun.
And when you're having fun, everyone kind of has fun with you. 
Yeah. Kristen and I, we get around each other and we get really goofy. She really makes me laugh. She very effortlessly makes me laugh. That's the nice thing about SNL. For eight years, we were on live television. You can see it with Tina and Amy, and the supreme confidence with those guys. If we even had a tenth of what they were doing, we were okay as far as the confidence department goes. I don't know about the material department, but we had fun regardless.