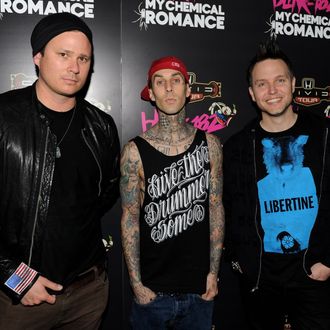 Photo: Kevin Winter/2011 Getty Images
It seems Blink-182's Travis Barker and Mark Hoppus are having trouble with Tom DeLonge, after the band's longtime guitarist purportedly left the group and then came back all on the same day. In an interview with Rolling Stone on Monday evening, Barker and Hoppus attempted to set the record straight and slammed DeLonge for being disingenuous and ungrateful. They also claimed he's been flaking on their legacy-preservation efforts for years. Thus they declared he's effectively not in the band, though DeLonge insists he is.
"I never quit the band," DeLonge emailed to EW. "Actually, I was on the phone discussing a possible Blink-182 event in New York City when I heard the 'news.' … The ONLY truth here is that I have commitments that limit my availability this year. I love Blink-182 and I'm not leaving." The email was in response to a press release Barker and Hoppus issued Monday morning, stemming from the band's choice to have Alkaline Trio's Matt Skiba sub in for DeLonge at Barker's eighth annual Musink Festival this March. They said:
We were all set to play this festival and record a new album and Tom kept putting it off without reason. … A week before we were scheduled to go in to the studio, we got an email from his manager explaining that he didn't want to participate in any Blink-182 projects indefinitely, but would rather work on his other non-musical endeavors.
There's been a mounting game of he-said-they-said today. DeLonge questioned the legitimacy of the release on his Instagram with a relevant picture and a claim that he was on the phone with someone about a Blink-182 event in New York City earlier in the day:
But Barker countered:
I think he's just bummed because Mark and I were finally honest. We always covered up for him before. It was always, "We're going to record an album," then "Tom refuses to get into the studio without a record deal." So everyone does hella amounts of work to get a record deal and now Tom isn't part of Blink-182. It's hard to cover for someone who's disrespectful and ungrateful. You don't even have the balls to call your bandmates and tell them you're not going to record or do anything Blink-related. You have your manager do it. Everyone should know what the story is with him and it's been years with it. When we did get back together after my plane crash, we only got back together, I don't know, maybe because I almost died. But he didn't even listen to mixes or masterings from that record. He didn't even care about it. Why Blink even got back together in the first place is questionable.
Hoppus agreed, citing a recent incident in which DeLonge bailed on a studio recording date. The incident ended with DeLonge's manager sending the simple email: "Tom. Is. Out." Hoppus added that this is the same kind of capricious, wishy-washy behavior that kicked off DeLonge's indefinite hiatus back in 2004 and that it might be a result of the guitarist not wanting to spend his own money on Blink-related endeavors.
The status of the group's next album is up in the air, but Barker and Hoppus spoke in the interview like people who weren't planning on turning back. "I just wish Tom does whatever makes him happy and stops holding Blink-182 back," Hoppus said, noting that there could be some legal issues going forward. "[We're going to] play shows, record music, continue this legacy, and have a good time doing it" — evidently with or without DeLonge.