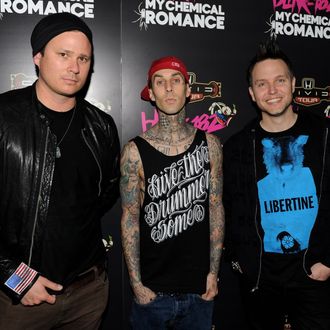 Photo: Kevin Winter/2011 Getty Images
A day after Blink-182's Travis Barker and Mark Hoppus fired off a press release claiming founding member Tom DeLonge had left the band, DeLonge penned a letter of his own, defending his honor to the band's fans on Facebook. The guitarist claimed that half-assed meetings, squabbling, and politics have ultimately led him to dabble in Blink endeavors, rather than going all in. He added that there had always been problems and that Barker and Hoppus might not be as gung ho about the group as they claim. "At the end of the day, we've always been dysfunctional, which is why we haven't talked in months," DeLonge wrote. "But we never did. In the 8 years we have been together it has always been that way."
Contrary to what Barker and Hoppus told Rolling Stone yesterday in a candid, post-press-release interview, DeLonge wrote that he's grateful for the band he started and that he has worked tirelessly to grow the band. He cited a band summit gone awry, a shoddy EP, and unfair contract negotiations as the main reasons for his recent frustration.
On the summit:
The big reset was when I tried to put together a band summit in Utah where we'd talk and work things out. It quickly was narrowed down to three hours in someone's dressing room in a shitty casino. What I hoped would be a positive get-together away from everything turned into an awkward meeting in a smelly convention hall dressing room. But it was there that I told Mark and Travis that as long as we talked, and things were good between us as real friends, that I would be engaged and work passionately. I'd mirror our personal relationship.
On the EP:
Then, the EP was the test. Months later, we're recording those songs. I was in the studio for two months and they came in for around 11 days. I didn't mind leading the charge, but we had all agreed to give it 100%. And this time- no baggage. Despite that, we still somehow managed to self-sabotage. At one point, squabbling and politics forced me to pull the EP down at a time when 60,000 fans were trying to purchase it. And that blew my mind. I'd been trying so hard but that moment ultimately broke my spirit. I then realized that this band couldn't lose the years of ill will.
On the contract:
Over the past two and a half years, while a recording partner was being sought for a new Blink record, I launched a media company. I just put out a new Angels & Airwaves record and as some of you know, there's a lot more coming – comics, books, a film, etc. The books will all come with music. This is a wheel that's already in motion. So you can imagine my frustration when I was handed a 60-page Blink contract saying I couldn't release an Angels album for 9 months and that the Blink album had to be recorded in 6 months, which was impossible for me. Doing so would force me to breach several artist contracts. Authors, Concept Artists, Animators… Many people.
You can read the letter in full, below:
The missive comes during a mounting he-said-they-said war of words, in which Barker and Hoppus have said DeLonge is out and DeLonge has said he's in. The guitarist's own letter ends on a cryptic note ("Never planned on quitting, just find it hard as hell to commit"), which will probably not give fans much closure about the state of the band's legacy, as well as a new album that was in the works. All three members have apologized to the public about their childish behavior, though for those of us who listened to the band's music in grade school, it kind of seems fitting.