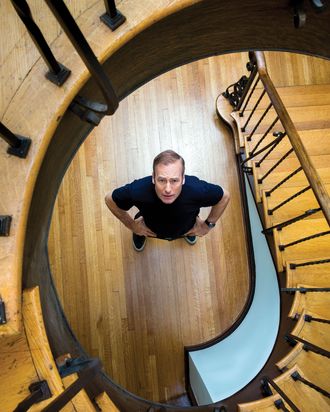 Near the end of 2013, Bob Odenkirk went to Bryan Cranston for advice. The two became friends as cast members on Breaking Bad, which had just wrapped up its final season on AMC, but they weren't exactly peers. Cranston's starring role as, of course, Walter White, the cancer-stricken chemistry teacher who reconstructs his timid self into a murderous meth kingpin, was intrinsic to the show's appeal and won him, among other honors, four lead-actor Emmys. Odenkirk, on the other hand, was a mere character actor. He played Saul Goodman, a shady lawyer who knew his ship wasn't coming in, a comic role contrapuntal to the dark-hearted show. Now the series creator, Vince Gilligan, was offering Odenkirk his own star turn in a spinoff, Better Call Saul. He drove from his house in the Hollywood Hills to a coffee shop in the San Fernando Valley, near where Cranston keeps an office, to pose one big question.
"How do you do it?" Odenkirk asked.
Cranston thought he was being asked for a pep talk. "He looked at me at first like, Well, a human being can do it. It's not impossible," Odenkirk told me over lunch in L.A. in mid-December. "I literally had to say to him, 'No, no, no. How does a day go?' I wasn't asking for some theoretical acting bullshit about whether or not it's in me." Despite having worked in show business for three decades, Odenkirk, who is 52, had never held the lead in a major production and found himself intimidated by the logistics. Eventually, Cranston told him what he wanted to know. "He said, 'You wake up, you go to set, you do the job. You bring home the food they give you because you're too tired to get yourself dinner, and you study your lines for the next day."
On Breaking Bad, the very casting of Odenkirk, whose acting career had been occupied mostly with sketch comedy and cameos — along with David Cross, he starred in HBO's mid-'90s cult absurdist revue Mr. Show With Bob and David, and he also wrote for Saturday Night Live, The Ben Stiller Show, and Late Night With Conan O'Brien — came across as a sly signal that Gilligan had a highly pitched sense of humor, even if the show mostly didn't. The role had been a huge career boost, the opposite of what Saul might refer to as having "a little shit-creek action going."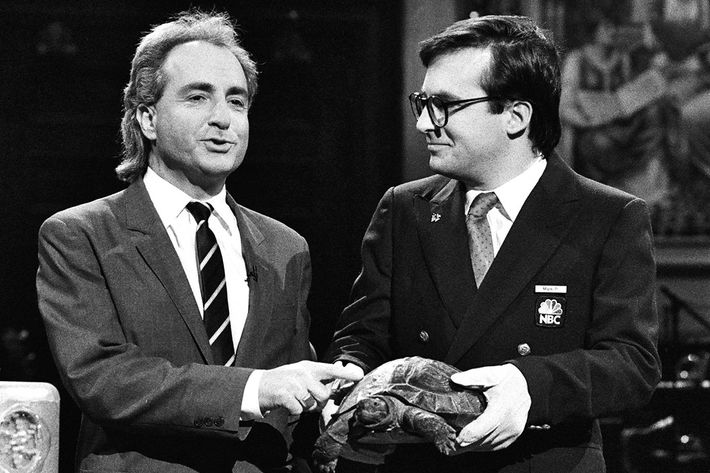 But Odenkirk initially told his manager to pass along word that he was turning down Better Call Saul — rationalizing that to be away from home for four and a half months of shooting in Albuquerque would put too much strain on his wife and their two teenagers back in Los Angeles. "I was looking for a chance to talk to my kids and say, 'Is it okay if I'm gonna do this?' " Odenkirk told me. "But there was no way I could put it on them. He's your father. Of course you're gonna say yes." Then, when his son and daughter actually urged him to take the job, he had to come to terms with his own ambivalence about the possibility of success or failure on a much grander stage than before.
"Look, there's certain aspects of Breaking Bad that nobody can top," Odenkirk said. "It turned out it was the perfect show for streaming video at the moment when people began streaming video." We were eating on the porch of the Arts and Crafts house near the Hollywood Hills that serves as the headquarters of his wife Naomi's talent-management firm. She and a partner represent a stable of comedy stars, including Kristen Wiig, Bill Hader, and Odenkirk himself. "But what can I do, man?" he continued. "No one will invent the Bo Diddley beat again. Does that mean you don't write any more songs?"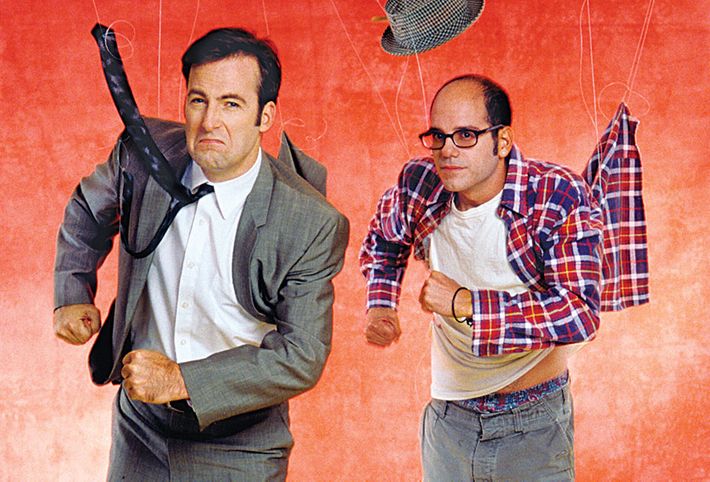 Better Call Saul, which debuts on February 8, is easily the most anticipated new show of the year — and the first spinoff of this golden age of premium cable. And although the show will begin with an eager viewership in place, no marketing metrics can ignore the dismal history of spinoffs: For every Frasier, there are a lot of Joanie Loves Chachis.
Better Call Saul is set in 2002, six years before the action of Breaking Bad. Saul Goodman is practicing law under his given name of James McGill. His older brother, played by Michael McKean, is a name partner at a white-moccasin law firm in Albuquerque. McGill is broke and operates his practice — mostly dead-end court-appointed gigs — from a rented room above a Korean nail salon. "Vince says Saul's effective and that's one reason people like him, but I'm always arguing against that," explained Odenkirk. "Saul's kind of good at what he does, but his plans work for a little while until some Lego block falls out from the bottom."
Odenkirk is narrow-shouldered and a little shy of tall, with a perpetually amused look on his face, as if whatever he's saying has made him think of an old joke that he won't dare repeat. The holiday lull of December in Los Angeles was heightened by the waiting period he must endure until Better Call Saul's premiere. "I keep thinking I'm supposed to be somewhere," he said, mentioning that around the time he was wrapping season one in September, he wrote a book of humorous essays (A Load of Hooey); undertook a brief stand-up tour; acted in a horror-comedy movie, Kitchen Sink, with Vanessa Hudgens; and began work on a project that would reunite the Mr. Show team. He started listing the guests he hoped to have on Mr. Show and landed on a discourse about Dana Carvey in which he served as his own interlocutor and delivered answers in a conspiratorial whisper.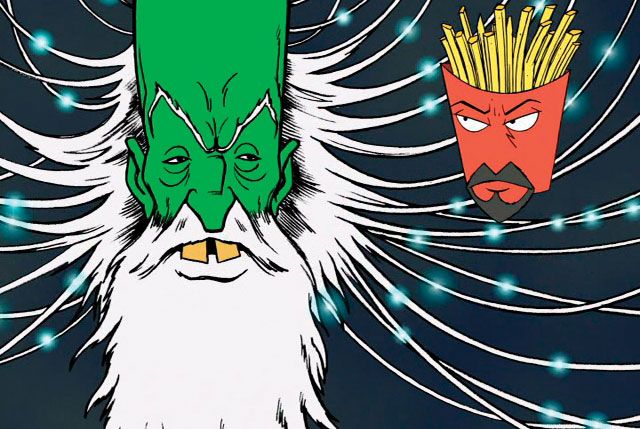 "I don't know where he disappeared," he said jokingly of Carvey. "He had that heart thing — where he had surgery. Do you know about this? They replaced the wrong ventricle. Big fuck-up."
The Odenkirks had just moved houses the previous week, forced to sell when the ambitious renovation plans of the next-door neighbor destroyed their view of Beachwood Canyon. "It was in the gossip columns, but basically we had a problem which we worked out by leaving," he said, pausing to share his satisfaction with his hamburger, which came from a deli down the street, and soliloquize about his second choice, the roast-beef sandwich ("French dip's huge in L.A. — they're very serious about it"). He said he'd been concerned about the impact moving would have on his children. "It's disruptive, but my son said, 'I'm a teenager. I have enough to worry about.' Braces: He's 16, and he's still got them. Because he never wears the rubber bands. I was the same way. I had braces for two weeks and then said, 'Take 'em off.' My parents didn't bother to fight me on it. I was one of seven."
Odenkirk grew up in Naperville, Illinois. His parents had split by the time he was 12. His father, who had served in Korea, designed business forms and suffered from alcoholism. The kids were raised Roman Catholic, "with the kind of Catholic guilt where I won't buy something because then I feel like somebody else doesn't get to own it," he said a bit later, as he thumbed through a Marvel Comics anthology at Skylight Books in L.A.'s Los Feliz neighborhood. "Isn't that weird? Like by my having this, some big comic-book fan can't?"
The adolescent Odenkirk and his brother Bill (currently a writer-producer for The Simpsons) wrote and performed humorous sketches around the house and took as much pleasure from listening to comedy as watching it: Steve Martin's album Let's Get Small, the Credibility Gap's Floats (featuring McKean), and most anything by Monty Python. As a student at Marquette, Odenkirk hosted a college-radio show of live skits, then transferred to the less conservative Southern Illinois University. In his late 20s, after moving to L.A., he made his way through various stops on the elite comedy-writing circuit before hitting his stride with Mr. Show.
That series, which ran for four seasons beginning in 1995, has been likened to a kind of Velvet Underground of comedy: Only a few people watched it, but most of them apparently became performers. Mr. Show's influence has been cited by the stars of Portlandia, Key & Peele, and Tenacious D. Odenkirk has described Mr. Show as an American version of Monty Python — with set pieces that bled into the next, and characters who encroached on each other's sketches. Cross often played the demented cherub, daring the audience to laugh; Odenkirk was the straight man, an aspiring sharpie in an undertaker's zoot suit, his soft-serve pompadour offset by overdetermined sideburns.
In person, the two play off one another similarly, even now. In the greenroom of the Gramercy Theater before an ensemble performance at the New York Comedy Festival back in November, Odenkirk hunched with a pencil over a copy of Hooey, intensely editing lines he planned to have others read onstage. When his friend Brandon Wardell, a young stand-up, walked in wearing a hoodie with collegiate-style letters that spelled out FAP ("The sound of somebody jerking off," he explained), Cross giggled with delight. "That's hilarious, your shirt," he said. "Hey, Bob, do you know what this means?"
"Yeah, yeah," Odenkirk said without looking up. He was all business, even though he was peering intently at a book in which he'd held forth on the under­appreciated importance of good penmanship as part of bathroom etiquette, "even if the note is to your butthole."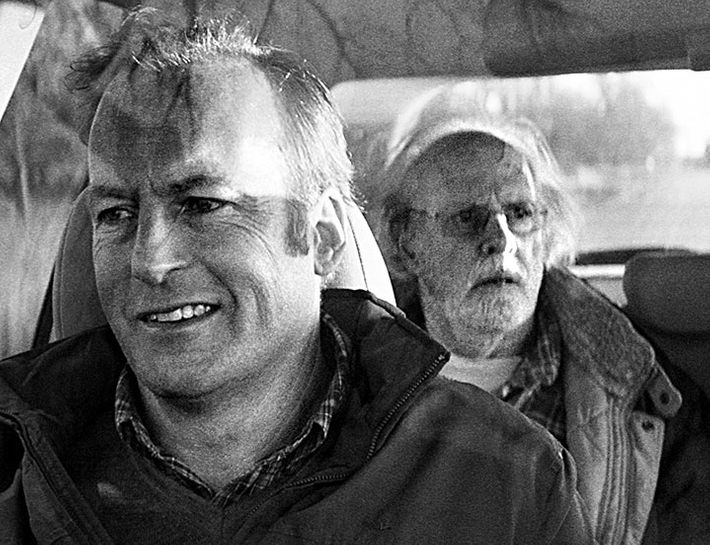 Odenkirk's characters, in various iterations, all know deep down that the world isn't buying their act, but just can't shake the belief that they're one snake-oil sale away from legitimacy. From Stevie Grant, the upstart agent he played on The Larry Sanders Show, to Ross, the small-market newscaster in Alexander Payne's Nebraska (who yells, in a tussle with his cousins, "Watch out for the face — I'm on TV!"), to Saul Goodman–James McGill, Odenkirk's genius appears in those rare moments when everyone else is perceptibly aware that he's full of shit, but he wins them over anyway. (It should come as no surprise that Odenkirk auditioned to play Michael Scott on the American version of The Office; though Steve Carell won out, Odenkirk did guest-star — as a potential employer for Pam Beesly who reminded her a lot of Michael.)
"When we came up with Saul, Bob's name was at the top of our list," says Peter Gould, a writer on Breaking Bad who, with Vince Gilligan, created the new show. The two saw a sort of good-hearted oiliness in Odenkirk's work that might work in a more dramatic context. "He was a fast-talking slickster on Mr. Show," Gould adds, "but he was a heartland slickster."
To spend time with Odenkirk is a lot like spending a day with perhaps any number of people whose sudden success doesn't seem so sudden to them. When he thinks he's at risk of going on for too long about himself, he dutifully brings up his children, his Prius, or his admiration for his less-well-known peers and friends. He attributes his breakthrough to hard work, luck, hanging around, and making wise choices — then swerves quickly back to luck, then pivots to declare his love for his manager's dog, or his burger, or his fondness for independent bookstores.
At Skylight, after passing on the comic collection, he bought a new biography of Richard Pryor and Geoff Dyer's book about living on an aircraft carrier, Another Great Day at Sea. When he spotted the recent paperback edition of his Nebraska co-star Bruce Dern's memoir, he said, "What the hell? Do I already have this? It's kind of a mess, but" — he whispered again — "it's like hanging out with Bruce." He flipped to a random page and began reading aloud, mimicking Dern's low, rumbling tones, about an interaction with Francis Ford Coppola: "I said, 'Loyalty. You did a movie called The Rain People. In it, Bob Duvall was as good as an actor can be. You have a history with Bob Duvall. Why on earth would you want me for any role that you're testing Bob Duvall for?' " Odenkirk returned to his own voice: "I've heard these stories. This is fucking great."
Back in the Prius after leaving the store, he acknowledged a degree of self-satisfaction. "The difference between before and now is you made money for somebody," he said. "Before, people would tell me they liked my work, but Mr. Show didn't make anyone beaucoup bucks. I was a tiny part of Breaking Bad, but I am associated with a thing that everyone agrees was a winner." He suggested going for iced tea and, though he'd had doughnuts with his lunch, stopping for frozen yogurt, too.
"Why not? It's my birthday," he said. "And it's Canadian Christmas." He gave a wry smile. "You believed that, didn't you? That they have a different Christ?"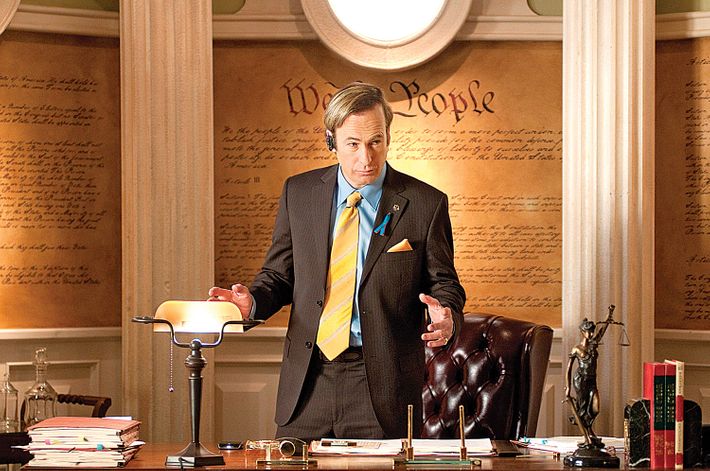 Saul Goodman debuted in the eighth episode of Breaking Bad's second season. When Odenkirk accepted the role, he still hadn't seen the show. "Anybody who's acted or come close to acting would see how rich that role was" just from reading the script, he said. But he still didn't start watching Breaking Bad until he'd been on it for another year and a half. "I watched ten minutes — I knew what the tone was," he reasoned. "I did put the show on, and then a kid walked in the room and I'd have to turn it off. I'd think: They can't be in here when Gus is gutting someone with a carpet cutter."
As far back as his post-SIU days in Chicago, Odenkirk felt he was better suited to drama than comedy. "I wasn't going to pursue it, because I didn't want to lead the actor's life of auditioning and wanting people to give me parts — I wanted to write my own — but I suspected I could do a stronger job at drama," he said. "Comedy works better with simplicity and directness. I'd perform with Chris Farley and David Cross and Jack Black, who are so fun to watch. I bring more layers and complication to the stage: I know what this guy's saying, but what does he really want?" Cross remembers being struck by the poignancy Odenkirk brought to playing "a completely overwhelmed sad sack holding down three jobs" in a Mr. Show sketch about an expectant couple who put their unborn child on the prenatal-beauty­pageant circuit. "You could see that pathos," Cross said.
"There's a lot more depth to Bob's portrayals than simple humorousness — he's not a silly man," Cranston said. "I was happy to learn that he was joining the roster, though when he arrived and came clean that he'd never seen the show, I said, 'Man, you don't have a lot of brains, but you've got some balls.' "
Odenkirk still found it daunting to establish his dramatic chops. "In Saul's first episode, the script had a bunch of long monologues and I kept waiting for the blue pages to come," he recalled. "In comedy, everything would be cut down to one or two lines, but when I got them, like one word was changed. Instead of saying 'Thursday' I said 'Wednesday.' I thought, Well, either they are in love with their writing or there's something going on here. That made me read the script a lot closer. By taking it apart, I noticed that Saul is constantly thinking on his feet, he's pitching his argument, and if he's not getting a response, he switches his tack."
In the second episode of Better Call Saul, we see the character discovering what Gould calls "Saul's superpower: his loquaciousness and ability to be persuasive," when he risks his own life to dissuade a villain (who, without giving anything away, may be familiar to Breaking Bad viewers) from committing an act of brutality against two hapless characters. It's a long scene in which Saul is visibly toggling among fear, conscientiousness, and the opportunity — the urge — to pull a fast one.
For Odenkirk, the logistics of carrying the show were a bear. His attempt to manage his schedule made him think of how Tour de France riders "measure out in advance their calories, when they have sex, how much they sleep — every aspect of their mental and physical experience," he said. "I mean, I'm not in two scenes in episode five, but otherwise in the first half of the season I'm in every one." He would get the script for an episode about a week and a half in advance and then the rewrite four days later. "I'd start planning how I was gonna attack it: what days I was learning my lines and really running them hard, what scenes I had to learn first and brush up on through the week." He winked and tilted his chin upward. "There's no coach for that. Lindsay Lohan and I, we've talked about that problem a lot."
The decision to situate the arc of Better Call Saul backward — to a time line before Breaking Bad's story began — has created an especially thorny meta­challenge for the show's writing staff. "It's an origin story," Odenkirk said, "a superhero story. Saul has a new name and a costume — the hair, the suit. He even has an S on his underwear." He paused. "No, he doesn't." Better Call Saul is a narrative of transformation just as Breaking Bad's was, though it begins in the audience's mind with an answer rather than a question. "With Walter White, we hadn't already seen what he becomes when he's Scarface at the end," he went on. "We know this guy's a chemistry teacher, we know he's gonna make money because he has cancer, and we know it's gonna drag him down. But with Better Call Saul, I feel like Vince painted himself into a corner because he likes to torture himself. He's asking, 'What problem does becoming Saul Goodman solve?' That, to me, is completely: I got nothing here." Even so, he said that he's skeptical of Gilligan and Gould's claims not to know where the plot is headed.
Beginning at an endpoint was something, Gould explained, that Breaking Bad's writers did on a number of occasions, opening seasons with flash-forward scenes before they'd written later episodes that would then explain them. "But with Saul this time," he said, "it's not just a plot twist, it's his emotional development. This felt completely different to us, which we liked. We felt that of all the characters on Breaking Bad, Saul was in some ways the least likely hero you could imagine."
The new show may start with a knot in the loop, but part of the fun in watching it untangle is knowing that, at some point, the moment will occur when James McGill begins to die so that Saul Goodman may live. Odenkirk, a devoted reader of American history and biographies, was quiet for a while when I brought up the power-of-reinvention stories, from Gatsby to Don Draper, and wondered aloud whether, by Saul's 21st­century moment, the country was sufficiently unquestioning to allow for people to adopt new identities, to have second or third acts. He cocked his head. "For a moment there," he said, "I thought we were talking about me, you know, becoming a dramatic actor."
While he was drinking iced tea at a sidewalk table on Larchmont Boulevard, a few pedestrians stared at Odenkirk or declared themselves fans. "I'm on the last season of Breaking Bad," said a middle-aged woman stopping to chat while holding her boxer mix on a leash.
"Oh my God," Odenkirk deadpanned. "What's gonna happen?"
The woman said she was looking forward to watching Better Call Saul. Odenkirk replied, "I did it already … I mean I shot it, but it's coming on in February." Then he showed her pictures on his phone of his dog and his daughter.
"Your character is amazing," the woman said, then added, "What's your name?"
When she was gone, Odenkirk allowed that he got a kick out of the fact that his image — in character as Saul, standing at a pay phone with New Mexico's Sandia Mountains visible in the distance — is presently visible on four billboards in L.A. He listed their precise locations along Sunset Boulevard and even which direction each ad faces. He admitted that every week during the filming of Breaking Bad, he'd worried about being written out of the show. "Especially when the character got hot, because I thought, This is the perfect character to kill," he said. "He's important enough that, you know, it wouldn't be the red-shirted guy in Star Trek, the guy you don't care about. It'd be the guy where you'd go, like, 'Nooooo.' "
He doesn't worry about that anymore. "That can't happen to me," he said. "Not on Better Call Saul."
*This article appears in the January 26, 2015 issue of New York Magazine.
A photo caption in this article has been updated to show that Odenkirk worked for Saturday Night Live until 1991, not 1995.