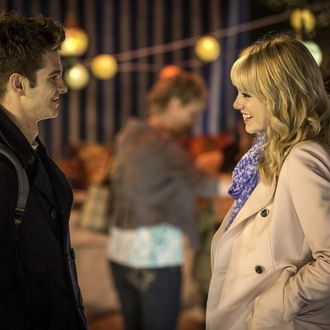 Hollywood had a bad 2014. THR reports that the number of people who went to theaters last year in North America was at its lowest level in 20 years, with roughly 1.26 billion tickets purchased, according to preliminary estimates. That is the worst turnout since 1995. The last time admissions failed to break the 1.3 billion mark was in 2011.
THR suggests the problem lies within 2014's overall quality and problematic summer sequels — such as the underperforming tentpoles Amazing Spider-Man 2 and Transformers: Age of Extinction — though the delay of two potential blockbusters (Furious 7 and Pixar's The Good Dinosaur) likely also had a part to play. Official numbers will be available after the National Association of Theater Owners figures out what the average movie ticket price was in 2014 (which depends on information from the fourth quarter). Overall revenue for the domestic box office is also projected to mark the biggest year-over-year decline in nine years (roughly $10.36 billion).
Both Variety and Mashable are hopeful 2015 will reverse 2014's downward trend, in no small part thanks to the forthcoming December-set Star Wars: Episode VII. Also of note for this year: Avengers: Age of Ultron, The Hunger Games: Mockingjay — Part 2, Fifty Shades of Grey, Jurassic World, the aforementioned Furious 7, Pixar's Inside Out, Quentin Tarantino's The Hateful Eight, and Steven Spielberg's still-untitled Cold War movie, among others.