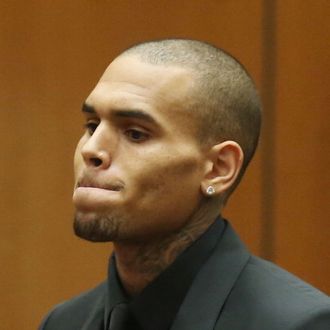 Chris Brown's probation — from his Rihanna assault scandal — was axed today after a Los Angeles Superior Court judge learned the singer traveled out of L.A. County for a problematic show in San Jose and failed to fulfill his community service terms. According to the AP, Judge James Brandlin said Brown will remain free, at least until March 20, when the court will review the progress of his post-Rihanna rehabilitation.
Brown's done (and not done) a few things the court may not like:
Performed on January 11 at a nightclub in San Jose, without permission.
Completed only roughly four fifths of his required community labor time (1,000 hours).
Was charged with a hit-and-run after an accident (but the case was dismissed).
Struck a man outside a D.C. hotel.
Threw a rock at his mom's car while in rehab.
TMZ adds that Brown's probation officer thinks the musician should spend some time behind bars because of his actions. At two of Brown's recent nightclub appearances (including the San Jose concert), attendees have been shot and injured (not necessarily with any direct connection to Brown, but still, it's problematic). The probation officer wrote:
Though he has shown the ability to be compliant during long stretches of his probation grant, (Brown) continues a pattern of making choices that are counterproductive in his ability to be successful on probation. … There is also concern that when he performs or attends at (sic) some of his public events, people will get shot or seriously injured.
Brown's defense attorney has said that his client was not advised properly about the travel restriction, so the San Jose snafu should not be a big deal. At the March 20 hearing, Brandlin will determine if Brown willfully violated the terms of his probation; if so, there could be more jail time for the R&B artist.