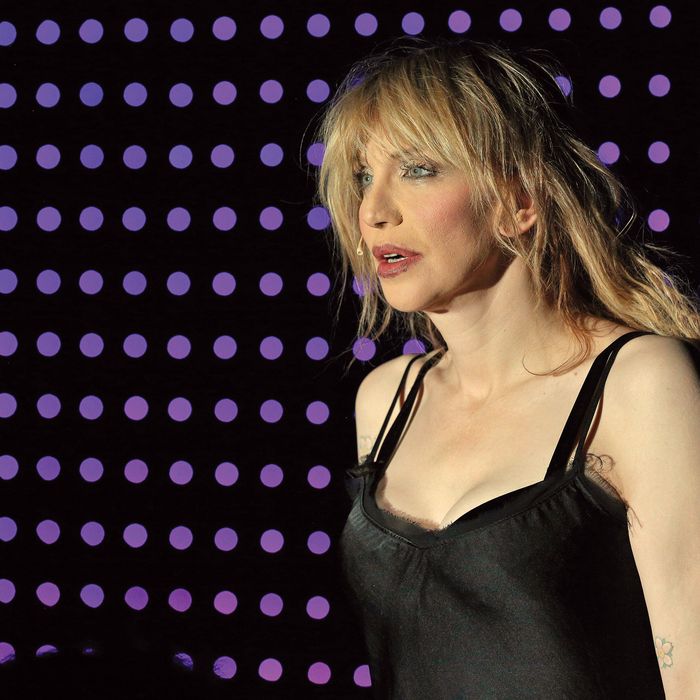 Courtney Love in Kansas City Choir Boy.
Photo: Cory Weaver
Opera in its most inflated form is an immense vehicle for wispy plots; at Prototype, a festival of musical miniatures, it's an intimate vessel for grand themes. For the third consecutive year, three impresarios, Kristin Marting, Beth Morrison, and Kim Whitener, have packed big issues into tiny houses. They have nurtured new work and are forging an institution that looks destined to expand. Prototype has already proved itself suddenly essential; the question now is the same one facing start-ups, boom towns, and puppies: Can it grow without disappointing those who treasure it most?
For now, the festival consists of a handful of productions and workshops, scattered mostly around black-box venues with refrigerator-size lobbies and nonunion crews. Astonishing things happen at close range. A child-size puppet becomes expressive. A brushstroke of electronic reverberation makes the space sound much vaster than it feels. A rock star sashays down the aisle and makes the whole room crackle. Smallness is a powerful tool in the hands of those who wield it well, and the exuberantly varied shows I saw—Kansas City Choir Boy, The Scarlet Ibis, and Sunken Cathedral—had one thing in common: They were all perfectly carved to fit their containers. That's a rare and precious kind of rightness.
The excitement of beginning, the arduousness of change, the fear of extinction, the risk of getting stuck in immaturity—these issues hovering over Prototype also course through the operas it presented. Kansas City Choir Boy starred the punk princess Courtney Love, but the first person I mentioned this to assumed that it was an opera about Courtney Love. That's a reasonable mistake, since such a work would contain all the standard elements of doomed romance, self-destructiveness, shame, and redemption. In the litany of rock stars who have dragged their prolonged and disastrous adolescence deep into middle age, Love deserves an honorable mention at least. She can usually be seen exorcising her demons on a bigger stage; in Todd Almond's one-act music-theater piece, she used her 4 a.m., ashtray-and-gin-bottle voice to play a woman who can't quite shake her teenage self. She strode onstage and stalked back off, alternately adoring and rejecting her annoyingly earnest boyfriend (Almond took the role himself) until her character met the violent death that an old TV screen had prefigured in the opening minutes. The songs are attractive, digestible, and stylistically ecumenical, a suite of sparkly electronics, piano anthems, and soulful soliloquies over lots of strummed D-major chords and all-female backup vocals. If Love thought the score as tame as I did, she gave no hint, putting it gamely through her vocal grinder and shellacking it in roughness and decadence. It's called professionalism.
One alternative to Love's scarred wisdom (if that's what she's achieved) is truncated innocence. That's what we get in The Scarlet Ibis, a deft tragedy by composer Stefan Weisman and librettist David Cote. Based on a 1960 story by James Hurst that's rich in martyr symbolism and lethal brotherly love, the opera chronicles another doomed relationship, this time between children: poor little Doodle and his nameless big brother. "He was born when I was 6 and was, from the outset, a disappointment," the older boy narrates in Hurst's story. "He seemed all head, with a tiny body which was red and shriveled like an old man's. Everybody thought he was going to die."
Doodle does die, of course, felled not by disease but by his brother's affection, pride, and fear, which is what makes it the stuff of opera. Weisman and Cote aspire to beguile teenagers ("an underserved audience," the creators call them, though I misread it at first as "an undeserving audience"). And so, though the singing technique is Baroque-ish, and Steven Osgood leads a chamber ensemble, words and music inhabit the same harmonic and structural universe as Kansas City Choir Boy. At 100 minutes, The Scarlet Ibis is short for a show but long for a single act. There are passages that drag, and the cast skews alarmingly toward the high register. In its desire to be liked, the piece doesn't quite capture the story's ominously humid atmosphere, dripping with tenderness and rage. Even so, Weisman and Cote have made something special. In a fleet production directed by Mallory Catlett, Hai-Ting Chinn gave the older brother a pretty, blameless voice and a darting, restless body, but also the sense of a character who is slightly—no, seriously—out of control.
Writing an extended operatic role for a small, disabled child might seem like asking for trouble. The Scarlet Ibis solved the problem by cleaving Doodle in two. A remarkably lively puppet played his scrawny body, and the burly countertenor Eric S. Brenner supplied his high, sweet voice. What might have been an awkward compromise became a touching tour de force. Doodle's doubleness even came off as a sly swipe at the age of HD broadcasts, when directors are always hunting for great voices welded to perfect bodies. Are the singers too fat/skinny/clumsy/old? Just replace them with ventriloquists' dolls!
In her elaborate, more-or-less-solo multimedia show Sunken Cathedral, Bora Yoon projected the lonely confidence of the experienced avant-gardiste. She tapped on resonant bowls, hummed incantations into her body mike, placed a giant crystal doodad on a revolving LP, played electric violin, and shared the small stage with the Korean dancer Vong Pak and an array of swirling video projections. She never stopped moving or making sounds, and she kept the currents of mystery flowing fast enough so that the audience hardly had time to wonder what she was up to. But in the middle of all this rarefied atmosphere and spiritual activity came a recurring motif to remind Yoon of her roots and inject a little down-to-earth humility: a phone message from her mother, asking Bora, how are you? I kept thinking that Yoon's vigilant, loving mom should sign on as Prototype's guardian angel, calling in from time to time to make sure that, no matter how successful it becomes, the festival will always remember that it was born small.
*This article appears in the January 26, 2015 issue of New York Magazine.