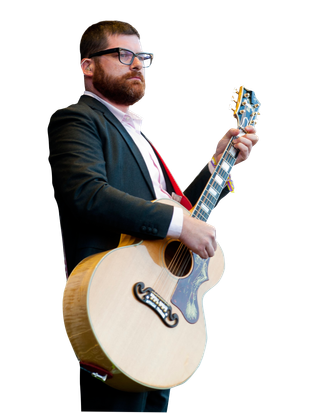 Photo: Paul R. Giunta/Corbis
Over a 13-year run, the Decemberists' front man Colin Meloy has written all but one of the songs that appear on the Oregon band's seven albums. Meloy's bandmates, he says, have been nothing if not completely supportive of his musical instinct. "It's given me a lot of room to feel comfortable bringing stuff to them. Maybe though I'd write better songs if they shot me down more often," he says with a laugh. To mark the release of their latest studio album, What a Terrible World, What a Beautiful World, who better than Meloy to pick the Decemberists' best tracks? Read on to see his selections.
Castaways and Cutouts (2002): "Here I Dreamt I Was an Architect"
It was really groundbreaking for me at the time. I felt like it was a concise, Fleetwood Mac–y pop song. You set out to write songs, and sometimes you hit the mark and sometimes you don't. On this one, I hit as close to a mark as ever I'd set for myself. It's got a nice, meandering verse-melody but a simple chorus. The whole thing has got two chords, which I think is cool. Songs often are like puzzles; you try to do as much as you can with as little as you can, particularly pop songs. That one worked out well. Also Patti Smith covered it and said she wished she'd written it, which is a good sign.
Her Majesty the Decemberists (2003): "I Was Meant for the Stage"
That's as concise a statement of purpose as I've ever written. Even though, in my head, it's not exactly me. I was imaging some aging thespian, like an Albert Finney sort of character. But also it was so much fun to play live, at least initially, because playing it live gave it this new depth. Especially in those days, in 2003–2004, when we were playing in, like, college cafeterias and shitty little clubs. There was something really funny about the grand statement about being meant for the stage while playing in a beer-soaked rock club. Since then, now that we play in bigger places and fancy theaters, it's lost some of its glimmer. It's lost its irony. It's sad, but it's an interesting journey that song has taken.
Picaresque (2005): "Engine Driver"
It was a very quick write. It came out fully formed. I remember [Decemberists guitar player] Chris Funk was going through a breakup at the time and playing it for the band in practice. It just seemed to hit the right notes, the sort of sad sentiment of it all. It also name-checks the Hi-Line in Montana, so I have a soft spot for it for that reason.
The Crane Wife (2006): "Sons and Daughters"
It's another two-chord song. It was the first song I ever wrote on [the Greek folk instrument] the bouzouki. After Picaresque, I was trying to get the creative juices flowing, so I decided to buy some weird instruments and see what happened. I bought a mountain dulcimer and a bouzouki and tried to write songs. It's really hard to write songs on a mountain dulcimer, I discovered, but bouzouki was very easy. The first two songs I wrote on it were "Sons and Daughters" and then "Crane Wife 3." You can tell because "Sons and Daughters" has two chords, the only two chords I knew at the time on bouzouki, and "Crane Wife 3" has three. Then, with the way we managed to record it and arrange it, it became this grandiose thing all built around two chords.
The Hazards of Love (2009): "A Bower Scene"
I like the little transitional pieces. That was the most fun thing to work on on that record. That little piece might be my favorite thing. It was a revelation to me. Initially, I was writing the whole record in [the key of] D. It was all gonna be in like a drop-D tuning on the guitar, and I didn't abandon that until like three quarters of the way through the record. I was like, Oh my God! This is not gonna work. It would be so zany! But initially on this track, that's where the promise was still very, very great.
The King Is Dead (2011): "Rise to Me"
It best sums up what we were trying to do on that record, drawing from a more American folk tradition. The Band and Neil Young and stuff like that. It's a very personal song: it's a song about my kid and about my family. It's the first time in a long time I was writing that autobiographically. It was a nice turning point in my songwriting.
What a Terrible World, What a Beautiful World (2015): "Till The Water Is All Long Gone" 
I think it's going to be a deep cut; we'll see how people take to it. It's another example of me challenging myself, stretching out a little bit. I wrote it on a little-kid guitar that my wife has had since she was a kid, and it's always just sat around at our house. But it's the same guitar, oddly enough, I'd written "The Gymnast, High Above the Ground" on. And I think I was just strumming, and this melody and this chord progression came out of it. It just nails a certain vibe and has a nice kind of groove to it. I like how that one turned out.