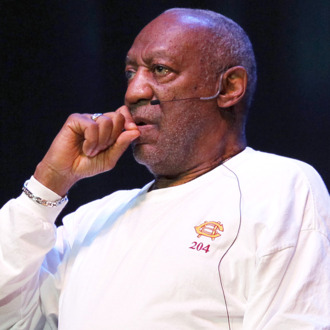 Photo: Sayre Berman/Corbis
As the Bill Cosby rape scandal snowballed over the past few months — the number of women who have publicly accused him of sexual assault is now up to 24 — the comedian has mostly remained silent. While his lawyers hit back at many of the women, there were only two brief comments from Cosby himself: He pushed an AP reporter to "scuttle" his nonresponse from the final cut of their interview and urged the black media to remain "neutral." However, at a Thursday night performance in London, Ontario, Cosby decided to joke about his situation. According to the National Post's Richard Warnica, he told a female audience member, "You have to be careful about drinking around me."
Later, Warnica provided some context:
Apparently, at least one audience member wasn't amused. The CBC reports that he shouted, "We don't love you," and Cosby responded, "Okay," then continued his routine. Then the man heckled the 77-year-old again:
According to the CBC, the crowd booed after the "rapist" remark. "No, no, stop," Cosby said. "Shh, no clapping right now. That's all right. Patience." The audience applauded after security escorted the man out, and one person shouted at Cosby, "We love you!"
This is the second of three comedy shows Cosby is doing in Ontario this week, in his first performances since November. Last night there were a handful of protesters outside the venue, but there was no mention of the scandal during the show. Tonight's protest was more robust:
Ushers were reportedly "cracking down" on phone use during the show, and audience members were given this warning:
Apparently, for most of the crowd that warning was unnecessary:
This post has been updated throughout.