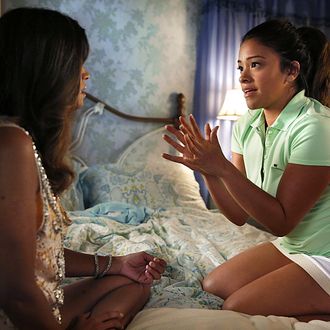 Jane The Virgin – "Chapter Seven" – Image JAV107B_0433 – Pictured (L-R): Andrea Navedo as Xo and Gina Rodriguez as Jane – Photo: Greg Gayne/The CW – © 2014 The CW Network, LLC. All rights reserved.
Photo: Greg Gayne/The CW
Good news for CW fans: The channel's 2014–15 slate has been renewed for next fall, including Golden Globe nominee and Vulture favorite Jane the Virgin. "Each of these series have helped define what The CW is today, a network that is home to smart, provocative, quality programming, targeting a savvy adult audience," said Mark Pedowitz, the president of CW, at the Television Critics Association press tour in Pasadena. Other renewals include The Flash, Arrow, Supernatural, The 100, The Vampire Diaries, Reign, and The Originals. You could say the CW decided to put a ring on it.