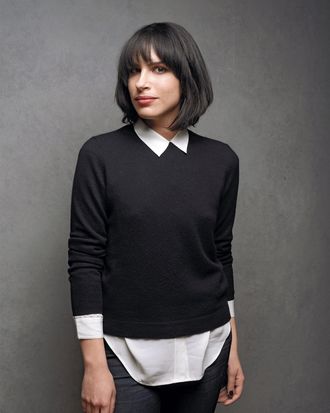 Photo: Jeff Vespa/Getty Images
"The thing I love about Ricky's is you could be any kind of woman," says Desiree Akhavan, the 30-year-old director and star of Appropriate Behavior, a feature debut about a bisexual Iranian-American bohemian not unlike herself. Last night, she attended the premiere of the fourth season of Girls; Lena Dunham cast her in a recurring part and tweet-blurbed Akhavan's film ("Audacious and funny and unique"). Tonight is her own opening at Lincoln Center. "I've never been to a movie premiere before," she says, "and it's ridiculous that it's mine." She'll be wearing a dress from Opening Ceremony, but because it's bitterly cold, she needs tights, which is why we're tromping through the snow toward a Ricky's in the West Village.
Heading for the hosiery, Akhavan riffs on Ricky's array of affordable identities. "The woman who's wearing the I LOVE YOU comic bandanna, she's having one kind of life," Akhavan says, handling a cutesy headband. "Whereas this lady" — she points to a bedazzled number — "she's a princess. That bitch could be going to a Persian party for sure." (There are two bedazzled Persian parties in Behavior, a satire as unsparing of Akhavan's people as it is of bobo Brooklyn.) She gestures to a pair of tights embroidered with a cat: "You could be Zooey Deschanel." Then to a leopard print: "Or you're Cameron Diaz." And what kind of woman is Akhavan? "I'm in the Spanx department."
Nary a headline about Akhavan has failed to compare her to Dunham; both women went to New York private schools and ultra-liberal-arts colleges, then mined their own romantic missteps for the hipster masses. But their differences are more interesting. Girls is proudly shameless, whereas Akhavan's movie, in among the strap-ons and humiliation gags, incorporates a lot of personal and cultural embarrassment. And the word Spanx has barely left Akhavan's mouth before her cheeks flush. "I'm really going to regret taking you pantyhose shopping," she says. "This is something my mother is gonna be so ashamed of, and then I will be ashamed too."
Akhavan says she's barely been in New York this year. Her most recent trip was not to a film festival but a family ski vacation in Colorado. Her girlfriend came along, at her parents' insistence — a state of acceptance achieved over time. Her mother and father, refugees from the ­Iranian Revolution, were liberal in some ways but not all. "When I came out, I had never heard of anyone gay in the community," she says. Her father considered disowning her. But once he came around, "he really said 'fuck it' in a lot of ways. He insists that my girlfriend come to Persian events. It's just this sea of Persians and this one little white lesbian."
There's a more universal kind of shame lurking in Appropriate Behavior. As a teenager at Horace Mann, Akhavan was horrified to open a link and find she'd been voted one of the ugliest girls in school, nicknamed "the Beast." To look at her now, I say, that seems absurd. "I think some people grow into their looks. And I was meant to be a grown-up," she says. "I was very uncomfortable as a teenager." At Smith College, Akhavan vacillated between theater and film and girls and boys. She calls it "a good place to be a lesbian, a terrible place to be bisexual." After graduating, she made a home in Park Slope. With Ingrid Jungermann, her sometime romantic partner, she created a web series called "The Slope" in 2011. Posted on Vimeo, the two-season show, where she described her characters as "superficial, homophobic lesbians," earned a following for its swipes at everything from sexual politics to the not-yet-overtrod ­terrain of the Park Slope Food Co-op and the snobbery of ­Beacon's Closet.
That collaboration fizzled, as did Akhavan and Jungermann's relationship. "I learned a lot of things," says Akhavan, "but also that I was a solo director." In the movie, her character, Shirin, weathers a bad breakup by moving to Bushwick, after which her slow, sad-hilarious recovery is cut together with flashbacks in the style of Annie Hall. In real life, Akhavan followed her current girlfriend, an administrator at Columbia, to the Upper West Side. "It's like being back in high school," she says, "because this is where I'd spend all my time as a teenager."
Akhavan credits her current producer and longtime friend Cecilia Frugiuele with steering Appropriate Behavior's script toward more "context" — material about Shirin's family. The least fictional member of that family is Shirin's brother, a hypercompetitive urologist. The siblings' rivalry animates the film, as it did Akhavan's upbringing. Her brother "loves movies," she says, "and in a way I got into this to please him." She still savors memories of "the only good time of my day" at Horace Mann, when he drove her to school in his Mustang with Radiohead's OK Computer blasting. "He was a real dork — he studied constantly and had no friends — but in my head he was the coolest."
Now it's his sister who models cool. She brims with filthy eloquence on the subject of Spanx ("It holds your vagina in a way that feels awful") and counts among her ­mentors the queen of hip Brooklyn. Akhavan says her Girls character will be "kind of an asshole," a wry Iowa Writers' Workshop classmate who calls Hannah out for transcribing her life straight into fiction. "That I found really hilarious and meta," she says — because, of course, she and Dunham both get dinged for just that. Akhavan says she isn't troubled by all the comparisons — not when you consider the upside. Watching an unknown director, she says, is "like going to a dinner party where you don't know any guests. So having a headline that says 'The Persian Lena Dunham,' it's like saying, 'Look, Lena brought someone to the party. Do you want to hang out with this bitch or not?' "
With one pilot finished and a couple of scripts in development, Akhavan is set on moving out of her niche before it hardens around her — "So much of my life has nothing to do with being bisexual" — and besides, there's only so much she can control about how her work is seen. "The best compliment I got was at the Provincetown film festival," she says, clomping toward the subway. "A beautiful gay man raised his hand and said, 'I just want to tell you that you are so brave.' I thought he was saying I was brave for being an Iranian bisexual. But he said, 'You have the smallest tits ever, but you show them, and I think we need to see different kinds of breasts in movies.' I couldn't stop laughing, but I said, 'You're right, and I'm starting a revolution.' "
*This article appears in the January 12, 2014 issue of New York Magazine.