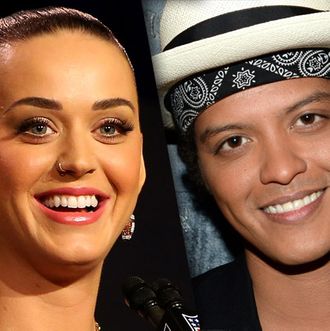 Super Bowl buddies.
Photo: Getty Images
Katy Perry is pretty nervous for her Super Bowl Halftime Show debut this weekend, so she's pulling out the big guns to make sure she's prepared. "Let me just make sure it's kosh," she says to Billboard before reading aloud an email she's planning to send to last year's halftime entertainment, Bruno Mars. It's adorable:
Hello, exclusive Super Bowl club member! I was wondering if you are in L.A. at all this month and would have tea with a sister who is about to throw up with nervousness re: [football emoji]. I've heard about your process through our managers, but am wondering if you had more insight on important things like, spray tan the night before or three nights before? JK, or maybe not!
Let us guess: He advised her to go with many, many hats.