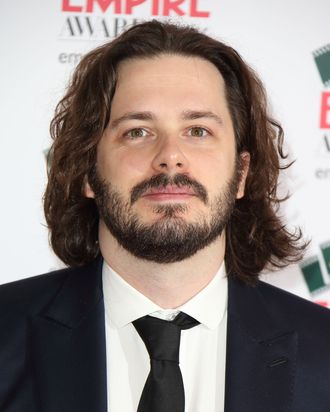 Edgar Wright.
Photo: Mike Marsland/Getty
"Willing to answer a few questions?" Vulture asked Edgar Wright on Saturday, in between glasses of Champagne at BAFTA's annual pre–Golden Globes tea party. The director raised an eyebrow. "That depends!" Wright replied, clearly hoping to avoid questions about the forthcoming Ant-Man, which he famously left last year. Instead, though, Vulture wanted to ask about a different insect-related project: Grasshopper Jungle, which Wright recently signed on to direct. How did he come to the project, based on Andrew Smith's acclaimed coming-of-age novel about a teenager whose battle against giant grasshoppers is almost secondary to his blossoming bisexuality?
"I'll tell you what, here's what genuinely happened," replied Wright. "On Facebook, somebody whom I don't really know that well said, 'Edgar Wright, you have to make a movie of Grasshopper Jungle.' And then underneath, Matt Tolmach — who had the rights to it — wrote, 'I agree.' And then Andrew Smith said, 'I also agree!' So I emailed Matt and said, 'Send me this book.'"
As it turns out, it wasn't the first time the novel had landed on Wright's radar. "What's weird is that I'd actually read an Entertainment Weekly review of it on a plane," said Wright, "and they gave it an A-minus, and I remember thinking, Oh, that sounds like my cup of tea. I must get that book. And I promptly forgot about it until this Facebook thing came up. There'd never been this much pressure to love a book, but even ten pages into it, I thought, This is great."
And while the project is still a ways off — Wright's said to be readying his film Baby Driver next — he promised that the movie version of Grasshopper Jungle will retain the book's unusual love triangle between the protagonist, his girlfriend, and his male best friend: "That's kind of a deal-breaker, right? If you took something like that out, the fans of the book would be in an uproar."
Wright was so convivial that we decided to address the centimeter-size elephant in the room. "Hope you don't mind another question …" we began.
He was onto us immediately. "Don't! Don't!" Wright begged, laughing.
"Have you seen …"
"Don't do it!"
"… the trailer for Ant-Man?"
"I can't! I can't even answer it." He laughed, heading back into the party to mingle. "And you already know what the answer is anyway."