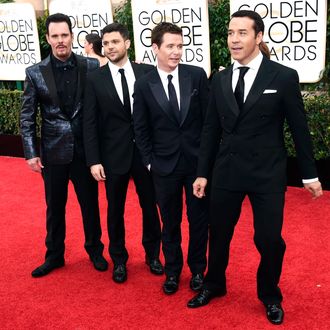 Photo: Frazer Harrison/Getty Images
If you were wondering why the cast of Entourage showed up as some of the first red-carpet strollers at this year's Golden Globes, it's because they needed some last-minute footage for their forthcoming movie. Variety reported that Jeremy Piven & Co. were working on the film's "special ending" before the awards show began, and E! added that some of the stars conducted mock interviews with real reporters (Carson Daly, for one).
Emmanuelle Chriqui, Kevin Connolly, Kevin Dillon, Jerry Ferrara, and Adrian Grenier joined Piven for the ultimate meta-Hollywood move that included in-character photo ops and background props. The long-awaited flick is due out June 5.