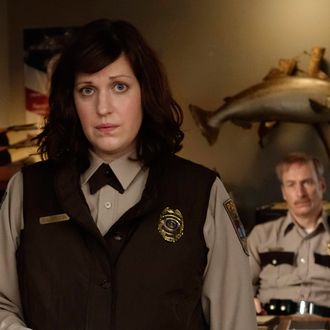 With season two of FX's Fargo going back in time, network president John Landgraf shared some additional information today at a TCA panel about the 1970s-set story line. "It covers something that was referenced in the first installment by Lou Solverson, Molly Solverson's [Allison Tolman] father," he said, according to EW. "It's a big sprawling, in some ways, more comedic [season], though at times, a very serious show. It's set in the late '70s against the backdrop of Ronald Reagan's first campaign for President of the United States. Reagan is a character in it."
EW and IGN both confirmed with Landgraf afterward that FX will be casting the role of Reagan — not using footage — and that his character will interact with others in a supporting role. Other information about the Reagan role, however, was unavailable. The second season will serve as a prequel (kind of) to the first, with attention centered on Lou Solverson's 1979 Sioux Falls incident. Landgraf reportedly added that the next installment will also be more comedic and feature feminism more prominently:
A lot of what it's about is the cultural transformation that was going on at the time. … It's about the sense that the war has come home. It's also about feminism, so there are some really significant female characters. It's a big, sprawling, incredibly ambitious [series]. Noah [Hawley] just channeled the Coen brothers and tells stories in a way that's so fresh and so surprising.
Fargo's second ten-episode miniseries is slated for a fall premiere.