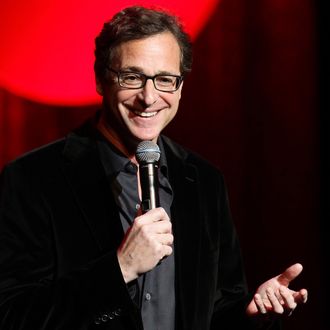 Photo: Noel Vasquez/Getty Images
You know you're having a good birthday when John Stamos and Bob Saget attend your party and sing a song with you. That's what happened to Full House creator Jeff Franklin on Saturday night, when almost all of the core FH cast members reunited and sang the show's theme song (minus the Olsen twins, because they are busy, leave them alone). Onstage, Franklin & Co. were also joined by the song's original vocalist, Jesse Frederick. Everybody nailed the chorus; the other words proved to be more challenging, but the reunion still made for a wonderful moment.
Here's a good angle of Stamos, Saget, Lori Loughlin, Candace Cameron, Jodie Sweetin, Andrea Barber, Franklin, and Frederick singing most of the words:
And here's a lesser view, but with more action. Cherish it with us:
Happy belated birthday, Jeff Franklin, and thank you for eons of reruns.