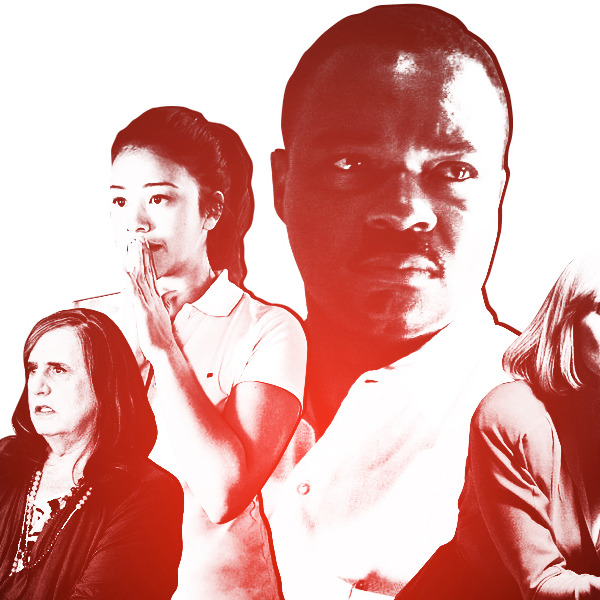 The Golden Globes would like to be taken seriously as an influence on both the Oscars and the Emmys, and while there's no denying that the ceremony has recently become imbued with more importance than might merit an awards show voted on by a small group of foreign weirdos, the most memorable Globes moments have little to do with the trophies themselves. Admit it: You're not watching to see who wins; you're watching to see what Tina and Amy will say, or to find out which tipsy star will get lost on the way to the stage! With that in mind, then, let's not waste too much time forecasting who will win Globes this weekend, and instead discuss who should win a prize — any prize. Here are the most deserving winners in each Globes category.
BEST MOTION PICTURE, DRAMA
Boyhood
Selma
The Imitation Game
The Theory of Everything
Foxcatcher
This one likely comes down to Boyhood versus The Imitation Game — a duel that the whole season seems to be building to — and of those two, how could you not root for Richard Linklater's one-of-a-kind Boyhood to win?

BEST ACTOR, MOTION PICTURE, DRAMA
Eddie Redmayne, The Theory of Everything
Benedict Cumberbatch, The Imitation Game
Steve Carell, Foxcatcher
David Oyelowo, Selma
Jake Gyllenhaal, Nightcrawler
Any win that helps build Oscar momentum for the nervy Nightcrawler is a win we can get behind. Give it to Jake Gyllenhaal!

BEST ACTRESS, MOTION PICTURE, DRAMA
Julianne Moore, Still Alice
Reese Witherspoon, Wild
Rosamund Pike, Gone Girl
Felicity Jones, The Theory of Everything
Jennifer Aniston, Cake
The HFPA will likely coronate Julianne Moore here, but why not a win for Reese Witherspoon, who's so hardy and terrific in Wild? On the whole, her movie deserves more awards attention than it has gotten, and it would be fun to wake up this sleepy category with a surprise victor.

BEST MOTION PICTURE, MUSICAL OR COMEDY
Birdman
Into the Woods
St. Vincent
Pride
The Grand Budapest Hotel
Birdman is well positioned to take this one.

BEST ACTOR, MOTION PICTURE, MUSICAL OR COMEDY
Michael Keaton, Birdman
Ralph Fiennes, The Grand Budapest Hotel
Bill Murray, St. Vincent
Joaquin Phoenix, Inherent Vice
Christoph Waltz, Big Eyes
Michael Keaton has to be considered the frontrunner here, but Ralph Fiennes is the most deserving. He brought comic aplomb and real humanity to The Grand Budapest Hotel, anchoring Wes Anderson's fussy frames with his best performance in years.

BEST ACTRESS, MOTION PICTURE, MUSICAL OR COMEDY
Emily Blunt, Into the Woods
Amy Adams, Big Eyes
Julianne Moore, Maps to the Stars
Helen Mirren, The Hundred-Foot Journey
Quvenzhané Wallis, Annie
Not a great category, HFPA! Where was Jenny Slate in Obvious Child, or Kristen Wiig in The Skeleton Twins? Forced to pick among these five, we'll go with Julianne Moore, who's the best thing about her deeply uneven movie and deserves an award simply for monologuing from the toilet.

BEST DIRECTOR
Richard Linklater, Boyhood
Alejandro González Iñárritu, Birdman
Ava DuVernay, Selma
David Fincher, Gone Girl
Wes Anderson, The Grand Budapest Hotel
Richard Linklater in a walk.

BEST SCREENPLAY, MOTION PICTURE
Birdman
Boyhood
Gone Girl
The Grand Budapest Hotel
The Imitation Game
For the savvy, surgical adaptation of her own book, let's give this one to Gillian Flynn for Gone Girl.

BEST FOREIGN LANGUAGE FILM
Ida
Tangerine Mandarin
Leviathan
Force Majeure
Gett: The Trial of Viviane Amsalem
Force Majeure! This thoughtful cringe-comedy really sticks with you.

BEST SUPPORTING ACTOR, MOTION PICTURE
J.K. Simmons, Whiplash
Edward Norton, Birdman
Mark Ruffalo, Foxcatcher
Ethan Hawke, Boyhood
Robert Duvall, The Judge
J.K. Simmons will win this one — and he deserves it.

BEST SUPPORTING ACTRESS, MOTION PICTURE
Patricia Arquette, Boyhood
Emma Stone, Birdman
Meryl Streep, Into the Woods
Keira Knightley, The Imitation Game
Jessica Chastain, A Most Violent Year
Let's throw a wrench into the works: Patricia Arquette is almost guaranteed the Oscar at this point, so why not give the Globe to Emma Stone, who made her Birdman character a forceful comic creation even when the movie's screenplay condescended to her? At the very least, you know she'd give a great speech.

BEST ANIMATED FEATURE FILM
The Lego Movie
Big Hero 6
How to Train Your Dragon 2
The Boxtrolls
The Book of Life
The Lego Movie. Brick for brick, it was one of 2014's most delightful endeavors.

BEST ORIGINAL SONG
John Legend & Common, "Glory" (Selma)
Lana Del Rey, "Big Eyes" (Big Eyes)
Patti Smith, "Mercy Is" (Noah)
Sia, "Opportunity" (Annie)
Lorde, "Yellow Flicker Beat" (The Hunger Games: Mockingjay — Part I)
"Glory" is the category's most deserving winner, but if the Globes want to give our live-bloggers a Lana Del Rey moment, we won't argue.
BEST ORIGINAL SCORE
Johann Johannsson, The Theory of Everything
Alexandre Desplat, The Imitation Game
Trent Reznor & Atticus Ross, Gone Girl
Antonio Sanchez, Birdman
Hans Zimmer, Interstellar
The drum-heavy Birdman score was disqualified for the Oscars, so it would be a nice middle finger from the Globes if Sanchez took home the trophy. All the same, though, we'd rather see this one go to Gone Girl.

BEST TV DRAMA

The Good Wife

Downton Abbey

Game of Thrones

The Affair

House of Cards
The Good Wife is by far the best show in this category, but this category is so haphazardly assembled, it's hard to pick. Downton Abbey has not been a great drama since its first season, folks.
BEST TV COMEDY

Girls

Jane the Virgin

Orange Is the New Black

Silicon Valley

Transparent

Four out of five of these shows are primarily about women (and created, written, and produced by women), which is a refreshing change of pace in a comedy category. So as long as we're being refreshing, let's cross our fingers for the beautiful, enchanting, trailblazing Transparent.
BEST ACTOR, TV SERIES, DRAMA

Kevin Spacey, House of Cards

Clive Owen, The Knick

Dominic West, The Affair

James Spader, The Blacklist

Liev Schreiber, Ray Donovan
Each of these actors could easily be playing a different role in this category — Dominic West and Liev Schreiber could switch shows, and people would barely notice. Smarm, infidelity, a dangerous streak, samey samey samey. Clive Owen showed the most range, so Clive Owen it is.
BEST ACTRESS, TV SERIES, DRAMA

Julianna Margulies, The Good Wife

Robin Wright, House of Cards

Viola Davis, How to Get Away With Murder

Ruth Wilson, The Affair

Claire Danes, Homeland
Julianna Marguiles, Robin Wright, and Claire Danes have all already won Golden Globes for these roles, so in the interest of sharing the wealth, we can narrow this down to Davis and Wilson. At that point, it's a no-brainer: Viola Davis, hands down.
BEST ACTRESS IN A TV SERIES, COMEDY

Julia Louis-Dreyfus, Veep

Taylor Schilling, Orange Is the New Black

Lena Dunham, Girls

Gina Rodriguez, Jane the Virgin

Edie Falco, Nurse Jackie
The best part about the TV portion of the Globes is that otherwise-underrecognized shows and performers are suddenly in the spotlight: Keri Russell won for Felicity, America Ferrera for Ugly Betty, Katey Sagal for Sons of Anarchy. In that tradition, here's hoping Gina Rodriguez wins. She's wonderful on JTV.
BEST ACTOR IN A TV SERIES, COMEDY

Don Cheadle, House of Lies

Ricky Gervais, Derek

Jeffrey Tambor, Transparent

Louis C.K., Louie

William H. Macy, Shameless
Jeffrey Tambor.
BEST TV MINISERIES OR MOVIE

True Detective

Fargo

The Normal Heart

Olive Kitteridge

The Missing
It's a relief to see True Detective correctly categorized as a miniseries, but both it and Fargo already have Emmys. Give this one to Olive Kitteridge, small in scope, massive in character detail.
BEST ACTRESS IN A TV MINISERIES OR MOVIE

Frances McDormand, Olive Kitteridge

Maggie Gyllenhaal, The Honorable Woman

Jessica Lange, American Horror Story: Freak Show

Frances O'Connor, Missing

Allison Tolman, Fargo
This is a tough one. On pure merit, Frances McDormand should win. But does Frances McDormand really need a Golden Globe? She's got an Oscar and a Tony, and the admiration of anyone who's ever seen her act. Give it to Allison Tolman, Fargo's breakout star.
BEST ACTOR IN A TV MINISERIES OR MOVIE

Matthew McConaughey, True Detective

Billy Bob Thornton, Fargo

Martin Freeman, Fargo

Woody Harrelson, True Detective

Mark Ruffalo, The Normal Heart
Woody Harrelson anchored TD while McConaughey was spouting flat-circle woo. McConaughey's performance was great, but Harrelson made more out of less.
BEST SUPPORTING ACTRESS IN A TV SERIES, MINISERIES, OR MOTION PICTURE

Allison Janney, Mom

Uzo Aduba, Orange Is the New Black

Kathy Bates, American Horror Story: Freak Show

Michelle Monaghan, True Detective

Joan Frogatt, Downton Abbey
It's time for OITNB to get some love, and Uzo Aduba in particular does some of the best work on that show, both dramatically and comically.
BEST SUPPORTING ACTOR IN A TV SERIES, MINISERIES, OR MOTION PICTURE

Matthew Bomer, The Normal Heart

Jon Voight, Ray Donovan

Bill Murray, Olive Kitteridge

Alan Cumming, The Good Wife

Colin Hanks, Fargo
This is a good example of how cockamamie the Globes categories can be. Bill Murray is in Olive Kitteridge for five seconds, and Alan Cumming has been a main character on The Good Wife for years. Also, Alan Cumming should win, because he's great on TGW.