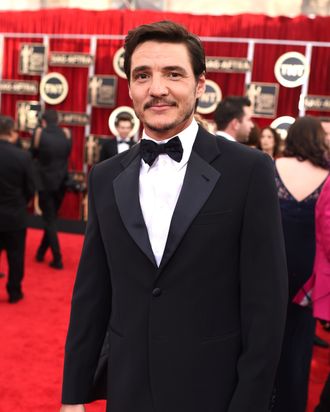 Lest we forget just how much fun the Game of Thrones cast has together when not in costume or in character, they're even better when they meet up at awards shows. Why? Because win or lose, according to the actors, any occasion they have to get together in one place is reason to celebrate.
"We never see each other, so this is the best thing tonight, to sit at a table and have fun," Nikolaj Coster-Waldau told Vulture at Sunday's Screen Actor's Guild awards, where the series took home the trophy for Outstanding Action Performance by a Stunt Ensemble in a Drama Series.
That idea of "fun" meant something slightly different to season-four fan favorite Pedro Pascal, a.k.a. the Red Viper. Namely, mind games.
"We just ignore each other," Pascal joked. "We get forced to sit at these tables in these fancy environments, and none of us really make eye contact. We try to get through it as quickly as possible." 
So how do they pass the time quickly between all those commercial breaks, speeches, and other awards-show standards?
"It's all in the footsie," said Pascal. "Kit Harington has the most delicate noodge."
Speaking of Harington, what insight does Pascal have into what lies ahead in season five for Jon Snow and the rest of his cast members still playing in Westeros?
"I'm just waiting like everybody else now, and gladly so," said Pascal. "Being in [the show] was too much of a distraction from my viewing experience."