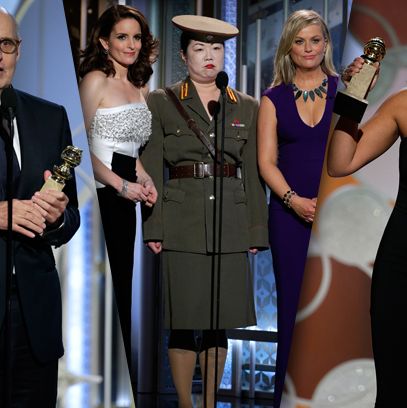 Farewell, Tina Fey and Amy Poehler! We shall never see your fair faces upon these foreign-press shores again. Like many awards shows before it, the pair's final Golden Globes started off strong and then slowly and surely fell into a slow march toward a somnolent end. But in between, much happened! Prince made an appearance. The HFPA made some great TV choices (Jane the Virgin, Transparent), some less-great ones (The Affair), and some predictable movie ones (Birdman, Boyhood). The speeches were emotional and the bits were hit-or-miss. Let's take a look at this year's Golden Globe highs and lows:
HIGH: Authentically moving speeches.
Since the Golden Globes come fairly early in the awards-season calendar, its winners are often making their acceptance speeches for the very first time, and you could feel that palpable emotion and gratitude in many of the victors' speeches tonight. As people like Gina Rodriguez, Common, Jill Soloway, and Jeffrey Tambor got choked up onstage, we teared up, too. Sure, the Globes are kind of a sham, but these speeches were as authentic as it gets.
HIGH: The unapologetic feminism of Amy and Tina's monologue.
We can debate the merits of the Cosby bit, but you can't deny that it came out of a desire to showcase uncomfortable gendered truths the industry would rather ignore. So did the monologue's other, less controversial jokes, which praised the awesome power of Amal Clooney, compared Steve Carell's commitment to changing his appearance to that of "a human woman," and provided this great dig at Russell Crowe: "Boyhood proves there are still roles for women over 40, as long as you get hired when you are under 40."
LOW: That Aniston/Cumberbatch … thing.
So, okay, that clearly started as a bit where Benedict Cumberbatch was the "lucky winner" who got to present an award to Jennifer Aniston. But was the ensuing presenter banter meant to be so stilted, hostile, and ineptly delivered? There wasn't really a joke there, was there? On a night where lots of overheated celebs took to the stage bathed in sweat, this was one instance where the beads on brows seemed to be developing in real time.
HIGH: Billy Bob Thornton's succinct speech.
We'll never ding a winner who knows how to keep things short, and Fargo winner Thornton did just that, cracking how anything he could and would say in an acceptance speech might be used against him, so instead, "I'm just gonna say thank you." Good timing, given Jeremy Renner's Twitter-parsed joke about J.Lo's globes moments before.
HIGH: Shows Twitter liked winning awards.
Twitter is never more annoying than immediately after an awards-show snub, so props to the Globes for handing trophies to Transparent, Jane the Virgin, Fargo, and The Normal Heart. There was so much love for the deserving winners that even The Affair's unexpected Best Drama steal was greeted mostly with good-natured clowning.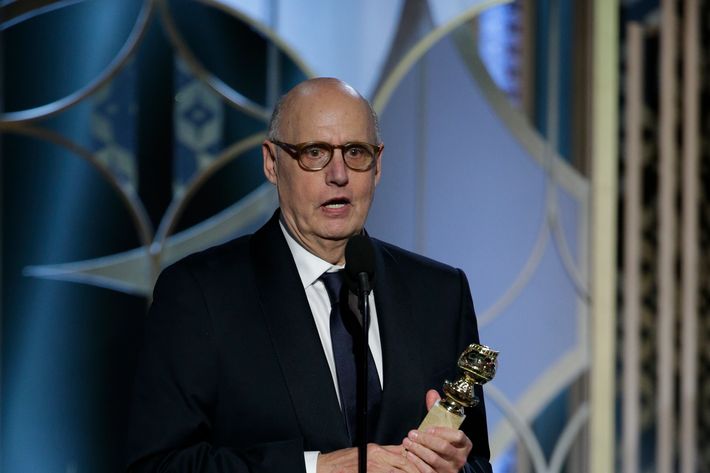 HIGH: Ladies creepin' on dudes.
A little equal-opportunity skeezing never hurt anyone. Amy and Tina got the ball rolling with a game of Who'd You Rather in the monologue — "Alejandro Iñárritu: One take, two hours, no stopping." "Richard Linklater: Five minutes, once a year." — and the rest of the night was full of ladies putting jokey moves on the actors in the room, climaxing with Ruth Wilson telling co-star Dominic West his ass was "something of great beauty." It was the fun kind of objectification!

LOW, THEN EVEN LOWER: That North Korea bit.
The North Korea/Interview scandal was catnip for the Globes' joke writers, and their gags started out fine: "Tonight we are celebrating all the TV shows we know and love, and all the movies North Korea was okay with." But oof, that bit with Margaret Cho as the Kim regime's representative in the Hollywood Foreign Press, which managed a trio of awards-show sins: It was unfunny, racist, and incredibly long. To add insult to injury, the Globes kept bringing the bit back throughout the night, even choosing it to close out the telecast. Twenty years ago, Cho was the first Asian-American woman to headline her own sitcom — how did we end up here?

LOW: Ricky Gervais's brief appearance.
As if to remind us again how lucky we were to get three years out of the Amy-Tina duo, the Globes brought out Ricky Gervais, who tittered his way through yet another self-congratulatory routine about being mean to famous people. Did you know that most people in Hollywood are rich? Watch out, celebrities, ya burnt.

LOW: The fake tans.
Has it been a cloudier-than-usual winter in L.A.? This year, it seemed like everyone at the Globes — presenters and nominees, men and women — was sporting the same identical Jersey Shore gleam. The whole night looked like a junior prom. (The cattiness and surreptitious drinking helped.)

LOW: The beards.
We're not sure why a bunch of male stars arrived to the Globes sporting long, ratty-ass beards. The next Marvel movie isn't going to be about the actual Civil War, guys.
HIGH: Bill Hader's "Whaaaaaaaaat?"
HIGH: Wes Anderson's acceptance speech.
Coming late in the night after a wave of serious/emotional speeches (see above), the Grand Budapest Hotel director started with a proper litany of collaborators before segueing into a list of the first names of members of the Hollywood Foreign Press Association. "Dagmar and Yukiko … Lorenzo, Armando … Helmut …These are the people I want to thank tonight, and many others with names nothing like theirs, but equally captivating." (For your perusal, here's a list of all the members of the HFPA and what they've done recently.)