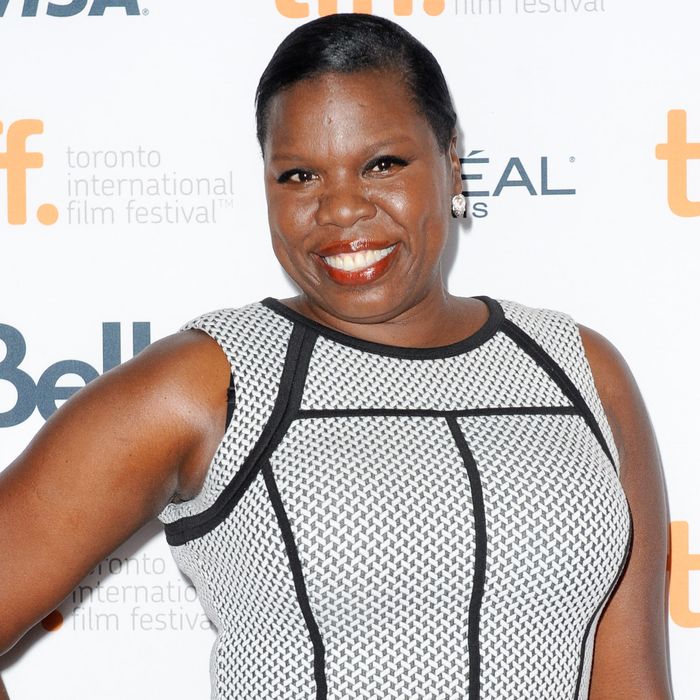 Photo: Ernesto Di Stefano Photography/Getty Images
Yesterday brought the long-awaited news about who, exactly, would be inheriting the Ghostbusters mantle in Paul Feig's upcoming reboot. Melissa McCarthy and a trio of Saturday Night Live­–affiliated actresses: show alumna Kristen Wiig, current cast member Kate McKinnon, and recent SNL addition Leslie Jones.
The latter star might be the most surprising choice — she only made her first appearance on SNL last May, when she was working there as a writer, not a cast member. The 47-year-old was promoted this year to featured player, making her the oldest cast member to ever get hired for that particular job, edging out Michael McKean (This Is Spinal Tap, Best in Show), who was hired at age 46 in 1994. Furthermore, Jones's addition marks the first time two African-American women have been part of the ensemble. But while Jones — who quickly established herself as an SNL standout due to her brash sensibility, humor, and forceful presence (certainly helped by her six-foot stature) — may be new to the wider public, she's actually a comedy veteran. So, for everyone who's only becoming familiar with Jones now, here's her long road to Ghostbusters.
Early Years
Born in Memphis, Jones moved with her family to Los Angeles when her dad became an engineer for the radio station KJLH, owned by none other than Stevie Wonder. Thanks to a basketball scholarship, Jones went to Chapman University in Orange, California, before transferring to Colorado State. In 1987, unbeknownst to her, a friend entered Jones in a "Funniest Person on Campus" competition, which Jones ended up going through with — and winning. "When I walked off that stage," she said in 2011 about the life-changing event, "I had all the intentions of being the next Eddie Murphy." Sufficiently emboldened, she ditched her old ideas about pursuing careers in engineering and law and moved to L.A. to try to make it as a comedian.
Beginning Setbacks and Burgeoning Fame
Lacking experience and still working out her material, Jones found that her nascent stand-up career featured more bombs than bursts. She got a big break opening for Jamie Foxx at the Comedy Store during his In Living Color years, but the audience ended up booing her. Still, she learned a valuable lesson from Foxx, who told her, "The reason you were so bad is because you didn't have anything to talk about … Go live life for a little while and then start writing." She took that advice, worked on her act, and later landed high-profile gigs at comedy festivals, specials on BET and Comedy Central, an opening spot on Katt Williams's 2010 U.S. tour, and, in 2011, her own Showtime stand-up special, Problem Child.
Saturday Night Live
After years with a dearth of black women on staff, SNL made significant moves in 2014, adding Sasheer Zamata as a featured player and hiring Jones and LaKendra Tookes in January 2014. It only took a few months for Jones to grow beyond the writers' room and get herself in front of the camera. Perhaps her first notable appearance came during a "Weekend Update" commentary spot in which she discussed slavery and race in the context of her romantic life, height, and history, joking that she'd would be "the No. 1 slave draft pick." Shock of all shocks, some viewers were offended, and Jones gave a perfect non-apology via Twitter.
Getting Ghostbusters
The 2014–15 season of SNL found Jones promoted to featured player, and she's easily established herself as a fan favorite. Highlights so far include an "Update" bit in which she hit on/intimidated "that delicious marshmallow" Colin Jost, and her verse on the Thanksgiving-pegged rap sketch "Back-Home Ballers."
Now her rapid recent rise — which encompassed a prominent role in Chris Rock's Top Five — a  culminates with Ghostbusters. Director Paul Feig (Bridesmaids, The Heat) has proven himself as someone who can shepherd along a killer ensemble comedy. So there's reason to hope that Jones's role will be more than just a reprise of Ernie Hudson's thankless Winston Zeddemore from the original Ghostbusters. Jones may not yet be a star on the level of her fellow cast members, but over her nearly 30 years in comedy, she's more than earned the chance to show that she ain't afraid of no ghosts.