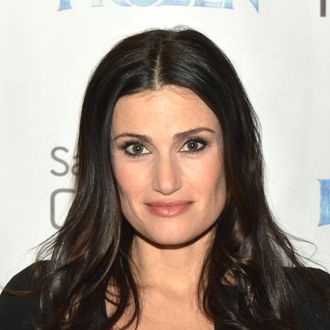 Photo: Slaven Vlasic/Getty Images
During the still absurdly titled telecast for Dick Clark's New Year's Rockin' Eve With Ryan Seacrest, Broadway star Idina Menzel performed Frozen's "Let It Go." This would have been just another rendition of her signature hit had she not missed the final high note, drawing jeers from around the internet. Well, sorry, everyone, but she's not sorry. In response to the criticism, she posted a photo of a quote she gave to Southwest. "Performing isn't only about the acrobatics and the high notes: It's staying in the moment, connecting with the audience in an authentic way, and making yourself real to them through the music, " she said. "I am more than the notes I hit." You could even say she — all together now — let it go.
The elusive note can be heard (or not) here:
Between this and finalizing her divorce to Taye Diggs, 2014 is a year better left forgotten for Menzel.