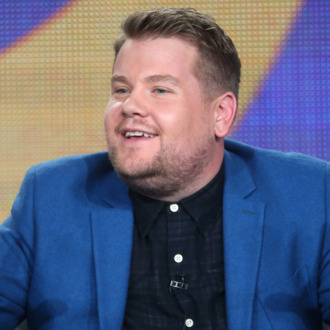 Photo: Frederick M. Brown/Getty
British comic (and Into the Woods star) James Corden takes over CBS's Late Late Show in a little more than two months. But even though that's just around the corner, he told reporters at the TV Critics Association press tour Monday that very little about his new show has been hashed out. "We've only been working on this for four days, and I think our staff is six people," he said. But despite many details very much TBD, Corden did offer at least a few insights into what audiences can expect when his show arrives. Here are six morsels we gathered from the comic's 30-minute powwow with the press:
There probably won't be a nightly monologue … probably.
Corden and his producers went out of their way to stress how little they've decided about their show's format. Still, they did hint that Corden's lack of stand-up skills probably means they'll look at something other than a nightly flurry of jokes about the day's news to start each episode. (Most recent Late Late Show host Craig Ferguson also avoided a newsy monologue.) Still, "There's no blueprint for the show," Corden said. "It's going to evolve." The host hinted that he wanted to bring more elements of a variety show to his hour.
Don't expect Corden to go for edgy or ironic humor.
While time-slot rival Seth Meyers is known for his snarky  and biting (though hardly nasty) wit, Corden is planning a kinder, gentler late-night show. "We want to make a warm show, a show that never feels spite-y," he said. "So much of what you see [with current events] isn't pleasant now. We want to do a show that reminds people of the good — a warm show that's also really funny."
He's not concerned that his Britishness won't work in the States.
One critic wondered if American audiences would respond to his distinctly U.K. style. Corden first replied by gently mocking the question itself. "Nobody ever says, 'I wonder if that'll work in the U.K.,'" he said. "When they made Friends, nobody asked, 'Will people in Plymouth find this funny?' Funny's funny. If it's good, it travels."
His talk-show idols aren't American.
No shocker that the U.K.-born Corden cites British comic vets Jonathan Ross and Graham Norton as his central influences when it comes to chat shows. But instead of pretending that he'd somehow been inspired by American comedy icons, Corden was honest about who his influences don't include. "They're not Johnny Carson, David Letterman, Dick Cavett," he said. "I never grew up with those guys."
He thinks the hard time he got from critics around 2009 was a valuable experience.
Corden's early success turned into a bit of a backlash around 2009, when a sketch-comedy show he did bombed and some other public appearances went off poorly. Corden doesn't believe critics were too harsh on him — at all. "There's an absolute reason why those things weren't liked: They weren't very good," he said, adding that he's "glad" he got whipped in the press. "I would absolutely not be [sitting] here now if I hadn't had that kind of response to that work," he said. What lesson did he learn from that time?
"The harder I work, the more chance [projects] will be good," he said. After his "first flush of fame," Corden says he perhaps began to think he was "more of the Dude" than he really was, and he didn't put in enough effort on projects.
He doesn't feel being tied down to a talk show will stifle his creativity.
While he got good reviews for Into the Woods and might have parlayed that to a slew of new feature commitments, Corden will, in success, spend the next five, ten, or more years pretty much chained to a studio in Los Angeles. One critic worried this would rob him of his ability to grow and stretch creatively; Corden said the opposite was true. "There's nothing more creative that I'll ever do than make an hour of television every day," he explained. "I couldn't feel less like I'm putting the brakes on and more on putting the gas on." And while he said he had an amazing time working on Woods, every movie is not that movie, he said. "People get quite carried away by how fulfilling making a movie is," Corden deadpanned. "Most of the time you're [sitting] on a trailer in a parking lot." Overall, Corden said he didn't know if "there is a better thing I could do with my time. Having said that: I haven't done it yet."